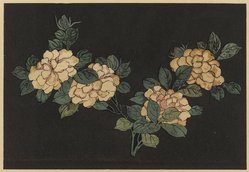 This image is presented as a "thumbnail" because it is protected by copyright. The Brooklyn Museum respects the rights of artists who retain the copyright to their work.
E.A. Séguy, Bouquets et frondaison. Image 01.
Bouquets et frondaisons is an album of plates printed in vivid colors utilizing the pochoir process. Its source was Japanese stencils used for printing textiles that were imported to France at the end of the nineteenth century. Pochoir, the French word for stencil, refers to a printing technique for book and journal illustration as well as portfolios of plates produced as a source of inspiration for designers of carpets, costume, and textiles. The characteristic brilliance of color and vitality of texture of pochoir are similar to those of an original watercolor. The Libraries have several other pochoir portfolios by Séguy in addition to other key examples, such as Sonia Delaunay's Compositions, couleurs, idées (1926) and Album dédié à Tamar Karsavina by George Barbier (circa 1914).

Image: "E.A. Séguy, Bouquets et frondaison. Image 01.", ca. 1925. Printed material. Brooklyn Museum. (NK1535_Se3_Seb_Seguy_01.jpg)
Rights Statement: © Ch. Massin ; Brentano's, 1925?


Title: Bouquets et frondaisons : 60 motifs en couleur

Author:

Séguy, E. A.

Description:

[2] leaves, 20 leaves of plates : all col. ill. ; 46 cm.

Citation:

Brooklyn Museum Libraries. Special Collections

Imprint:

Paris : Ch. Massin ; New York : Brentano's, [1925?]

Date Display:

1925?

Call Number:

NK1535 Se3 Se3b
Also in Bouquets et frondaisons : 60 motifs en couleur