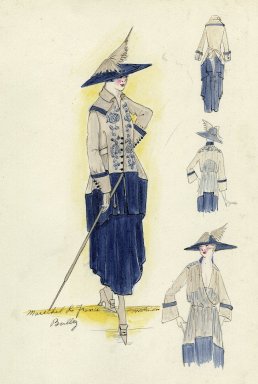 Henri Bendel Fashion and Costume Sketch Collection. Sketch HB 25-04, 1917.
The Libraries hold a collection of fashion sketches that provides an excellent overview of American fashion and costume design from 1910 to the late 1950s created for New York's garment industry as well as Broadway and Hollywood productions. Included in this collection are sketches from the firm of Henri Bendel, Inc., providing a full visual record of French couture imported by the company in addition to its own house designs from 1912 through 1950. The work of many French couturiers is represented by the sketches, including creations by Chanel, Vionnet, Patou, and Callot Soeurs.

The Museum Libraries and Archives offer extensive research information on specific designers as well as the history of costumes and textiles in America. Library resources include books, exhibition catalogues, fashion plates and sketches, files on designers, scrapbooks, newspaper clippings, and periodicals. The collection holds extensive correspondence related to a wide variety of designers and department stores, as well as documentation about collaborative work between the Museum and designers.

Image: "Henri Bendel Fashion and Costume Sketch Collection. Sketch HB 25-04, 1917.", 1917. Printed material. Brooklyn Museum. (SC01.1_Bendel_Collection_HB_25-04_1917.jpg)
Rights Statement: © Henri Bendel, where applicable


Title: Fashion and Costume Sketch Collection, 1912-1950.

Author:

Henri Bendel (Firm)

Description:

140 boxes, 11255 sketches.

Citation:

Brooklyn Museum Libraries. Special Collections

Date Display:

1912-1950

Call Number:

SC01.1 Bendel
Also in Fashion and Costume Sketch Collection, 1912-1950
–
Showing folder images 1 - 110 of 192
View all