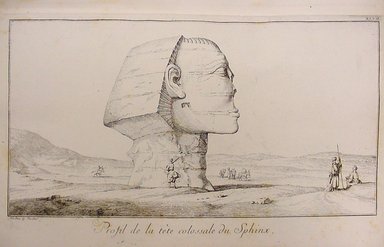 F.L. Norden. Travels in Egypt and Nubia, 1757. Plate 47, Profil de la tête colossale du Sphinx.
This book is from the Wilbour Library of Egyptology, one of the most comprehensive libraries devoted to the study of ancient Egypt, with books, periodicals, and pamphlets on art, archaeology, history, philology, and travel. Based on Norden's description in 1738, this engraving by Marcus Tuscher is the earliest known depiction of the Great Sphinx without a nose. This image disproves the theory that Napoleon's troops in Egypt shot off the nose while using the monument for target practice when they traveled there in 1798. Norden was one of the first to illustrate travel journals to Egypt with accurate drawings of the ancient monuments.

Donors have always played a vital role in the development of the Libraries and Archives. One outstanding donation was the personal library of Charles Edwin Wilbour, one of America's first Egyptologists. From 1880 to 1896, Wilbour sailed, with his library, on his houseboat on the Nile and was a colleague of many Egyptologists of the era. His library contained the most important works on Egypt up to the time of his death in 1896.

Image: "F.L. Norden. Travels in Egypt and Nubia, 1757. Plate 47, Profil de la tête colossale du Sphinx.", 1757. Printed material. Brooklyn Museum. (N370.405_N75t_Norden_Travels_pl47_Sphinx_profile.jpg)
Rights Statement: No known copyright restrictions


Title: Travels in Egypt and Nubia.

Author:

Norden, Frederik Ludvig,

Description:

2 v. fronts, CLIX (i. e. 157) pl. (partly fold., incl. maps, plans) port. 49 cm

Citation:

Brooklyn Museum Libraries. Wilbour Library of Egyptology. Special Collections

Imprint:

London, L. Davis and C. Reymers, 1757.

Date Display:

1757

Call Number:

N370.405 N75t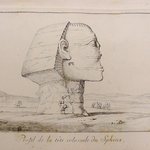 Also in Travels in Egypt and Nubia