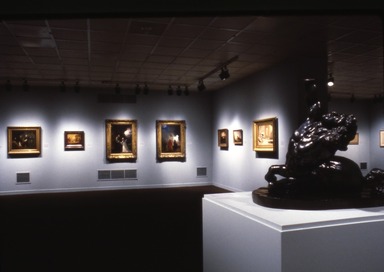 William Rimmer: A Yankee Michelangelo
Dates:

June 6, 1986 through July 20, 1986

Collections: American Art
Print
Press Releases
June 5, 1986: An exhibition of more than 60 works by the American artist William Rimmer (1816-1879) will open at The Brooklyn Museum on June 6. William Rimmer: Paintings, Drawings, Sculpture 1828-1879, a presentation of the artist's imaginative and eccentric achievements in painting, sculpture and drawing, will be installed in the Museum's Robert E. Blum Gallery and be on view through July 28, 1986. The exhibition provides the first opportunity in four decades to examine Rimmer's work in detail.

The presentation at The Brooklyn Museum has been funded through the generous support of the American Art Council of The Brooklyn Museum. The traveling exhibition is supported by grants from the National Endowment for the Arts and the National Endowment for the Humanities, and by the Eleanor Naylor Dana Charitable Trust.

Rimmer's name occurs frequently in the annals of American art history, but his reputation rests on relatively few works. As a painter, he is best known for his enigmatic Flight and Pursuit (1872). As a sculptor, he is remembered for his original and emotionally charged subjects, the most outstanding of which is Falling Gladiator (1861), which departs from the neoclassical standards in American sculpture that prevailed at the time. Both of these works will be on view as well as significant, recently discovered examples of Rimmer's art.

Neither Rimmer's life nor his art followed a smooth course. Born in England, he was raised in South Boston, Massachusetts, in humble surroundings. He was essentially self-taught in the arts and spent his early years working as a sign painter, lithographer and itinerant portrait painter.

Rimmer's life was shaped by the belief that his father was the lost son of Louis XVI of France. This belief encouraged and perpetuated strong feelings of thwarted destiny and bitter disappointment in the artist, and his career was marked by the clash of grand dreams with the harsh realities of economic struggle, lack of recognition and personal tragedy--elements that became the thematic framework for much of his art.

It is perhaps Rimmer's career as a physician, however, that contributes most to our fascination with him. The knowledge of human anatomy he gained from medical practice complemented his ambition to create art in the tradition of the Renaissance masters--Michelangelo in particular--and the combination of these two factors informed the practical and philosophical core of his later, successful endeavors as an art educator.

Rimmer's mercurial and romantic sensibility, his lack of solid training in the arts and the intellectual imperatives of his own anatomical theories combined to produce an important body of work separate from the mainstream of American art of his time.

William Rimmer: Paintings, Drawings, Sculpture 1828-1879 has been organized by The Brockton Art Museum in Brockton, Massachusetts, and is guest-curated by Dr. Jeffrey Weidman, Art Librarian at Oberlin College.

The exhibition is accompanied by a poster and a fully illustrated catalogue containing essays by Mr. Weidman, Neil Harris, Professor of History at the University of Chicago, and Philip Cash, Professor of History at Emmanuel College in Boston, with a foreword by Theodore E. Stebbins, Jr., John Moors Cabot Curator of American Art, Museum of Fine Arts, Boston. It will be available in the Museum Shop for $19.95.

In conjunction with the exhibition, a symposium devoted to the exploration of Rimmer's roles as artist, teacher and medical practitioner will be held at the Museum on Saturday, June 7, from 2 to 5 p.m. in the Lecture Hall, locate on the 3rd floor. Admission is $10; senior citizens and students with a valid I.D., $5; free to Museum members. Registration begins at 1:30 p.m. It is made possible, in part, through the generous support of the Ira Spanierman Gallery and the American Art Council of The Brooklyn Museum. To register in advance, send a check to the Department of Public Programs, The Brooklyn Museum, 200 Eastern Parkway, Brooklyn, New York 11238. For further information about the symposium and additional programing in connection with the exhibition, call (718) 638-5000 ext. 232.

Brooklyn Museum Archives. Records of the Department of Public Information. Press releases, 1971 - 1988. 1986, 041-43. View Original 1 . View Original 2 . View Original 3
Press Coverage of this Exhibition
ART: WILLIAM RIMMER WORKS ON EXHIBITION

June 13, 1986 By VIVIEN RAYNOR

"THE illustration is of an image that, once seen, is never forgotten. ''Flight and Pursuit'' is its title - but which of the two men is fleeing, which pursuing? The facial expression and predatory hand of the forward figure, which is very much flesh and blood, suggest anything but fear, despite the menacing shadow behind him. He is also oblivious to..."