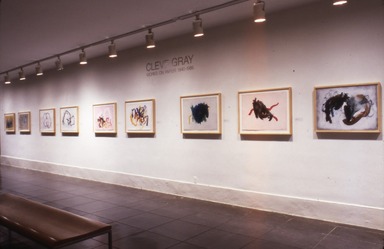 Cleve Gray: Works on Paper, 1940-1986
Print
Press Releases
Winter 1986: Cleve Gray: Works on Paper 1949-1986, a retrospective exhibition of approximately 50 works by the American artist, will open December 15 in The Brooklyn Museum's recently renovated Prints and Drawings Galleries. The works, mostly paintings in acrylic on paper, present a comprehensive overview of Gray's stylistic development from 1940 to the present. The presentation will remain on view through February 23, 1987.

Cleve Gray, who resides in Warren, Connecticut, was born in New York City in 1918. After graduating from Phillips Academy in Andover, Massachusetts, he attended Princeton University, where he wrote his senior thesis on Chinese Yuan Dynasty landscape painting, a subject that would ultimately have a profound influence on his creative direction.

Some of the artist's early student drawings include sketches of the bombed-out buildings of London that he did while he was a soldier in Europe between 1943 and 1946, and represent early examples of his ongoing outcry against the savagery of war. All of these drawings display a Cubist angularity that was subsequently reinforced by his postwar studies in Paris with André Lhote and Jacques Villon.

By the early 1960s, however, Gray had abandoned Cubism in favor of the gestural mode characteristic of his mature style. Since that time, his works on paper have paralleled but rarely overlapped his paintings on canvas. In both media he has worked in series, pursuing one idea as far as he can and then starting a new series in which he tackles an entirely new problem.

Each group of works in the exhibition represents a larger series. After creating black-and-white images derived from his love of Oriental painting and calligraphy in his Reverse Drawings of 1965, he turned to an exploration of the strong vertical form in his Moroccan Series of 1970 and continued in this mode, which culminated in his dramatic Threnody installation of 1974. Gradually, through his Vermont Series of 1974 and his Jerusalem Series of 1975, he came back to the gestural, circular imagery of the Reverse Drawings. In his Roman Walls Series of 1979, his Zen Series of 1981, and his Embassy Series of 1984, he pursued various aspects of medium, color, and form.

The figure, missing in his oeuvre since his student days, reemerged in 1985 and 1986 in his Holocaust and Resurrection series, works inspired by his visit to the intensely moving Jewish Cemetery of Prague and by articles on the Klaus Barbie case that his wife, Francine du Plessix Gray, wrote for Vanity Fair.

The exhibition is accompanied by a catalogue illustrated in color with an essay and biographical information on the artist.

Brooklyn Museum Archives. Records of the Department of Public Information. Press releases, 1971 - 1988. 1986, 102-103. View Original 1 . View Original 2
Press Coverage of this Exhibition
ART: 2 LOOKS AT CLEVE GRAY'S WORKS

January 9, 1987 By MICHAEL BRENSON

"LEAD: CLEVE GRAY has had anything but a black and white career. As a student at Princeton, he studied Chinese art with the noted scholar George Rowley. In Paris after World War II, he studied painting with Andre Lhote and Jacques Villon, two painters passionate about structure whose work reflects the glory and decline of the School of Paris. CLEVE..."