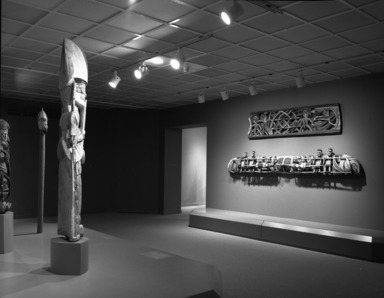 Assemblage of Spirits: Idea and Image in New Ireland
Print
Press Releases
January 1988: The intricately carved and colorful sculptures produced on the remote Pacific island of New Ireland, located 400 miles northeast of New Guinea, will be featured in an exhibition on view at The Brooklyn Museum from February 12 through May 9, 1988. Assemblage of Spirits: Idea and Image in New Ireland, a presentation of 47 wooden carvings--masks, figures, ceremonial poles, canoe prows and dance ornaments--is the first major American exhibition of its kind, and will be installed in the Robert E. Blum Gallery, located on the first floor. The works, dating from the 19th and early 20th century, were drawn from public and private collections in West Germany, Australia and the United States.

The exhibition, organized by The Minneapolis Institute of Arts, has been made possible, in part, by grants from the National Endowment for the Arts and the National Endowment for the Humanities. Its presentation at The Brooklyn Museum has been made possible, in part, with generous support from Charles B. Benenson, Frieda and Milton Rosenthal, and Sheldon Solow.

The most important social, political and religious event in the villages of northern New Ireland is an elaborate set of ceremonies known as "malagan." Held to commemorate the death of an important person, these ceremonies can also include the initiation of young men and women, and generally serve as a means of renewing family ties, redistributing wealth, establishing personal prestige and settling legal disputes over property and inheritance within families and between lineages. The cycle of
ceremonies requires months or even years to prepare, and can include several weeks of feasting, dancing, musical performance, telling folk tales and, on the final day, an exhibition of dramatic wooden sculptures.

Artistically, malagan sculptures are considered the most distinctive of any Oceanic people. They are complex and highly dramatic works depicting human and animal forms in a very stylized manner. They incorporate the technique of assemblage, combining separately carved pieces of wood in a single sculpture decorated with seashells, seaweed, stone, sponge and other fibers. The carvings are painted primarily in shades of terracotta, charcoal, and white with colorful abstract geometric and floral designs that are frequently unrelated to the forms. The artist's uncannily effective use of snail-shells to represent human and animal eyes is unique to New Ireland.

After the sculptures were displayed in the ceremony they were intended for, they were usually discarded, but the ideas for them were retained. Individuals or families owned particular sculptural patterns and could sell or give away the rights to make certain kinds of malagan, much like the Western concept of a copyright. The meaning of the images is often complex, with references usually made to social relationships. Thus a fish head might refer to a clan living near the shore while a boar's head might refer to a bush-dwelling clan.

The sculptures are at the very heart of malagan ceremonies, which revolve around their carving and culminate when the walls of the enclosures in which they are made are torn down for everyone to see the displayed images. For New Irelanders the rituals are more important than the carvings. Traditionally the sculptures were often abandoned on the beaches or allowed to rot in the forests following the completion of the malagan. Once having served their purpose of restoring order and continuity to the daily life of a village, the sculptures were seen as drained of meaning.

Assemblage of Spirits: Idea and Image in New Ireland is a traveling exhibition. After the close of the presentation at The Brooklyn Museum it will travel to the Kimbell Art Museum in Fort Worth, Texas (June 11-September 4), and finally to the M.H. de Young Memorial Museum in San Francisco, California (November 23, 1988-February 19, 1989).

Its installation at The Brooklyn Museum has been coordinated by William Siegmann, Associate Curator of African, Oceanic, and New World Art at the Museum. The exhibition is accompanied by a fully illustrated catalogue ($17.95).

In conjunction with the exhibition the Education Division of The Brooklyn Museum has organized a series of four special weekend gallery talks to be held at 2 p.m. On February 13, Louise Lincoln, Associate Curator of African, Oceanic and New World Cultures at The Minneapolis Institute of Arts, who selected and organized the traveling exhibition, will conduct a special tour for visitors. Curators from The Brooklyn Museum's own Department of African, Oceanic, and New World Art will lead gallery talks on February 14, March 12 and April 24. In addition, there will be a one-hour video program showing preparations for a New Ireland malagan ceremony shown daily in the Education Division's first-floor public area. The gallery talks and video are free with Museum admission.

Brooklyn Museum Archives. Records of the Department of Public Information. Press releases, 1971 - 1988. 1988, 014-16. View Original 1 . View Original 2 . View Original 3
Press Coverage of this Exhibition
Art: 3 Shows at Brooklyn Museum

March 4, 1988 By MICHAEL KIMMELMAN

"LEAD: DESPITE its relatively low profile among New York City's leading art institutions, the Brooklyn Museum remains conspicuously active. Three diverse shows have recently been mounted by the ambitious institution, which at the same time is organizing a tremendous expansion. Starting next Friday, master plans by the five finalists who competed to..."