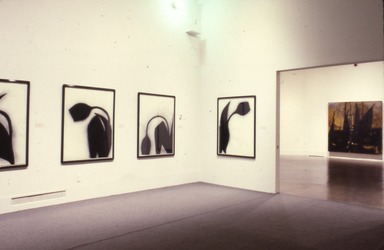 Donald Sultan
Print
Press Releases
March 1988: Donald Sultan, an exhibition of approximately 40 paintings and drawings by this contemporary American artist, will open April 8 at The Brooklyn Museum, and remain on view in the Contemporary Galleries, located on the fifth floor, through June 13, 1988. The exhibition is the first museum presentation to survey the artist's innovative use of industrial materials and techniques in works completed primarily since 1980.

Donald Sultan was born in Asheville, North Carolina, in 1957 and received his B.F.A. from the University of North Carolina, Chapel Hill. In 1975 he received his M.F.A. from the School of The Art Institute of Chicago. Sultan began experimenting in technique, surface, and media as a student dissatisfied with traditional methods of painting, which eventually led him to use industrial tools and materials.

Sultan begins his paintings by constructing a support of plywood, masonite, linoleum tiles, and roofing tar. The artist then sketches a composition onto this black matte surface and cuts away the tar with a knife, or melts it with a blowtorch. The resulting exposed area is painted, plastered, or left untouched, the melted tar becoming a compositional element in the final painting.

Though representational, Sultan's still lifes, cityscapes, and landscapes of industrial scenes are rendered in a bold semi-abstract style. However, his small, intimate still lifes recall Dutch 17th- and 18th-century painting, and his industrial landscapes, based on contemporary disasters such as warehouse fires and explosions, suggest contemporary versions of history painting. Some of Sultan's paintings contain barely disguised erotic images, which can be seen more readily in some of his silhouetted charcoal drawings on paper.

The Brooklyn Museum installation was coordinated by Laural Weintraub, Assistant Curator of Contemporary Art. The exhibition, organized by the Museum of Contemporary Art, Chicago, was funded by a grant from the National Endowment for the Arts and the Illinois Arts Council.

Brooklyn Museum Archives. Records of the Department of Public Information. Press releases, 1971 - 1988. 1988, 028-29. View Original 1 . View Original 2
Press Coverage of this Exhibition
Review/Art; 3 Donald Sultan Shows: Paintings to 'Black Eggs'

April 22, 1988 By ROBERTA SMITH

"LEAD: The art of Donald Sultan is in some ways perfect, and yet it leaves a lot to be desired. This is the paradox that presents itself in three exhibitions that make Mr. Sultan's work abundantly visible in New York right now. A survey of his paintings and charcoal drawings from the 1980's is on view at the Brooklyn Museum, while at the Museum of..."