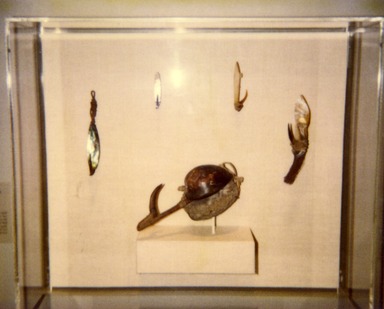 In Pursuit of the Spiritual
Dates:

October 12, 1990 through September 5, 1991
Print
Press Releases
May 1990: A special exhibition of Oceanic ceremonial art, IN PURSUIT OF THE SPIRITUAL: Oceanic Art Given by Mr. and Mrs. John A. Friede and Mrs. Melville W. Hall, is scheduled to open at The Brooklyn Museum on October 12, 1990, in the Special Exhibitions Gallery of the Department of African, Oceanic, and New World Art, where it will remain on view through February 4, 1991. It will contain 64 masterworks, many of them never before on public view.

All the objects, part of the permanent collection of The Brooklyn Museum, are generous gifts from Mrs. Melville W. Hall and Mr. and Mrs. John A. Friede, who have donated more than 150 pieces of Oceanic art to the Museum during the past decade.

The exhibition will consist of a wide variety of objects from several Oceanic nations. The greatest number of pieces have come from the Sepik and Ramu river basins of Papua, New Guinea, generally considered to be an area of Oceania where artistic development is especially rich and varied in technique and in the use of materials. Among the other areas of Oceania represented are New Hebrides, New Zealand, and New Caladonia.

The art of Oceania is deeply rooted in the religious life of the region's peoples. "Discovered" by Western artists early in this century, these art forms served as a major inspirational source for modernist painters and sculptors, who were greatly influenced by what they regarded as its expressionistic and surreal forms.

The objects included in the exhibition range in size from fish hooks, which measure 3 inches long, to a carved wooden architectural element that is 13 and a half feet high. Among them are three monumental carved wooden figures created to guard the spirit-filled ceremonial men's houses; a rare Banks Island prestige staff; a skull rack of palm spathe, raffia, and bamboo decorated with two painted winged faces; an elaborate ceremonial wig made of plant fiber, human hair, and dried flowers; and two intricately carved wooden drums. Also included will be an elongated wooden head representing a spirit figure with the facial features carved in dramatic relief; a wooden bowl in the form of a bird capturing a fish; a green stone ceremonial ax; and a Maori fish hook made from iridescent shell and iron.

The exhibition has been organized by Associate Curator of African, Oceanic, and New World Art at The Brooklyn Museum, William Siegmann.

Brooklyn Museum Archives. Records of the Department of Public Information. Press releases, 1989 - 1994. 04-06/1990, 091-92. View Original 1 . View Original 2
Press Coverage of this Exhibition
THE ANNOTATED CALENDAR: ANTIQUES

September 9, 1990 By RITA REIF

"LEAD: September ''FIVE YEARS OF 19TH-CENTURY ACQUISITIONS.'' About 60 additions of sculpture and furnishings in the neo-classical, romantic and historical revival styles, including several masterworks in furniture and ceramics never before shown at the museum. Tuesday-Jan. 27, 1991, Metropolitan Museum. ''FIVE STAR FOLK ART.'' Some of the finest..."

ANTIQUES; Hard Ancestors To Keep Down

October 21, 1990 By RITA REIF

"LEAD: ''In the darkened interiors of New Guinea's ceremonial houses, when the lights flicker and smoke swirls around the tops of the ancestor figures, they seem no longer earthbound,'' said John A. Friede, a New York collector, in a preview tour of the Oceanic art exhibition which opened last week at the Brooklyn Museum, where it will remain for a..."