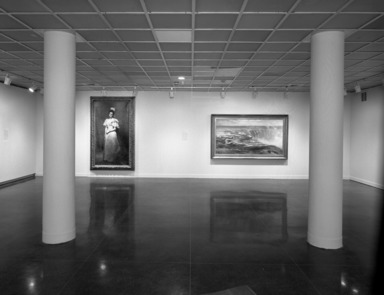 Grand Reserves: Rediscoveries & Recent Acquisitions at the Brooklyn Museum
Dates:

February 3, 1995 through March 26, 1995
Print
Press Releases
November 1994: Grand Reserves: Ten Important Paintings, Rediscoveries and Recent Acquisitions at The Brooklyn Museum, comprising ten important ninteenth- and twentieth- century paintings will be presented February 3 through March 26, 1995. Among them are seven rediscovered major monumental paintings, restored and reframed, that are being returned to public view for the first time in several decades, joined by three paintings that are new to The Brooklyn Museum's highly regarded collection of nineteenth-century painting and sculpture.

Among them is Louis Remy Mignot's long lost Niagara (1866), which makes its first twentieth-century public appearance, emerging from the Museum's storerooms to be conserved, with the support of The Henry Luce Foundation. Also included is William Merritt Chases's orientalist masterwork The Moorish Warrior (circa 1876-78). Long ago reduced in size by folding back the canvas on both sides, the painting has been returned to its original dimensions and embellished with a period frame.

Other restored paintings include Herbert Denman's The Trio (1886), one of the most important works by a successful late nineteenth-century New York artist, who fell into obscurity after his premature death, and The Dawning (circa 1915) by Arthur B. Davies, one of the pioneers of American modernism.

Among the recent acquisitions in Grand Reserves are monumental portraits of the builders of the Brooklyn Bridge Emily Warren Roebling (1896), painted by Emile Auguste Carolus-Duran[,] and Washington A. Roebling (1899) by Theobold Chartran, both gifts from the Roebling family. Emily Roebling posed wearing her Worth presentation gown, which is also in The Brooklyn Museum's collection. Washington Roebling is portrayed seated in his Brooklyn Heights residence with a view of the Brooklyn Bridge in the distance.

Another recent accquistion, Winter (1879) by Eastman Johnson shows a young girl, dressed for sledding, standing in a snowy landscape.

The installation has been coordinated by Linda S. Ferber, Chief Curator and Curator of American Painting and Sculpture at The Brooklyn Museum.

Brooklyn Museum Archives. Records of the Department of Public Information. Press releases, 1989 - 1994. 07-12/1994, 123-124. View Original 1 . View Original 2
Press Coverage of this Exhibition
ART; 11 Almost-Masters Ascend From the Vaults

February 5, 1995 By WILLIAM GRIMES

"FOR NEARLY A CENTURY, Louis Remy Mignot's "Niagara" has rested quietly in the vaults of the Brooklyn Museum, a likely candidate for eternal neglect. Its surface, brown and dull with age, looked as if it had been painted with beef stock. Because the painting is large, about 4 feet by 12 feet, it languished near the bottom of the museum's crowded..."

ART REVIEW; Out of the Cellar, Into the Light: Works in Limbo

March 3, 1995 By PEPE KARMEL

"Museums are like icebergs: what you see on the walls is just the tip of the collection. The rest of it is underground in a basement, or in a warehouse. Down in the reserves, paintings are suspended like pots and pans from giant wire racks. It's an artistic democracy: the good, the bad and the ugly hang side by side, without wall labels or..."