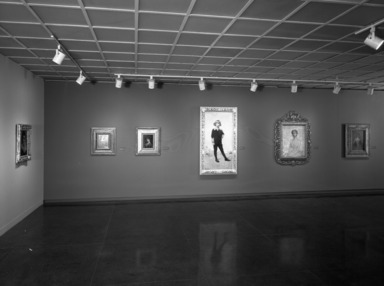 The Art of Thomas Wilmer Dewing: Beauty Reconfigured
Dates:

March 22, 1996 through June 9, 1996

Collections: American Art
Print
Press Releases
August 1995: The first comprehensive exhibition of works by American artist Thomas Wilmer Dewing (1851-1938), who was especially admired for his enigmatic paintings of women in sparsely furnished interiors or in atmospheric landscapes, will be presented at The Brooklyn Museum March 22 through June 9, 1996. It will then travel to the National Museum of American Art, Washington, D. C. (July 19-October 24) and to the Detroit Institute of Arts (November 9, 1996-January 19, 1997).

Titled The Art of Thomas Wilmer Dewing: Beauty Reconfigured, it will include more than 70 works, among them oils, pastels, watercolors, and silverpoints, all of which were selected to provide the full range of his oeuvre. Many will be exhibited in the original Stanford White frames designed for them. A portion of the mural frieze commissioned for the Baltimore home of Robert Garrett and an example of Dewing's decorative screens will also be displayed.

The Art of Thomas Wilmer Dewing: Beauty Reconfigured was organized by The Brooklyn Museum and co-curated by Dewing scholar Dr. Susan A. Hobbs and by Dr. Barbara Dayer Gallati, Associate Curator of American Painting and Sculpture at The Brooklyn Museum and organizing curator of the exhibition.

In addition to revealing Dewing's stylistic development--for example, his assimilation of French academic training, his early response to Pre-Raphaelite art and the Aesthetic Movement, his admiration for the art of Vermeer and Whistler, and his taste for Japanese art, the curators address the essential content of Dewing's art and why it stands apart from that of his contemporaries.

In the Preface to the catalogue Hobbs and Gallati state, "The relationship between technique and image in Dewing's art suggests that he intended to reconfigure or redefine the elusive, subjective idea of beauty by transferring it from the image to the painted surface itself. In this sense, the term reconfigured encompasses three converging aspects of his aesthetic approach: his abiding concern for the figure, his reevaluations and relocation of the idea of beauty, and the importance that the physical process of painting (or configuring) held for him."

The Boston-born Dewing trained briefly in Paris from 1876-77 and returned to Boston, where he gained critical recognition for such paintings as A Sorceress. In 1880 he moved to New York, where he met and later married the artist Maria Richards Oakey. Through her he met the influential artists and writers who gathered at the home of Richard Watson Gilder and his wife, Helena de Kay. A bastion of advanced artistic taste in America, Dewing's contacts in the Gilder circle provided the professional affiliations and friendships that would advance his career over the following decades.

Included among these early alliances was Dewing's close personal and working relationship with architect Stanford White of the noted firm of McKim, Mead and White. An early Dewing masterwork, The Days will be on view along with a sofa attributed to White that was designed specifically to form a decorative ensemble with the painting's frame.

For nearly forty years Dewing enjoyed a distinguished reputation in the American arts. He was a member of the National Academy of Design and the Society of American Artists, until seceding from the latter as a founding member of "The Ten" in 1897. At the height of his career Thomas Wilmer Dewing's paintings were avidly collected by some of the most discerning and powerful art patrons in the United States, including Charles Lang Freer and John Gellatly.

Today his paintings are on view in major museums across the country and are also held in prominent private collections. His art is accorded its own room in the Smithsonian Institution's Freer Gallery of Art, Washington, D. C.

Although his mature work such as Lady in Gold is associated stylistically with tonalism, and sometimes with impressionism, his art defies classification. His imagery prompts a variety of interpretations about the meaning of the female figure in American visual culture at the turn of the century. The exhibition offers the first opportunity to assess Dewing's work in the context of American art history as the discipline has evolved over the last century.

A fully-illustrated catalogue will accompany the exhibition. A co-publication of The Brooklyn Museum and the Smithsonian Institution Press, the book includes a major essay by Dr. Hobbs that provides the first in-depth biography of Dewing and history of his art. Dr. Gallati has written an essay that explores the ironies in Dewing's imagery that are critical to the understanding of the concept of beauty in his art. Susan Hobbs has also authored detailed entries for each object in the exhibition and a brief essay on the importance of the frames made especially for Dewing's paintings.

The Art of Thomas Wilmer Dewing: Beauty Reconfigured was made possible, in part, by major grants from the National Endowment for the Arts, the David Schwartz Foundation, Inc., and The Overbrook Foundation. Additional support was provided by American Art Search, Inc., Peter G. Terian, Ruth Ewing and Mary Morain, Steven C. Waiske, Willard C. Clark, and an anonymous donor. Publication of the catalogue was made possible by a generous grant from the Manoogian Foundation. Funding for the research and development of the catalogue was provided by the Iris and B. Gerald Cantor Foundation and the Andrew W. Mellon Foundation.

Beauty Reconfigured: The Art of Thomas Wilmer Dewing
The Brooklyn Museum
March 22-June 9, 1996

National Museum of American Art, Washington, D. C.
July 19-October 14, 1996

Detroit Institute of Arts
November 9, 1996-January 19, 1997

Brooklyn Museum Archives. Records of the Department of Public Information. Press releases, 1995 - 2003. 01-06/1996, 032-35. View Original 1 . View Original 2 . View Original 3 . View Original 4

May 1996: The first comprehensive exhibition of works by American artist Thomas Wilmer Dewing (1851-1938), a leading personality in the artists' colony in Cornish, New Hampshire in the late 19th and early 20th centuries will be on view at The Brooklyn Museum through June 9. Many of the paintings in the exhibition were inspired by summers Dewing spent at the colony and use the New Hampshire scenery as a background for the enigmatic depictions of women for which he was noted. Among them are The Hermit Thrush (1893) and The White Birch (1899).

In addition to the Boston-born Dewing, the colony's members at various times included Stanford White, Ethel Barrymore, Augustus Saint-Gaudens, and Daniel Chester French, as well as arts patron Annie Lazarus. The group set about creating a utopian community in which the aesthetic experience was their code of living.

Often colony members tried to remake the New Hampshire landscape, inspired by the architectural forms of ancient Italy. Thomas Wilmer Dewing added formal gardens, replete with Lombardy poplars. His home, with an eating porch facing Ascutny mountain, was adorned with classical architectural details.

The members of the group applied aesthetic criteria to details of everyday life, among them lavish dinner parties. Often these evenings included elaborate entertainments, such as a masque produced in 1905 by Saint-Gaudens in which 70 people impersonated gods and goddesses, accompanied by live music, and presented in front of a re-creation of a Greek Temple–staged for a select audience of 250 colony members.

Although the colony ceased to exist in the early 20th century, perhaps victim of the sexual, artistic, and political rivalries of its members, the site is on the National Register of Historic Places.

The exhibition, The Art of Thomas Wilmer Dewing: Beauty Reconfigured, includes more than 70 works, among them oils, pastels, watercolors, and silverpoints, many presented in the original Stanford White frames designed for them. The exhibition will later travel to the National Museum of American Art, Washington, D. C. (July 19-October 24), and to the Detroit Institute of Arts (November 9, 1996-January 19, 1997).

The exhibition and the accompanying catalogue were made possible by major grants from the Manoogian Foundation, the National Endowment for the Arts, the David Schwartz Foundation, Inc., and The Overbrook Fundation. Additional support was provided by American Arts Search, Inc., Mr. and Mrs. Leonard L. Milberg, Peter G. Terian, Ruth Ewing and Mary Morain, Dr. Janina Longtine and Steven C. Walske, Willard G. Clark, and an anonymous donor. Funding for the research and development of the catalogue was provided by the Iris and B. Gerald Cantor Foundation and The Andrew W. Mellon Foundation.

Brooklyn Museum Archives. Records of the Department of Public Information. Press releases, 1995 - 2003. 07-12/1996, 076-77. View Original 1 . View Original 2
Press Coverage of this Exhibition
ART REVIEW;Unsettling Women of the Gilded Age

March 29, 1996 By ROBERTA SMITH

"Even in homes where American painting of the late 19th century is a frequent topic, the name Thomas Wilmer Dewing probably isn't heard too frequently. Dewing was born in Boston in 1851, and at the age of 14 was apprenticed to a lithographer to support his widowed mother and siblings. Talented and ambitious, he went to Paris, studying at the..."

The Spoken Word

April 19, 1996

""ALLIES AND ENEMIES: THE DILEMMA OF ASIAN-AMERICANS DURING WORLD WAR II," Asia Society, 725 Park Avenue, at 70th Street, Manhattan. A day of discussions and film screenings, with film makers, scholars and critics. Tomorrow, noon to 6 P.M. Sponsored by the Museum of Chinese in the Americas, 70 Mulberry Street, Chinatown. Contribution: $10; $7 for..."