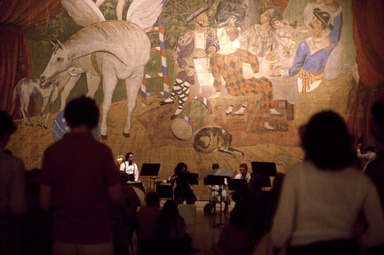 Pablo Picasso: Curtain from La Parade
Print
Press Releases
Press Coverage of this Exhibition
A LIFE DEVOTED TO MODERN ART

April 22, 1984 By JULIE V. IOVINE

"KATHERINE DREIER was a pivotal figure in the European avant-garde art world in the 1920's, and her mission in life was to bring modern art to the United States. Miss Dreier, who lived in New York and on her farm in West Redding until her death in 1953, promoted and bought art works so new and experimental that they often cost less than $10. But..."

(New York Times Fee Required)

ART: THE GRAPHIC SKILL OF DELACROIX AT THE MET

June 8, 1984 By MICHAEL BRENSON

"EUGENE DELACROIX is the great Romantic painter. Learned, intense, brooding, immensely gifted, he was preoccupied as much with large human passions as he was with himself. Like the handful of other artists in whose work tumultuous energy and exacting control are inseparable, Delacroix seems fully present in almost everything he did. If some of his..."