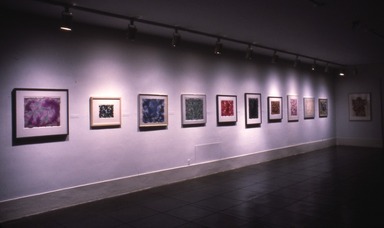 Lee Krasner: Works on Paper
Print
Press Releases
November 30, 1984: Lee Krasner: Works on Paper will open at The Brooklyn Museum on January 10 and be on view through March 25, 1985. This exhibition will compliment the Lee Krasner retrospective at the Museum of Modern Art and an exhibition of her student work at the Cooper Union. Krasner, who died last June, was one of the pioneers of postwar American abstract painting and has been recognized since the early 1970's as a formative member of the generation of Abstract Expressionist painters that changed the course of American Art.

During the early part of her career, critics perceived her works as heavily influenced, indeed an adjunct, to that of her husband Jackson Pollock. It was only in the 1970's that art historians and curators began to recognize her as a formative member of the first generation of Abstract Expressionists. Today, Krasner's life work is widely recognized as being among one of the most significant contributions to modernist abstract painting.

Lee Krasner: Works on Paper will present over 30 works spanning more than forty years of the artist's mature career. Included in the exhibition will be selections from series of gouaches, ink drawings and collages. From thickly applied paint to washes of color, this exhibition illustrates the various methods Krasner used in her expressive and energetic work.

Brooklyn Museum Archives. Records of the Department of Public Information. Press releases, 1971 - 1988. 1984, 028. View Original

December 7, 1984: Lee Krasner: Works on Paper originally scheduled to open at The Brooklyn Museum on January 10, 1985 and run through March 25, 1985, will now open to the public on December 20, 1984 and run through February 25, 1985.

Brooklyn Museum Archives. Records of the Department of Public Information. Press releases, 1971 - 1988. 1984, 051. View Original
Press Coverage of this Exhibition
ART: LEE KRASNER FINDS HER PLACE IN RETROSPECTIVE AR MODERN

December 21, 1984 By GRACE GLUECK

"FOR years, the name Lee Krasner didn't mean a lot in the art world. A dedicated painter herself, she was much better known as Mrs. Jackson Pollock, and for too long after his death, as Lee Krasner Pollock, the artist's widow. There were even those who said that she couldn't get a show were it not for the Pollock connection, a whispering campaign of..."

Buddha in Brooklyn

January 11, 1985

"Modern art and ancient stories will highlight activities this weekend at the Brooklyn Museum, 200 Eastern Parkway, in the Crown Heights section of Brooklyn. ''Lee Krasner: Works on Paper,'' an exhibition of more than 30 works by the late artist, will be on view through March. 25. The collection includes gouaches, ink drawings and collages covering..."