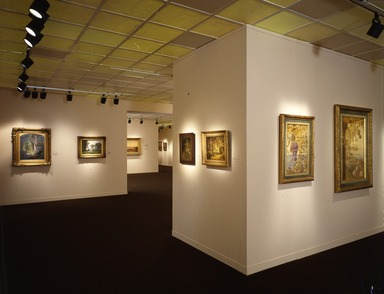 The New Path: Ruskin & the American Pre-Raphaelites
Dates:

March 29, 1985 through June 10, 1985

Collections: American Art
Print
Press Releases
February 15, 1985: The New Path: Ruskin and the American Pre-Raphaelites--an exhibition of 128 drawings, watercolors and oil paintings by the American Pre-Raphaelites and their contemporaries, will open at The Brooklyn Museum on March 29 and be on view through June 10, 1985. The New Path rediscovers a little-known and fascinating chapter of 19th century American art history.

Organized by Linda S. Ferber, Chief Curator and Curator of American Paintings and Sculpture, The Brooklyn Museum; and William H. Gerdts, Executive Officer of the Ph.D. Program in Art History at the City University of New York, the exhibition and catalog will trace the brief but lively existence of the Association f or the Advancement of Truth in Art. Founded in New York early in 1863 by a small company, including a group of artists, the Association's agenda was nothing less than the complete reform of American art and architecture, as they made clear in their pugnacious little magazine The New Path. The proposed reform of American art was based upon principles of truth to nature expounded by the influential English art critic John Ruskin and--in the opinion of the Association--demonstrated in the brilliantly colored and highly detailed paintings of the English Pre-Raphaelite Brotherhood. The English movement was a model for these American Pre-Raphalites, as they were known, who included expatriate English painter Thomas C. Farrer, John Henry Hill, John William Hill, Charles Herbert Moore, Henry R. Newman and William T. Richards. They practiced a compulsively detailed manner of drawing and painting landscape and still life that was radical even by current standards of truth to nature in the contemporaneous paintings of Durand, Church and others and which generated a good deal of critical controversy fueled by the fiery prose of The New Path.

This exhibition brings together for the first time in this century the drawings, watercolors and paintings of this little-known circle. Painted primarily in the 1860s and 1870s, American Pre-Raphaelite landscapes and still life paintings are immediately distinguishable by a peculiar brilliance in combination with a linear precision of treatment producing a pristine, nearly surreal vision. The works by the artist-members of the Association and their circle are complemented in the exhibition by a selection of still life, landscape and figure paintings by artists generally better known today such as Durand, Church, Bierstadt, Heade and John G. Brown, whose work was demonstrably touched by some of these same Ruskinian impulses although their paintings did not satisfy the stringent criteria of The New Path. From the perspective of historical distance a visual survey of all these works nevertheless will reveal a strong correspondence which suggests that the botanical and geological specificity, brilliant palette and sharp focus associated with the Ruskinian approach had a wider influence on mid-19th century American painting than the American Pre-Raphaelites or their opponents might have recognized or acknowledged. While their heyday was short and their numbers small, a distinctive body of work was created by the American Pre-Raphaelites--a body of work which was both a part of and apart from the mainstream of mid-19th century American painting and which attracted both champions and critics.

A symposium dealing with the Ruskinian circle and its influence will be held in the auditorium of the neighboring Brooklyn Botanic Garden on April 20. A fully illustrated catalog is available ($21.20 members; $24.95 non-members) including contributions by Linda S. Ferber; William H. Gerdts; Katherine A. Foster, Curator, Pennsylvania Academy of the Fine Arts; and Susan P. Casteras, Curator, Yale University British Art Center as well as a full record of the artists and works in the exhibition. The exhibition will travel to the Museum of Fine Arts Boston (July 3-September 8, 1985).

The exhibition was made possible in part by the National Endowment for the Arts. The catalog was made possible in part by The Luce Fund for Scholarship in American Art, a program of The Henry Luce Foundation, Inc.

Brooklyn Museum Archives. Records of the Department of Public Information. Press releases, 1971 - 1988. 1985, 007-8. View Original 1 . View Original 2

Spring 1985: The Brooklyn Museum Ball - A Pre-Raphaelite Evening, the Museum's twenty-eighth annual ball, will be held at the Museum, 200 Eastern Parkway, on Saturday, April 27, 1985. The Community Committee of The Brooklyn Museum organizes the annual event the proceeds of which support the Museum's renowned educational programs. The theme of the gala event derives from the Museum's exhibition The New Path: Ruskin and the American Pre-Raphaelites, March 29 - June 9, 1985. A private viewing of the exhibition will be a feature of the evening.

The guest of honor will be John F. Childs, Vice President of the Investment banking firm of Kidder, Peabody and Company, Inc. Ball Chairmen are Mrs. O. T. Berkman, Michael A. M. Keehner, Mrs. I. Wallace Leibner, Mrs. William Pedersen and Mrs. Richard R. Schilling, Jr.

The evening will include a champagne reception and private exhibition viewing, dinner catered by Remember Basil and dancing in the Museum's magnificent Court.

Proceeds from the Ball benefit thousands of children and adults who learn from the exhibitions and programs that The Brooklyn Museum presents each year.

A pair of tickets for the evening begins at $200 with higher category ticket holders ($350 a pair and up) receiving a signed and limited edition etching by a leading contemporary artist. For further information, phone (718) 789-2493.

Brooklyn Museum Archives. Records of the Department of Public Information. Press releases, 1971 - 1988. 1985, 013. View Original

Spring 1985: The Brooklyn Museum's 28th Annual Ball, "A Pre-Raphaelite Evening," will be held at the Museum on Saturday, April 27. A special feature of the evening will be a private viewing of the Museum's major spring exhibition The New Path: Ruskin and the American Pre-Raphaelites.

The evening, sponsored by the Community Committee of The Brooklyn Museum, will include a champagne reception, dinner, dancing and raffle with prizes including roundtrip tickets for two to Rio de Janeiro, couturier clothes, decorative accessories, antiques and works of art. Tickets for the Ball begin at $200 a pair and higher category ticket holders ($350 a pair and up) will receive a signed limited edition serigraph by noted contemporary artist Richard Anuszkiewicz. Proceeds from the Ball benefit the thousands who enjoy the many exhibitions and programs which make the Museum such a vital force in the community.

The Guest of Honor this year will be John F. Childs, Vice President, Kidder Peabody and Co., Incorporated. Planning the gala event are the President of the Community Committee Mary Antony (below center) and 1985 Ball Chairmen (clockwise from lower left) Elizabeth Pedersen, Joan Schilling, Michael A.M. Keehner, Celia Berkman and Dorothy Liebner. For information call (718)789-2493.

Brooklyn Museum Archives. Records of the Department of Public Information. Press releases, 1971 - 1988. 1985, 014. View Original
Press Coverage of this Exhibition
ART: THE AMERICAN PRE-RAPHAELITES

April 5, 1985 By GRACE GLUECK

"''PAINT the leaves as they grow! If you can paint one leaf, you can paint the world,'' wrote the English critic John Ruskin in his epic ''Modern Painters.'' And in the mid-19th century, a small group of American artists took the advice to heart, rendering Nature close up with such fidelity as to make today's Photo-Realism look - well, out of focus...."