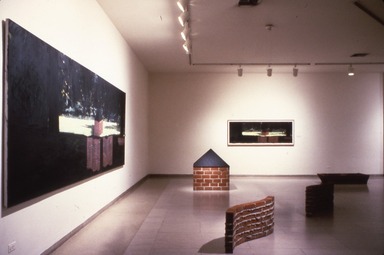 Jennifer Bartlett
Print
Press Releases
October 15, 1985: Jennifer Bartlett, the first major retrospective of the work of one of the outstanding New York artists of her generation, opens in the fifth floor galleries of The Brooklyn Museum on November 22 and will be on view through January 6. Covering the years 1970 to 1984, the exhibition traces the complex development of an artist internationally renowned for the scope and brilliance of her achievement.

On view will be nearly 40 large-scale paintings, among them Rhapsody, the room-sized work composed of 988 enameled steel plates. There are also 50 drawings, recent sculptures related to the themes of Bartlett's paintings and drawings, and plans and models for the six architectural commissions she has completed in the US and Europe.

Born in California, Bartlett graduated from Mills College in Oakland. She received an MFA from Yale School of Art and Architecture in 1965 and by 1968 had settled in the SoHo area of New York. While naturally engaged with the most serious artistic movements of the later 1960s--Minimalism, Conceptualism, and process art--she showed from the first a temperament that favored expansiveness and inclusiveness over reductionism.

She has always demonstrated an ability to confront large ideas head-on, dealing with them directly and passionately and following their implications with a thoroughness both logical and exuberant. She took, for example, the idea of the grid--one of the most fruitful for 20th-century painting--and in the late '60s invented a medium in which a literal grid made of 12-inch-square enameled steel plates silkscreened with a grid pattern acted both as the basic unit of composition and as the painting surface.

In her early works, culminating in Rhapsody, Bartlett united intense formal rigor with no less intense narrative feeling. As Roberta Smith remarks in the exhibition catalog, representation in this work is formally codified, while abstraction is given a strong narrative bent. The viewer's pleasure builds with the excitement of following the continuous stream of fresh invention, with the controlling structure only serving to heighten the intensity of feeling. In her more recent work, Bartlett's drive to examine all aspects of a theme, to juxtapose and combine media and points of view, is expressed in the creation of three-dimensional objects--a house, a boat, a fence--which come out of a painting and take their place in real space. Although the painterly realism of the artist's later paintings looks very different from her early work, the exhibition demonstrates the logic of her development and the consistency of her themes and attitude. The house, the sea and the garden are images that recur throughout her work, reexamined and newly imagined in a rich profusion of forms. Her themes generate formal invention, and her adventurous visual imagination regenerates her themes.

This exhibition was organized by Marge Goldwater of the Walker Art Center in Minneapolis and also travels to Kansas City, La Jolla and Pittsburgh.

In conjunction with the exhibition an illustrated 168-page book entitled Jennifer Bartlett, published by Abbeville Press, will be available ($21.10 Members: $24.84 Non Members.) The volume contains essays by Calvin Tomkins, Roberta Smith and Marge Goldwater.

Brooklyn Museum Archives. Records of the Department of Public Information. Press releases, 1971 - 1988. 1985, 051. View Original
Press Coverage of this Exhibition
ART: JENNIFER BARLETT, 15 YEAR RETROSPECTIVE

November 29, 1985 By MICHAEL BRENSON

"FEW contemporary artists are more controversial than Jennifer Bartlett. To her many defenders, her work is immensely ambitious and endlessly rich and inventive, and her serial, cinematic and novelistic approach has pioneered new ground for painting. Her detractors believe that she has flaws as a painter, that her work is weakened rather than..."

CRITICS' CHOICES; ART

December 1, 1985 By Michael Brenson

"In terms of contemporary art, far more is happening now at the Brooklyn Museum than at any other museum in New York City. There is a small exhibition of paintings by Richard Diebenkorn on the lids of cigar boxes that continues through tomorrow. And there is a large Jennifer Bartlett retrospective running through Jan. 6. In the same immense corridor..."