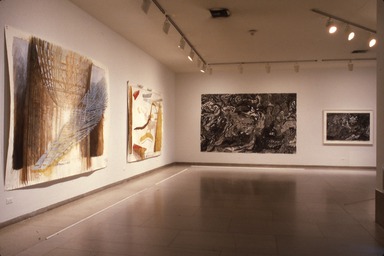 Monumental Drawings: Works by 22 Contemporary Americans
Print
Press Releases
September 19, 1986: The works of 22 contemporary American artists who use drawing as a primary medium will be featured in The Brooklyn Museum's second national drawing exhibition opening September 19. Monumental Drawing: Works by 22 Contemporary Americans, an exhibition of approximately 65 large-scale works by both well-known and up-and-coming artists, will remain on view through November 10, 1986. The drawings, conceived and executed as independent pieces, range in date from 1980 to 1986. While employing a variety of techniques and subject matter, they all use the large-scale format as one of their essential properties.

In addition to revealing a multiplicity of expressions and styles which reflect in large part the diversity of contemporary art today, Monumental Drawing also illustrates how the increasing popularity of drawing has influenced the physical and intellectual scale of recent works on paper. Since World War II, drawing has undergone changes that have been even more dramatic than those affecting painting and sculpture. Once used primarily for preliminary sketches for works in other media, drawing has over the last few decades become a medium for independent, fully realized works that freely integrate properties historically associated with painting and sculpture.

The exhibition has been organized by Charlotta Kotik, Curator of Contemporary Art, The Brooklyn Museum. It has been made possible in part by the National Endowment for the Arts, a federal agency, and the New York State Council on the Arts.

Monumental Drawing will be accompanied by a 64-page illustrated catalogue published by The Brooklyn Museum. It contains a critical essay by Ms. Kotik, exhibition histories and bibliographies of each artist and 22 black-and-white photographs.

Artists in the exhibition are:

Zigi Ben-Haim
Cynthia Carlson
Robert Cumming
Carroll Dunham
Joyce Fillip
John Himmelfarb
Bryan Hunt
Robert Longo
Robert Moskowitz
Bruce Nauman
John Newman
Diane Olivier
Elfi Schuselka
Richard Serra
Robert Stackhouse
Donald Sultan
Andrew Topolski
Michael Tracy
Randy L. Twaddle
Robin Winters
Terry Winters
Michael Zwack

Brooklyn Museum Archives. Records of the Department of Public Information. Press releases, 1971 - 1988. 1986, 064-65. View Original 1 . View Original 2
Press Coverage of this Exhibition
ART: BROOKLYN SHOW, 'MONUMENTAL DRAWING'

October 3, 1986 By VIVIEN RAYNOR

"DRAWING isn't what it was, and it hasn't been for some time. Yet because there is something sinister about a change that deprives a term as simple as drawing of its meaning, it still seems necessary to remark on it. The latest authority to do so is Charlotta Kotik - in the show of monumental drawings that she has organized for the Brooklyn Museum,..."