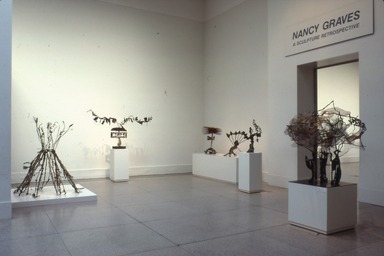 Nancy Graves: A Sculpture Retrospective
Dates:

December 11, 1987 through February 29, 1988

Collections: Contemporary Art
Print
Press Releases
November 1987: The first museum exhibition devoted exclusively to the sculpture of the contemporary American artist Nancy Graves will open at The Brooklyn Museum on December 11, 1987, and be on view through February 29, 1988. Nancy Graves: A Sculpture Retrospective, an exhibition comprising approximately 50 works dating from 1969 to 1986, will survey the artistic output of one of the most prolific and highly regarded artists working in sculpture today. It will be installed in the Museum's East End galleries, located on the fifth floor.

Nancy Graves experiments with and has mastered such varied media as painting, printmaking, drawing, filmmaking and stage design. However, it is through her sculpture and its innovative style that she has achieved her present status. Beginning with her Camel series in the late 1960s, Graves has continuously challenged the very process of creating sculpture, changing ordinary expectations and crossing the boundaries between art and science.

Born in Pittsfield, Massachusetts, in 1940, Graves spent many hours during her youth in The Berkshire Museum in Pittsfield where her father was director. According to the artist, there she was instilled with a lasting interest in the dialogue between art and science. She earned a B.A. in English literature at Vassar College in 1961 and went on to Yale University where she received a B.F.A. in 1962 and an M.F.A. two years later. She was awarded a Fulbright-Hayes Grant in Painting in 1964 to study in Paris for a year. In 1965, Graves moved to Florence, Italy, where she lived and studied for fifteen months.

While she was living in Florence, Graves was profoundly influenced by the work of the eighteenth-century anatomist Clemente Susini, whose wax models of the internal structures of humans and animals she studied. She also experimented with taxidermy and executed the first life-size likenesses of camels that brought her quickly to the forefront of contemporary sculpture when three of them were exhibited in New York in 1969.

Graves followed up this early success with works simulating skeletal structures, bones and fossil fragments as she investigated nontraditional materials and an innovative approach to composition in her work. Between 1972 and 1976 the artist explored filmmaking and painting and concentrated on a series of paintings based on topographic maps of the ocean floor, among other things. It was her interest in topography, however, that led her to the study of prehistoric cities, which in turn influenced her new sculptural pieces when she resumed her work in sculpture in 1977.

Nancy Graves' decision in 1979 to use direct bronze casting made her one of the pioneers of the revival of this most traditional of sculptural materials. Since that time, her continued inventiveness and innovation in the medium is considered to have profoundly changed to usage of bronze. The artist directly casts parts of various common and exotic plants as well as other objects, making numerous bronzes of each and storing these for use as components in future pieces. No longer preferring to do preliminary sketches, she works directly at the foundry juxtaposing these disparate elements and welding them together into open structures with fluid tapers that resemble exotic forms of nature. The works are characterized by an illusion of lightness and seeming imbalance and are reminiscent of drawings composed of brilliantly colored lines.

Nancy Graves: A Sculpture Retrospective was organized by the Fort Worth Art Museum. The installation at The Brooklyn Museum is coordinated by Charlotta Kotik, Curator of Contemporary Art for the Museum.

The exhibition is accompanied by a fully illustrated catalogue raisonné of the artist's sculptures (Hudson Hills Press, $25 softcover, $50 hardcover).

Brooklyn Museum Archives. Records of the Department of Public Information. Press releases, 1971 - 1988. 1987, 113-115. View Original 1 . View Original 2 . View Original 3

January 1988: As part of its new series, Conversations with Contemporary Artists, The Brooklyn Museum will present an interview with American Sculptor, Nancy Graves, on Sunday, February 21. Charlotta Kotik, Curator of Contemporary Art will conduct the interview. The program, which will be held at 2 p.m. in the Museum's 3rd floor Lecture Hall is free with Museum admission (suggested at $3 for adults, $1.50 for students with valid I.D., and $1 senior citizens.)

Nancy Graves is one of the most prolific and highly-regarded artists working in sculpture today. Beginning with her "Camel" series in the late 1960s, Graves has continuously challenged the very process of creating sculpture. Today, she is best known for her highly colored, cast bronze sculptures which incorporate natural and man-made objects into open-work designs that resemble exotic forms of nature. The Museum is presenting a comprehensive retrospective of Ms. Graves sculpture through February 29, in its 5th floor galleries. The audience is invited to view the exhibit before or after the interview.

Other contemporary artists who will appear in this Sunday series are Alex Katz, March 27 and Donald Sultan, April 10.

Brooklyn Museum Archives. Records of the Department of Public Information. Press releases, 1971 - 1988. 1988, 008. View Original
Press Coverage of this Exhibition
FORMS OF FANTASY

December 6, 1987 By Cathleen McGuigan; Cathleen McGuigan is a general editor at Newsweek magazine who writes frequently on the arts.

"LEAD: NANCY GRAVES is rummaging through her things in the makeshift studio she keeps in a corner of the Tallix Foundry in Beacon, N.Y. The place looks like the treasure trove of a budget-minded King Midas. Scattered on shelves and dumped in boxes are hundreds of everyday objects cast in bronze: bronze milk crates, pleated lampshades, sunflowers,..."

Art: Sculptures by Nancy Graves at the Brooklyn Museum

December 18, 1987 By MICHAEL BRENSON

"LEAD: AT the entrance to ''Nancy Graves: A Sculpture Retrospective'' is the 1969 ''Mongolian Bactrian (To Harvey Brennan),'' a main character in the shaggy camel story that helped establish Ms. Graves's reputation. A camel is an eccentric animal, and this is an eccentric work. It looks like an actual camel, but it was assembled, constructed and..."

Art: The Silver of San Gennaro, From Naples

January 8, 1988 By MICHAEL BRENSON

"LEAD: WITH the Nancy Graves sculpture retrospective and the display of Rodin bronzes, the third installation on the fifth floor of the Brooklyn Museum is easy to overlook. It doesn't help that its title, ''The Treasure of San Gennaro: Baroque Silver From Naples,'' suggests luxury items, religious relics and little else. WITH the Nancy Graves..."