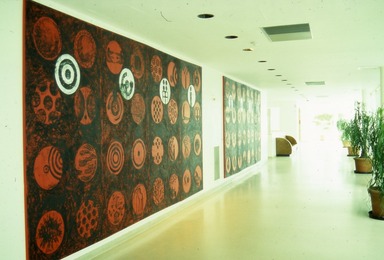 Matt Mullican
Print
Press Releases
July 1988: Untitled, a Grand Lobby installation by the contemporary American artist Matt Mullican, will open at The Brooklyn Museum August 4 and remain on view through November 7, 1988. The large-scale work comprises 52 eight-by-four-foot panels of oilstick rubbings on stretched canvas and is the artist's first solo exhibition in a major New York City museum.

Born in Santa Monica, California, in 1951, Matt Mullican attended California Institute of the Arts in Valencia in the early 1970s. During that time, he began to explore the use of language and symbols in art. Eventually, he developed his own elaborate language of symbols using colors, emblems, and more complex images which he combines in posters, banners, plaques, tapestries, and stained glass, as well as drawings.

In Untitled, Mullican uses symbols to chart a continuous record of mankind's endeavors from the prehistoric through the rise of civilization. The individual panels are rubbings -- an ancient way of producing and disseminating images -- made from masonite reliefs. The panels are then mounted to create a mural-like display.

The Grand Lobby installations are made possible, in part, by a grant from the National Endowment for the Arts, a federal agency.

Brooklyn Museum Archives. Records of the Department of Public Information. Press releases, 1971 - 1988. 1988, 071. View Original
Press Coverage of this Exhibition
Review/Art; Synopsizing the Graphic Fabric of Modern Life

August 12, 1988 By MICHAEL KIMMELMAN

"LEAD: No doubt with conscious irony, Matt Mullican has left untitled his work on view at the Brooklyn Museum. This is perhaps the single aspect of the large-scale project that refuses to state its own name. With otherwise relentless persistency, Mr. Mullican's images speak in a disconcerting babble of tongues, each busily labeling experiences and..."