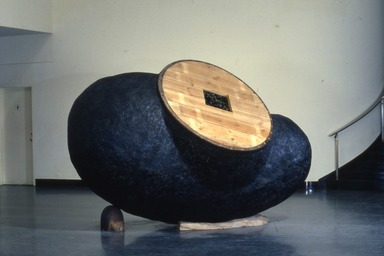 Martin Puryear
Dates:

November 18, 1988 through February 13, 1989

Collections: Contemporary Art
Print
Press Releases
November 1988: The Brooklyn Museum's most recent Grand Lobby installation features two large-scale works by contemporary American sculptor Martin Puryear. The Chicago-based artist, whose work will be on view from November 18 to February 13, is considered one of the most outstanding members of a generation of young sculptors who have gained prominence in the 1980s. The installation comprises Desire, which was created in 1981 and is composed of a slender conical shape woven of wooden slats with a long arm extending from it that ends in a high wheel and measures 16 x 16 x 32 ft.; and Maroon, a compact, organic shape with a flat wooden face composed of a bentwood skeleton, steel rod, wire mesh, wood and tar, measuring 7 1/2 x 5 1/2 x 8 1/2 ft.

Born in Washington, D.C., in 1941, Puryear graduated with a degree in art from Catholic University of America in 1963. At that time figurative painting was his major interest, but after he joined the Peace Corps and went to teach in Sierra Leone in 1964 he drew more than he painted and began to observe the technique and philosophy of local craftsmen. From Africa he went to Stockholm to study printmaking at the Swedish Royal Academy of Art while devoting more and more time to creating three-dimensional objects. After completing a graduate program at Yale in 1971, Puryear moved to Brooklyn and took a large studio. In 1978 he decided to move to Chicago, where he now resides.

The Grand Lobby installations are made possible, in part, by a grant from the National Endowment f or the Arts, a federal agency. This project received additional support from the New York State Council on the Arts.

Brooklyn Museum Archives. Records of the Department of Public Information. Press releases, 1971 - 1988. 1988, 104-105. View Original 1 . View Original 2
Press Coverage of this Exhibition
A Sculptor to Represent U.S. at Sao Paulo Biennale

November 22, 1988 By MICHAEL BRENSON

"LEAD: Martin Puryear, a widely praised abstract sculptor, has been selected to represent the United States at the Sao Paulo Biennale in Brazil, the most prestigious international art exhibition after the one in Venice. He is believed to be the first black artist to be the sole representative of the United Martin Puryear, a widely praised abstract..."

Review/Art; The Romance of Ruins

December 2, 1988 By MICHAEL KIMMELMAN

"LEAD: The world has never looked the way Hubert Robert pictured it - as an endless and eternally lush garden inhabited by workers who happily make their homes in picturesque ancient ruins. Robert imbued this fantastical place with a gentle soul, creating scenes where the past and present, the natural and manmade, the mundane and sublime, seem held..."