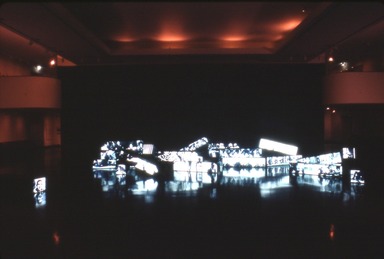 Alfredo Jaar: The Fire Next Time
Print
Press Releases
June 1989: Racial inequality in the United States is the subject of a site-specific installation created by the contemporary artist Alfredo Jaar for The Brooklyn Museum's Grand Lobby. Entitled The Fire Next Time, the work was inspired by the African-American writer James Baldwin (1924-1987), and employs black-and-white images drawn from civil rights demonstrations of the 1960s. The installation, comprising 22 rectangularly shaped metal light boxes placed in irregular groupings on the floor, opened June 2 and will remain on view through September 4, 1989.

Born in Santiago, Chile, in 1956, Alfredo Jaar studied architecture and filmmaking before immigrating to the United States in 1982. Certain themes related to what Jaar has called "issues of morality" recur often in his work. And although he does not wish to be categorized as a political artist, his work recognizes the power of photographic images to convey a social message.

The installation was coordinated by Laural Weintraub, Assistant Curator of Painting and Sculpture at the Museum. It has been made possible with generous support from The Lannan Foundation and The FUNd at The Brooklyn Museum.

Brooklyn Museum Archives. Records of the Department of Public Information. Press releases, 1989 - 1994. 1989, 089. View Original
Press Coverage of this Exhibition
Review/Art; 30 Hispanic Artists At Brooklyn Museum

June 9, 1989 By MICHAEL KIMMELMAN

"LEAD: ''Hispanic Art in the United States: 30 Contemporary Painters and Sculptors,'' which opens today at the Brooklyn Museum, is the wrong exhibition at the right time. One begins walking through it full of expectations about artists who are finally receiving their due recognition. One leaves full of doubts - doubts not about the quality of..."