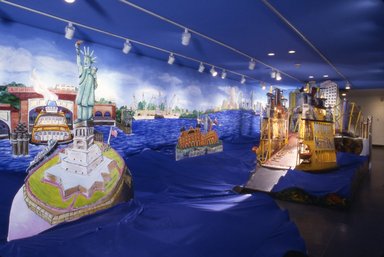 Dame of the Narrows: Red Grooms
Dates:

November 8, 1992 through March 12, 1995

Collections: American Art
Print
Press Releases
September 1992: In a special exhibition at The Brooklyn Museum, Red Grooms will transform the Museum's Lobby Gallery into a fanciful version of the New York harbor. Featured will be Dame of the Narrows (1976), a large-scale sculpture of the Staten Island ferry arriving at its Manhattan terminal. New murals designed by the artist especially for this installation, depicting the Brooklyn, Manhattan, and New Jersey shore lines, will surround the sculpture. This long-term installation will go on view beginning November 6, 1992.

On the outside of the sculpture, seagulls hover over the vivid yellow boat painted with the words "City of New York Marine & Aviation." The inside houses a series of plexiglass dioramas that whimsically re-create the commuting experience--the taxi depot, the waiting room, the seated passengers, and their captain at the helm. The ferry sits atop sheets of blue nylon, which cover the floor in waves evoking the harbor waters. As visitors step aboard the ferry, inner spring mechanisms will rock the boat, create waves, and send the sculpted seagulls soaring.

Dame of the Narrows is a collaboration between artists Red Grooms and Mimi Gross with the Ruckus Construction Company, a team of artists and engineers. It was originally created as part of Ruckus Manhattan, a series of sculptures depicting New York City from Bowling Green to 57th Street. Initially installed at the World Trade Center and later at the Marlborough Gallery in New York City, Dame of the Narrows has been part of The Brooklyn Museum's permanent collection since 1977, when it was given to the Museum by the Citizens Committee for New York City, Inc.

Red Grooms is best known for works like Ruckus Manhattan, which he calls "sculpto-picto-ramas"--three-dimensional sculptural environments constructed from materials as varied as glued cardboard, welded steel, paint, plaster, fabric, and mechanical devices. These works are rich in architectural detail, art historical reference, and the artist's unique sense of humor.

The Museum's current installation of the work will be realized with the assistance of artist Mark Hooper and is being coordinated by Pamela S. Johnson, Curatorial Assistant in the Department of Painting and Sculpture.

Brooklyn Museum Archives. Records of the Department of Public Information. Press releases, 1989 - 1994. 07-12/1992, 151-152. View Original 1 . View Original 2

September 1993: The Brooklyn Museum will continue its widely acclaimed exhibition, Fancy Feet: Four Centuries of Ladies' Footwear from The Brooklyn Museum, replacing the 75 shoes and boots on view since March 17 with the footwear's right or left counterparts on October 6, 1993. "Because of the fragility of the material used on most of the pieces, like lace, satin, velvet, and feathers, the shoes that have been on view for the last seven months need to be rotated into storage and their matches, carefully preserved off view until now, put out on display for a while," said Patricia Mears, curator of Fancy Feet.

The exhibition is a historic overview of four centuries of women's footwear and the role these items have played in the lives of the women who wore them. The shoes and boots featured range from 16th-century Venetian platforms, known as chopines, to recent creations of English designer Manolo Blahnik from 1992. Also included are shoes worn by such personalities as Joan Fontaine and Lauren Bacall.

Fancy Feet: A Historic Collection of Ladies' Footwear from The Brooklyn Museum was made possible by the generous support of Mrs. Randolph Hearst Jr.

RED GROOMS'S DAME OF THE NARROWS EXTENDS ITS VOYAGE AT THE BROOKLYN MUSEUM THROUGH JUNE 30TH

Red Grooms's Dame of the Narrows and the Greater New York Harbor has been extended at The Brooklyn Museum through June 30th, 1994. The exhibition, which opened November 6, 1992, consists of a large-scale sculpture of the Staten Island Ferry arriving at its Manhattan terminal. Surrounding the sculpture, which visitors are invited to climb aboard and examine, are new murals designed by Red Grooms especially for the installation, depicting the Brooklyn, Manhattan, Staten Island, and New Jersey shorelines.

The presentation has been partially funded by the Marlborough Gallery.

Brooklyn Museum Archives. Records of the Department of Public Information. Press releases, 1989 - 1994. 07-12/1993, 127-128. View Original 1 . View Original 2

June 1994: Red Grooms's Dame of the Narrows and the Greater New York Harbor has been extended at The Brooklyn Museum through November 27, 1994. The exhibition, which opened November 6, 1992, consists of a large-scale sculpture of the Staten Island Ferry arriving at its Manhattan terminal. Surrounding the sculpture are murals designed by Red Grooms especially for the installation, depicting the Brooklyn, Manhattan, Staten Island, and New Jersey shorelines. Visitors are invited to climb aboard and examine the ferry, which rocks and creates waves, only until September 1, 1994.

The presentation has been partially funded by the Marlborough Gallery.

Brooklyn Museum Archives. Records of the Department of Public Information. Press releases, 1989 - 1994. 01-06/1994, 079. View Original
Press Coverage of this Exhibition
For Children

November 13, 1992 By Dulcie Leimbach

"'Dame of the Narrows' The Brooklyn Museum 200 Eastern Parkway At Prospect Park (718) 638-5000 Recommended for all ages Through November 1993 Who can resist Red Grooms? Not many children can. The artist's "Dame of the Narrows," a 1976 walk-on sculpture surrounded by brightly colored new murals (he calls the work a "sculpto-picto-rama"), is on..."

The World According to Steinberg

December 6, 1992 By Red Grooms;

"THE DISCOVERY OF AMERICA By Saul Steinberg. Introduction by Arthur C. Danto. Illustrated. 208 pp. New York: Alfred A. Knopf. $50. The art goes from the whimsical to recent work of almost brutal power, art that I think of as Expressionist. There is tremendous adventure in this book. Mr. Steinberg responds so intensely and deeply to what goes on..."