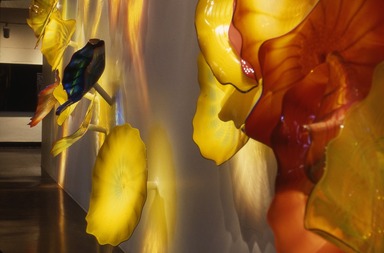 Dale Chihuly: New York Installations
Dates:

September 30, 1994 through September 10, 1995

Collections: Contemporary Art
Print
Press Releases
September 1994: On September 30, 1994, a boldly colored installation entitled The Brooklyn Wall, created by world-renowned glass artist Dale Chihuly, will dance upon the rear wall of The Museum's Grand Lobby. The Brooklyn Wall is an anangement of approximately 35 yellow, orange, blue, and green flower-like forms created from blown, spun glass. The installation will remain on view until September 10, 1995.

Dubbed the modem-day Tiffany, Dale Chihuly has spent his life creating fantastical organic glass sculptures. Born in Tacoma, Washington in 1941, he attended the University of Washington and received graduate degrees at the University of Wisconsin and the Rhode Island School of Design (RISD), where he first conceived of the biomorphic glass forms that became the signature shapes of his career. The first recipient of a Fulbright for the study of glass, Chihuly went to Venice in 1968 and became the first American to study at the Venini Fabrica. There he learned the importance of teamwork, critical to the art of glass blowing. In 1969 he created the first glassmaking department at RISD, and in 1971 he founded the famous Pilchuck Glass School north of Seattle. "The Boathouse," his Seattle studio and residence, is where Chihuly has lived since 1983 refinng his art. Through persistent attempts to improve the technology of studio glass and the ability to share his colorful vision, Chihuly has successfully elevated molten glass to the status of fine art: he is one of three Americans ever to have a solo exhibition at the Louvre, and his works are on display in more than 80 art museums worldwide.

Chihuly's impressive body of work stands as proof of his energy, as does the fact that Seattle is now second only to Venice in its population of glass artists. His vibrantly colored pieces often run in series that play with traditional organic shapes, such as Cylinders (1974-84); Seaforms (1980); Baskets (1977-79); Floats (1992-93), inspired by Japanese fishing boats and the largest glass spheres ever blown; and Ikebana (1991-92), long stems inspired by Japanese floral arrangements. Because of its high output and technical difficulty, Chihuly's art requires large groups of artists to produce. Blind in one eye from an automobile accident, Chihuly now leaves the actual glassblowing to his crews of up to 18 assistants, who follow his drawings and directions with precision. He is quick to credit his assistants, however, keeping the idea of apprenticeship alive. He is also quick to cite the influences of his own mentors, Harvey Littleton, Italo Scanga, and James Carpenter, as well as the often contradictory qualities of glass--opaque and translucent, fluid and brittle, solid and liquid--that provide constant challenge and inspiration.

The Grand Lobby project was coordinated by Melissa W.M. Seiler, Assistant Curator of Decorative Arts. The Brooklyn Museum also acknowledges the extraordinary contributions of the artist and his studio in realizing this project.

Brooklyn Museum Archives. Records of the Department of Public Information. Press releases, 1989 - 1994. 07-12/1994, 109-110. View Original 1 . View Original 2

September 1994: On September 30, 1994, an enormous bright-yellow glass chandelier created by world-renowned glass artist Dale Chihuly will take over the Grand Lobby of The Brooklyn Museum. Created specifically for the expansive space, this undulating sculpture will consist of two thousand golden spheres dangling like a bunch of giant yellow grapes from the more than 23-foot-high ceiling and extending almost to the floor. This piece will be the latest work in a series of chandeliers Chihuly has been creating for public spaces since 1992. The installation will remain on view until September 10, 1995.

Dubbed the modern-day Tiffany, Dale Chihuly has spent his life creating fantastical organic glass sculptures. Born in Tacoma, Washington in 1941, he attended the University of Washington and received graduate degrees at the University of Wisconsin and the Rhode Island School of Design (RISD), where he first conceived of the biomorphic glass forms that became the signature shapes of his career. The first recipient of a Fulbright for the study of glass, Chihuly went to Venice in 1968 and became the first American to study at the Venini Fabrica. There he learned the importance of teamwork, critical to the art of glassblowing. In 1969 he created the first glassmaking department at RISD, and in 1971 he founded the famous Pilchuck Glass School north of Seattle. "The Boathouse," his Seattle studio and residence, is where Chihuly has lived since 1983 refining his art. Through persistent attempts to improve the technology of studio glass and the ability to share his colorful vision, Chihuly has successfully elevated molten glass to the status of fine art: he is one of three Americans ever to have a solo exhibition at the Louvre, and his works are on display in more than 80 art museums worldwide.

Chihuly's impressive body of work stands as proof of his energy, as does the fact that Seattle is now second only to Venice in its population of glass artists. His vibrantly colored pieces often run in series that play with traditional organic shapes, such as Cylinders (1974-84); Seaforms (1980); Baskets (1977-79); Floats (1992-93), inspired by Japanese fishing boats and the largest glass spheres ever blown; and Ikebana (1991-92), long stems inspired by Japanese floral arrangements. Because of its high output and technical difficulty, Chihuly's art requires large groups of artists to produce. Blind in one eye from an automobile accident, Chihuly now leaves the actual glassblowing to his crews of up to 18 assistants, who follow his drawings and directions with precision. He is quick to credit his assistants, however, keeping the idea of apprenticeship alive. He is also quick to cite the influences of his own mentors, Harvey Littleton, Italo Scanga, and James Carpenter, as well as the often contradictory qualities of glass—opaque and translucent, fluid and brittle, solid and liquid—that provide constant challenge and inspiration.

The Grand Lobby project was coordinated by Melissa W.M. Seiler, Assistant Curator of Decorative Arts. The Brooklyn Museum also acknowledges the extraordinary contributions of the artist and his studio in realizing this project.

Brooklyn Museum Archives. Records of the Department of Public Information. Press releases, 1989 - 1994. 07-12/1994, 111-112. View Original 1 . View Original 2

September 28, 1994: Seattle glass artist Dale Chihuly, whose work is in the White House craft collection and who has been called a modern day Tiffany and the Michelangelo of glass, will have a large-scale glass installation on view at The Brooklyn Museum beginning October 14.

The work entitled The Brooklyn Wall resembles an oversized garden of multi-colored glass flowers in the Grand Lobby of the Museum, where it covers almost the entire rear wall measuring approximately 24 feet high and 60 feet wide.

The large scale work will be publicly unveiled at a gala opening on Thursday September 29, 6:00-9:00 p.m. at The Brooklyn Museum.

Dale Chihuly, just returned from the White House dinner for Boris Yeltsin, where he wore a pair of sneakers, which he had handpainted to look like stained glass, will be present at The Brooklyn Museum opening.

Brooklyn Museum Archives. Records of the Department of Public Information. Press releases, 1989 - 1994. 07-12/1994, 113. View Original
Press Coverage of this Exhibition
THE ANNOTATED CALENDAR; ARTS/ARTIFACTS

September 11, 1994 By RITA REIF

"Here is a selective guide to cultural events in New York and beyond in the months ahead. As usual, programs change, and some events are sold out. Unless indicated, all dates listed are for openings, all addresses are in Manhattan, and all telephone numbers have a 212 area code. Addresses for locations in New York City cited more than once appear at..."

ARTS/ARTIFACTS; Glass On A Grand Scale

October 23, 1994 By RITA REIF

"IN THE DARKENED LOBBY OF THE Brooklyn Museum, mammoth glass butterflies seem to cling to a wall like so many eerie insects from outer space. The work, which is called "The Brooklyn Wall," comprises 32 brilliantly colored blown-glass forms and is the largest ever made by the Seattle artist Dale Chihuly. Butterfly magic is a specialty of Mr. Chihuly...."