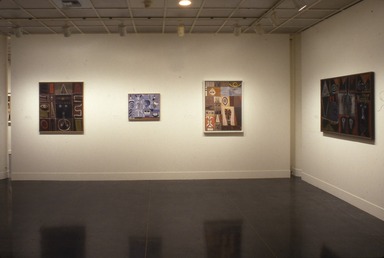 The Pictographs of Adolph Gottlieb
Print
Press Releases
January 27, 1995: The Pictographs of Adolph Gottlieb, a major traveling exhibition, will be presented at The Brooklyn Museum from April 21 through August 26, 1995. This exhibition, comprising more than sixty works dating from 1941 through 1952, is the first in-depth examination of Gottlieb's pictographs, paintings characterized by gridlike arrangements of cultural images and ideas drawn from a wide spectrum of sources, including The Brooklyn Museum's collection of African and Native American art. Gottlieb assembled his own collection of tribal objects, given to the Museum in 1989 by his wife, the painter Esther Gottlieb. The exhibition will be enhanced by works from the Museum's tribal art collections, allowing consideration of the pictographs in light of specific objects seen by the artist.

Born on New York's Lower East Side, Adolph Gottlieb (1903-1974) left high school in 1921, first attending classes at the Art Students League and later studying firsthand the cultural legacy of the West after working his way to Europe on a steamer. Upon his return to New York, he continued his courses with John Sloan and Robert Henri at the Art Students League. Gottlieb was an active participant in the city's art world of the 1920s, counting among his friends a number of fellow artists, including Milton Avery, John Graham, Barnett Newman, and Mark Rothko.

Throughout the 1930s, Gottlieb and his colleagues, frustrated by the limitations imposed by European abstraction and surrealism and American regionalism and social realism, sought nothing less than to reinvent American art. Gottlieb's approach, developed through discussions with Rothko, interpreted classical myth using imagery derived from ancient and tribal art. Emphasizing the theme of separation, he selected the theme of Oedipus as the inspiration for the series of paintings he began in 1941, calling them pictographs out of disdain for those prevailing styles of art making.

Conceived as repositories for a mixture of cultural, sociological, and personal themes, Gottlieb's pictographs were among the first fully developed paintings to diverge from Western models. Seeking to communicate his experience of the modern world, Gottlieb rejected depiction and instead relied on the visual presentation of images and ideas culled from such sources as Native American, African, and Pacific Island art; the theories of Carl Jung, Sigmund Freud, André Bréton, and John Graham; the writings of James Joyce; and the art of Pablo Picasso. The resulting elements of the pictograph, arranged within a gridded composition, were meant not to be read in sequence but apprehended as a whole. Presented as an object, the pictograph redefines itself from viewer to viewer and over the course of time.

The pictograph Vigil (1948) displays many of Gottlieb's formal and compositional concerns. The image of the eye, prominent in this work and throughout the series, originally alluded to the tragic fate of Oedipus: in this later painting, its meanings are at once multiple and universal. Gottlieb greatly admired the Native American and other tribal art he found at The Brooklyn Museum, within walking distance of his home on State Street in Brooklyn Heights. He incorporated into Vigil and many other pictographs, motifs he found on such objects in the Museum's collection.

The pictographs of Adolph Gottlieb establish a critical link between European modernism and American painting in the 1950s and 1960s. Charlotta Kotik, Chairman and Curator, Contemporary Art, The Brooklyn Museum, writes in her catalogue essay, "We see in these works the first concentrated effort to draw truly innovative solutions from the ideas suggested both by cubism and surrealism, with indigenous American and tribal art acting as a catalyst in setting the whole process in motion. Never yielding to total abstraction but always maintaining the presence of an object through its manipulated image, Gottlieb's pictographs point to the iconic vision of Jasper Johns and the compartmentalized imagery of the early work of Robert Rauschenberg. In a time when content in art is once again seriously debated, when the ideas of cross-cultural fertilization are central to understanding the wide scope of art currently being created, the legacy of Adolph Gottlieb once again comes into focus."

The exhibition was organized by the Adolph and Esther Gottlieb Foundation. The presentation at The Brooklyn Museum is made possible by a generous gift from Martha A. and Robert S. Rubin. Additional support has been provided by the Philip Morris Companies Inc., the National Endowment for the Arts, and the Milton and Sally Avery Arts Foundation. The Brooklyn Museum's installation of The Pictographs of Adolph Gottlieb was coordinated by Charlotta Kotik. A wide range of education programs complements the exhibition. The exhibition is accompanied by a fully illustrated catalogue.

The Pictographs of Adolph Gottlieb, with essays by Lawrence Alloway, Sanford Hirsch, Charlotta Kotik, Linda Konheim Kramer, and Evan Maurer. 143 pgs. 127 photos, incl. 69 color plates. Soft-cover, $25.

Brooklyn Museum Archives. Records of the Department of Public Information. Press releases, 1995 - 2003. 01-06/1995, 001-3. View Original 1 . View Original 2 . View Original 3
Press Coverage of this Exhibition
ART REVIEW; Searching for the Psyche's Secrets Among Grids and Random Images

April 21, 1995 By MICHAEL KIMMELMAN

"Beginning in the 1940's, the New York School painter Adolph Gottlieb earned a place among America's leading artists with his pictographs. They consisted of loose grids. Gottlieb spoke of the grids as houses, and compared their compartments to rooms, which he filled with abstract shapes, some of them derived from African masks, Pre-Columbian..."