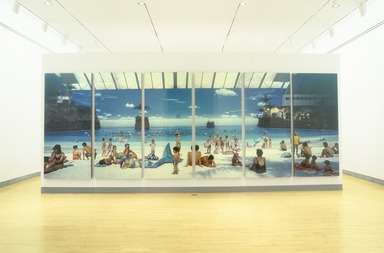 Mariko Mori: Empty Dream
Print
Press Releases
Press Coverage of this Exhibition
INSIDE ART; National Gallery Fills Its Garden

March 19, 1999 By Carol Vogel

National Gallery of Art in Washington acquires 10 major sculptures in time for May 23 opening of its new sculpture garden...Dia Center for the Arts acquires seminal series of 15 plywood floor pieces by Donald Judd, which it will display in new new branch in Beacon, NY...Brooklyn Museum of Art schedules show of installations and photographs by Mariko Mori, Japanese photographer and performance artist; photo...Anna and Brian Haughton plan to hold an Internatinoal 20th Century Art and Design Show at Seventh Regiment Armory in Manhattan over Thanksgiving weekend (M)

ART REVIEW; Drawing on a Rich Lode of Shinto-Buddhist Culture

April 16, 1999 By HOLLAND COTTER

Holland Cotter reviews exhibit of videos and computer-generated photographs of Japanese-born artist Mariko Mori at Brooklyn Museum of Art; photos (M)

ART GUIDE

April 23, 1999

"Here is a selective listing by critics of The Times of new or noteworthy art, design and photography exhibitions at New York City museums and art galleries this weekend. Addresses, unless otherwise noted, are in Manhattan. Most galleries are closed on Sundays and Mondays, but hours vary and should be checked by telephone. Gallery admission is free...."