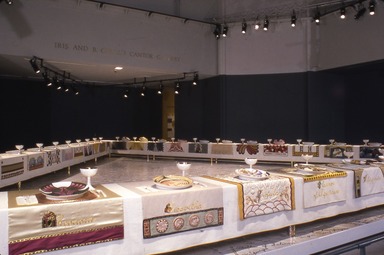 Judy Chicago: The Dinner Party
Print
Exhibition Didactics
Celebrating 1,038 actual and mythical women of achievement, The Dinner Party is a monumental tribute to all women. In 1974, Judy Chicago began work on this elaborate installation, which over the course of five years would ultimately become a collaboration between the artist and about four hundred women and men.

The main part of The Dinner Party is introduced by six tapestries with "visionary" texts, three panels acknowledging the artist's hundreds of collaborators, and seven panels documenting the lives of the specific women featured in the work. These multifaceted elements surround The Dinner Party's focal point; a massive triangular table adorned with thirty-nine place settings, each honoring a female figure who helped form and inform Western civilization. Through artistic media traditionally associated with women—notably china painting and embroidery—Chicago designed these settings to reflect each woman's unique accomplishments, though all the plates share a general imagery of butterflies, flowers, and vulvae. The table stands on the Heritage Floor, which is inscribed with the names of the other 999 women celebrated by this work.

The Dinner Party has made an important contribution to feminist thinking and to the history of art. This complex artistic statement helped point the way toward changing the once small, exclusive, and male-dominated art world into the inclusive scene we know today. Marking the twenty-second anniversary of its first showing at the Brooklyn Museum in the same space, this presentation of The Dinner Party invites visitors to contemplate anew the enduring significance of this landmark work of American art.

The Brooklyn Museum of Art is grateful to The Elizabeth A. Sackler Foundation for the gift of The Dinner Party and for enabling us to preserve its legacy for future generations. In the summer of 2004, The Dinner Party will lend its permanent home in the Elizabeth A. Sackler Center for Feminist Art on the fourth floor of the Museum.