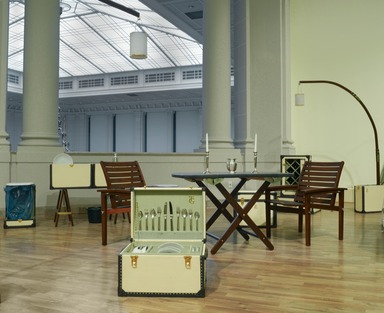 Pied-a-Terre by Toland Grinnell
Dates:

July 13, 2007 through May 4, 2008

Collections: Contemporary Art
Location: This exhibition is no longer on view on the 4th Floor
Description:

Pied-a-Terre by Toland Grinnell (long-term installation). [07/13/2007 - 05/04/2008]. Installation view.

Citation:

Brooklyn Museum Digital Collections and Services. Records of the Department of Digital Collections and Services.

(DIG_E_2007_Grinnell)

Source:

born digital

Related Links:
Print
Exhibition Didactics
Toland Grinnell
The ordinary necessities of everyday life—beds, sinks, and stoves—are transformed into luxuries when they are taken out of context for use in the great out-of-doors; goods that seem rudimentary in the domestic sphere appear opulent at a campsite. Toland Grinnell emphasizes that metamorphosis in Pied-À-Terre, where a host of consumer goods are not only assembled to make a compact and portable living environment reminiscent of big-game hunting and Adirondack camps but are also repackaged to reflect the contemporary fascination with designer label luxury goods, in this case complete with the artist's gilded "TG" monogram. Born in Brooklyn in 1969, Grinnell examines issues of consumer culture, decadence, and luxury in his work.