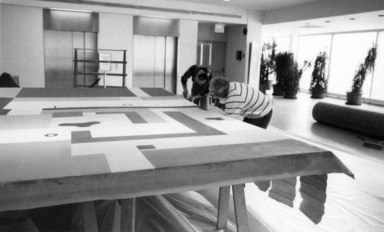 Williamsburg Murals: A Rediscovery
Dates:

March 30, 1990 through April 2009

Collections: American Art
Print
Exhibition Didactics
Williamsburg Murals: A Rediscovery
The exceptional murals that are installed in this area were returned to public view in 1990 after a long hiatus during which they were thought to have been either lost or destroyed. The paintings have been placed on long-term loan to the Museum by the New York City Housing Authority, which was a moving force behind the dramatic rescue of these important works that document the overlapping histories of abstract and public art in the United States.

The murals were executed by the pioneer American abstractionists Ilya Bolotowsky (1907–1981), Balcomb Greene (1904–1990), Paul Kelpe (1902–1985), and Albert Swinden (1899 or 1901–1961). The paintings are part of a group of works commissioned by the New York Mural Division of the Works Progress Administration/Federal Art Project in 1936 for installation in the public areas of Brooklyn's Williamsburg Housing Project, a public housing development designed by
William Lescaze.

The head of the Mural Division, Burgoyne Diller (a noted artist himself), took a radical course in awarding the mural commissions to young, largely unknown painters who worked in avantgarde styles. At a time when the prevailing subject matter in American art centered on narrative scenes of American life, Diller's choice of artists who used abstract (and sometimes totally nonobjective) imagery for this important public commission was extremely daring. Explaining his decision, Diller pointed out that the murals were intended for spaces devoted to leisure activities and that realist subject matter extolling work and productivity would not necessarily be a source of enjoyment. Instead, he reasoned, abstract but well-composed patterns of shapes and colors would be more conducive to the creation of a pleasant atmosphere for Williamsburg residents.

Diller's decision occurred when most of the artists he had commissioned were engaged in founding the American Abstract Artists, an organization formed to provide exhibition opportunities for artists working in abstract styles and to promote general public understanding of this type of art. Diller's support for the American Abstract Artists gave significant impetus to the acceptance of abstraction as a valid mode of imagery in public art and to the creation of these particular paintings, believed to be the first nonobjective public murals in the United States.

Over the decades following their original installation, the murals fell victim to passive neglect. As rooms once designated as recreation areas were converted into offices or storage spaces, the murals were no longer available to the residents for whom they were originally intended. Caught in the bureaucracy that had once nurtured them, the murals remained ignored, in some cases hidden under layers of paint, and known to a few historians by reputation only.

The installation of the Williamsburg Murals received generous support from the J. M. Kaplan Fund, Republic National Bank of New York, and the Williamsburgh Savings Bank. The restoration of the murals was made possible through funding from the United States Department of Housing and Urban Development, The Bay Foundation, and The Cowles Charitable Trust.

Balcomb Greene (1904 –1990)
The cool austerity revealed in Balcomb Greene's mural displayed here provides a visual equivalent to the intellectual concerns he articulated in many essays and lectures throughout his career. Born in Milville, New York, and raised in the Midwest, Greene earned a B.A. in philosophy from Syracuse University in 1926. His introduction to the art world was through the young artist Gertrude Glass, whom he met in 1926 and married shortly thereafter. Greene went on for graduate study in psychology in Vienna in 1927. On returning to the United States, he shifted his focus to English literature, studying at Columbia University and then teaching at Dartmouth College from 1928 to 1931. Thereafter, the Greenes went to Paris, where Gertrude pursued her own career and Balcomb continued to write—poetry and fiction—and also became more deeply engaged with contemporary art. In Paris both Balcomb and Gertrude Greene found aesthetic affinity with the ideas of the Abstraction-Creation group, which emphasized pure plastic (or formal) elements such as line, color, and shape, and rejected anecdotal or natural elements and identifiable
subject matter.

Greene's relatively sudden embrace of painting met with early success, and he had his first solo exhibition in Paris in 1931. The Greenes returned to New York in 1932. Although Balcomb continued to write, his attention was increasingly drawn to painting. As a founder and the first chairman of the American Abstract Artists, Greene was an important force in promoting the group's beliefs both in his paintings and in print.

In the late 1930s Greene worked for the Mural Division of the WPA/FAP, executing this Williamsburg mural and another important one for the Federal Hall of Medicine at the 1939 World's Fair. He also earned a master's degree in art history at New York University in 1941.

From 1942 to 1959 Greene taught art history and aesthetics at the Carnegie Institute of Technology in Pittsburgh. Although he continued to paint and exhibit actively, he was no longer affiliated with any particular artists' group or communal aesthetic or sociopolitical efforts. His work of the 1930s underscored his belief that art should be impersonal—as shown here in the cool remoteness of this mural—yet he turned in the early 1940s to an abstract idiom that relied on identifiable objects, a manner that he explored in his late paintings created in the Long Island studio that became his base in 1959.

Ilya Bolotowsky (1907–1981)
Of the four artists represented here, Ilya Bolotowsky achieved the greatest and most sustained measure of recognition. An intellectually and physically energetic man, he had wideranging interests that encompassed writing short stories and plays, collecting Eskimo and other North American Indian art, and making his own documentary and experimental films. Bolotowsky was primarily a painter, however, and was among the first of his generation to paint abstractions.

Bolotowsky was born in Petrograd, Russia, to staunchly anti-Communist parents who later fled the country for political reasons. After some years in Constantinople, where he attended St. Joseph's College from 1921 to 1923, his family finally settled in New York in 1923. From 1924 to 1930 Bolotowsky studied at the National Academy of Design, where he was trained to work in a figurative manner. In 1933, however, he saw paintings by Piet Mondrian and Joan Miró and was moved by their example to experiment in an entirely nonfigurative mode. As demonstrated in his Williamsburg mural displayed here, he had, by 1936, fully embraced an idiom that testifies to his admiration for Miró in both its lively interaction of hard-edged geometric and biomorphic shapes and its use of bright, unmodeled areas of color. The issue of pictorial space versus flatness was central to discussions among the members of the American Abstract Artists, in which Bolotowsky figured prominently. This mural may be seen to incorporate the two opposing approaches; some of his shapes seem to cavort in a vaguely illusionistic space, while others appear to be solidly anchored on the painting's surface, emphasizing the two-dimensional nature of the canvas.

By the 1940s Bolotowsky had devoted himself to the strict Neoplasticism of Mondrian. He continued to create his own variations on geometric abstraction for the rest of his career.

Albert Swinden (1899 or 1901–1961)
Albert Swinden's abstractions have been referred to as "calmly classical visions." These words provide an apt description for this mural specifically, with its carefully balanced, disciplined composition of rectangular shapes punctuated by occasional biomorphic forms. Swinden seldom wrote about his art, but his brief essay "On Simplification," published in the 1938 American Abstract Artists Yearbook, provides a succinct comment on the aesthetic concerns embodied in this mural. "We are moved not only by particular, or individual forms," he wrote, "but by the relationships between the particular forms and their significance as a unity."

Swinden's Williamsburg mural does not conform to his original conception for it. The changes he made (such as the addition of a black horizontal strip of canvas at the top and a wide, broken band of blue on the right) were probably in response to the demands of the specific space in which the mural was installed at the Williamsburg Housing Project. Similarly, the two inserts of unpainted canvas in the upper right and left corners represent areas occupied by structural beams at the mural's original Williamsburg site. Swinden was born in Birmingham, England, and lived in Canada from the age of seven until his immigration to the United States in 1919. After studying at The Art Institute of Chicago for about eighteen months, he settled in New York City. There he enrolled in art classes at the National Academy of Design but soon decided to attend the Art Students League instead, where he studied from 1930 to 1934 and began to teach in 1932. He also studied for a time with the influential artist Hans Hofmann.

Despite his association with, and position of respect among, some of the most progressive artists of his day, Swinden was unsuccessful in promoting his art in the commercial sphere. Although he was instrumental in founding the American Abstract Artists, was selected by Burgoyne Diller to execute important murals for the Williamsburg Housing Project and the 1939 World's Fair, and was included in many group exhibitions in the 1940s, he often supported himself working as a textile designer or an engineering draftsman. Even though Swinden painted steadily throughout his life, his oeuvre is comparatively small. In addition, most of his early paintings were destroyed in 1940 in a fire at the studio he shared with Balcomb Greene (whose Williamsburg mural is also on view nearby). These facts increase the historical and aesthetic significance of Swinden's "rediscovered" Williamsburg mural, for it now stands as a rare, and possibly the most important, surviving example of his early work.

Paul Kelpe (1902–1985)
Paul Kelpe's Williamsburg murals, like those of Bolotowsky, Greene, and Swinden, were conceived as entirely nonobjective compositions. However, they reveal a distinctly different approach to abstraction. Kelpe is unique among these artists for his strikingly unusual color combinations, his decorative patterning of selected fields of color, and his sculpturesque forms suggesting axial rotation.

Kelpe was a founding member of the American Abstract Artists and participated actively in the organization as an exhibitor and an officeholder. Despite the stance of unity among the organization's members in their desire to promote the acceptance of abstraction, Kelpe's work provoked considerable criticism from within the group. His critics, most of whom favored the gridded geometries inspired by Mondrian, deplored his persistence in maintaining an illusionistic, three-dimensional space in which his abstract geometric solids float. Kelpe was thoroughly familiar with the European avant-garde. Born in Minden, Germany, he studied art history and architecture in Hanover, where he gained firsthand knowledge of the work of Kurt Schwitters, Wassily Kandinsky, and the Russian Constructivists, among others. After immigrating to the United States in 1925, he settled in Chicago in 1931. When he applied to the Chicago Regional Mural Division of the Federal Art Project, his application was denied because his bold abstract imagery did not correspond with the realistically rendered portrayals of American life that the Chicago office preferred. This rejection spurred him to move to New York City, where his abstractions found a more favorable response from Burgoyne Diller, who hired him to participate in the New York City Works Progress Administration Mural Program at Williamsburg.

Although Kelpe continued to paint and exhibit frequently, he also pursued more academic aspects of art and earned a master's degree and a doctorate in art history from the University of Chicago in 1948 and 1957, respectively. After teaching art history at the university level for many years, he retired in 1969 to devote himself to painting.