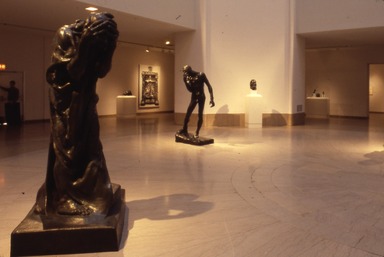 Rodin: The Cantor Gift to The Brooklyn Museum
Dates:

November 1987 through January 1988

Collections: European Art
Print
Exhibition Didactics
Auguste Rodin
Auguste Rodin (1840–1917) occupies a pivotal position in the history of sculpture. Straddling two centuries, his life's work takes its place in the tradition established by the French Academy (whose standards reflected long-standing classical ideals of sculpture) while at the same time setting the stage for important twentieth-century innovations. He strove for success within the established framework of government-sponsored exhibitions and commissions yet refused to compromise his unconventional ideas about art.

Although Rodin worked with the traditional materials of sculpture (clay, plaster, bronze, and marble), he handled them in an entirely new way. Instead of trying to smooth away evidence of the sculptural process, he often chose to retain the seams, tool marks, fingerprints, breakage, and excess deposits of the medium. Similarly, although many artists of the nineteenth century admired the sculptural fragments of antiquity, none before Rodin dared to create a partial figure and declare it a self-sufficient work of art. Rodin purposely omitted elements, such as arms, not essential to the expression he sought to achieve—something his contemporaries found difficult to accept. Nonetheless, his consistent use of the human figure attests to his respect for, and commitment
to, tradition.

While Rodin often took allegorical, mythological, literary, or historical themes as his subject, his goal in portraying them marked a significant departure from his predecessors. Like the Symbolist writers and artists who were his contemporaries, he sought to communicate the invisible by means of the visible. Character, emotion, and thought could all, he felt, be read in the pose, expression, and physical structure of a figure. Rodin believed that nature, being a creation of God, could produce only beauty: he who saw ugliness in nature saw wrong. Whereas age, deformity, and accident were banished from the Academic canon of beauty, Rodin proclaimed that these had their place and that true artists transformed such aspects into eloquent affirmations of nature's splendor.

The multifaceted character of Rodin's art, its simultaneous endorsement and disavowal of cherished Academic principles, places him at the nexus between tradition and modernity in sculpture. The implications of Rodin's ideas fueled many interesting and important developments in the twentieth century, earning him the well-deserved title "father of modern sculpture."

The sculptures by Auguste Rodin on display here were given to the Brooklyn Museum by the Iris and B. Gerald Cantor Foundation.

The Monument to Balzac
In 1891, a Parisian literary society commissioned Rodin to make a monument to Honoré de Balzac (1799–1850), one of the most controversial and influential authors in nineteenth-century France.

From 1891 until 1895, Rodin's idea was to make a physical and spiritual likeness of Balzac. In 1896, however, Rodin decided to make a more symbolic monument, associating intellectual and artistic creativity with sexual activity, for which Balzac was equally well known. Thus, Rodin sculpted a Balzac who grasps his erect phallus beneath his robe, an act reflected in the overall phallic silhouette of the final monument.

Rodin completed the nine-foot-tall plaster model in 1898. Critics described it as a snowman, a side of beef, and a mistake. The society refused to accept it, and it was not cast in bronze until after Rodin's death.

The Burghers of Calais
In the wake of its humiliating defeat at the hands of Prussia in 1870, the French Third Republic sought to reinvigorate notions of heroism and citizenship. To this end, in 1884 the city council of Calais commissioned Rodin to create a monument to Eustache de Saint-Pierre. In 1347, while Calais was under siege by the English, Eustache and five other important citizens of the town had offered themselves as hostages, pleading for mercy for their long-suffering city.

In his first maquette of 1884, Rodin proposed a conventional monument, with his figures united as a group on a tall pedestal. By the following year, however, the six figures were placed on a low rectangular plinth, at the same level as the viewer. As Rodin later wrote: "I wanted to have my statues placed in front of the Calais city hall on the very paving of the square like a living rosary ofsuffering and sacrifice."

Rodin first made nude figure studies, which he then draped in wet canvas to model the sackcloth worn by the burghers when theysurrendered. To create the most expressive figures possible, he used the radical technique of combining studies of hands and feet from different figures. Creating the very antithesis of conventional heroic sculpture, Rodin here set out the terms of a modern, anti-monumental tradition that resonates to this day.