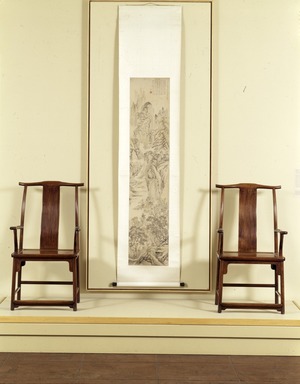 Arts of China (long-term installation)
Dates:

November 8, 1996 through June 9, 2013

Collections: Asian Art
Print
Exhibition Didactics
The Album of Three Perfections
The landscapes shown here are part of a five-page album that unites the "Three Perfections"—poetry, calligraphy, and painting. These allied arts were highly respected by Chinese scholars, and the literati artist who painted the landscapes, Jiang Shijie, excelled in all three. The title page by Wu Hufan, a twentieth-century artist and connoisseur, exemplifies the practice among Chinese collectors of composing calligraphic inscriptions for paintings they saw or owned, thus adding value to the works. Wu Hufan was a teacher to C. C. Wang, whose Landscape hangs on the wall nearby.

Chinese Landscape Painting
Over the course of history, landscape painting became one of the most developed and highly respected genres of Chinese art, deeply influencing the painting of neighboring cultures. At first, landscape elements simply framed narrative scenes, but during the Tang dynasty (618–906), in the context of Buddhist, Taoist, and Confucian beliefs, trees and rocks began to be portrayed as manifestations of the forces that animated the universe. From this time forward, Chinese landscapes would represent primarily deeper truths and only secondarily actual places and scenes.

In the tenth century, professional painters created landscapes featuring towering peaks and tiny figures that expressed man's harmonious existence in a well-ordered universe. Late in the Song dynasty (960–1279), when China was threatened by invaders and internal conflict, artists experimented with styles that expressed their subjective experience. Painting concurrently became one of the fine arts practiced by the scholar-officials who had achieved cultural leadership, and the works they produced—commonly called literati painting—earned the highest respect. The literati artists of the Yuan, Ming, and Qing dynasties (1279–1911) frequently composed landscapes, using them to treat themes ranging from political to personal.

Skill with a calligraphy brush, intuitive understanding of the styles of the masters that had come before, and the subtle expression of one's own mind and mood were the qualities most appreciated in the scholarly painting tradition. The painters represented here employed the skills gained through the study of writing and literature to create their landscapes, and poetry and calligraphic inscriptions were an integral part of their compositions.