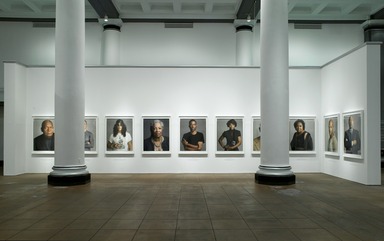 The Black List Project: Timothy Greenfield-Sanders and Elvis Mitchell
Dates:

November 21, 2008 through March 29, 2009

Collections: Contemporary Art
Location: This exhibition is no longer on view in Hall of the Americas, 1st Floor
Description:

The Black List Project: Timothy Greenfield-Sanders and Elvis Mitchell. [11/21/2008-03/29/2009]. Installation view.

Citation:

Brooklyn Museum. Digital Collections and Services

(DIG_E_2008_Black)

Source:

born digital

Related Links:
Print
Press Releases
July 2008: Serena Williams, Chris Rock, Colin Powell, Toni Morrison, Russell Simmons, Al Sharpton, Kareem Abdul-Jabbar,
and Sean Combs are among the many African Americans whose faces are seen and voices heard in The Black List Project: Timothy Greenfield-Sanders and Elvis Mitchell, a highly personal documentary that explores being Black in America. Twenty-five portraits by internationally renowned photographer Timothy Greenfield-Sanders, along with excerpts from a series of filmed interviews directed by Greenfield-Sanders and conducted by noted film critic Elvis Mitchell, will be presented in an exhibition at the Brooklyn Museum November 21, 2008 through March 29, 2009.

The images, photographic and filmed, are the core of a collaboration between Greenfield-Sanders and Mitchell that has resulted in Blacklist: Volume 1, an HBO documentary that premiered at the Sundance Film Festival in 2008, aired nationally on HBO in August and is now being rebroadcast on Friday, November 21, at 5 p.m. EST; Sunday, November 23, at 10 a.m. EST; and on HBO 2 and HBO On Demand for two weeks, November 17 through December 1; a multi-city Museum exhibition organized by the Museum of Fine Arts, Houston; and an accompanying book published by the Atria Books division of Simon & Schuster.
The Brooklyn presentation is coordinated by Judy Kim, Curator of Exhibitions.

Credit Suisse is presenting sponsor.

The Village Voice is print media sponsor.

In addition to the twenty-five large-scale portraits, including a stellar list of subjects from the worlds of politics, the arts, sports, religion, and business, there will be three flat screen monitors that will play selections from the HBO film on a continuous loop in the galleries. The entire film will be presented at the Museum at various times, to be announced, throughout the run of the exhibition.

The project title derives its name from the 1950s Communist hunt led by the late Senator Joseph McCarthy, and plays on various connotations of the word black, through the experiences of the twenty-five subjects. Toni Morrison discusses her early interest in literature; Kareem Abdul-Jabbar recalls an encounter with Miles Davis; Lou Gossett, Jr. describes his difficulties in finding good film roles even after he was awarded an Oscar; Studio Museum of Harlem director Thelma Golden reflects on being mistaken as her own assistant; and Chris Rock satirizes Hollywood's idea of being African American.

"Through these incomparable portraits by one of today's most extraordinarily gifted photographers and the sensitive and probing interviews by one of America's most important film critics, an intimate and unique view of what it is like to be Black in America today emerges. Their diverse voices reveal issues of society, family, and personal identity. We are proud to present this exceptional exhibition," comments Museum Director Arnold L. Lehman.

"The Black List Project offers a unique, candid, and insightful window onto the personal stories of some of the leading figures of our time," commented Peter C. Marzio, director of the Museum of Fine Arts, Houston. "As lead organizer of the museum exhibition, the MFAH was committed to not only presenting the full scope of the project to Houston audiences, but to ensuring that the project would travel nationally. We're enormously pleased that the Brooklyn Museum will be the first of several planned stops around the U.S."

Timothy Greenfield-Sanders' photographs are in the permanent collections of major museums, among them the Metropolitan Museum of Art, the Museum of Modern Art, the Whitney Museum of American Art, the National Portrait Gallery, the Museum of Fine Arts, Houston, and the Brooklyn Museum. A contributing photographer to Vanity Fair, Greenfield-Sanders is also the producer and director of the Grammy award-winning 1997 film Lou Reed: Rock and Roll Heart.

Elvis Mitchell has hosted The Treatment since 1996, a nationally syndicated radio program produced at National Public Radio affiliate KCRW in Los Angeles. He is also entertainment critic of NPR's Weekend Edition. Previously he was film critic for The New York Times, The Fort Worth Star-Telegram, the Detroit Free Press, and LA Weekly.

Below is a complete list of photographs that will be included in the Brooklyn presentation:

Bill T. Jones 2007
Chris Rock 2007
Colin Powell 2007
Dawn Staley 2007
Faye Wattleton 2007
Kareem Abdul-Jabbar 2007
Keenen Ivory Wayans 2007
Lorna Simpson 2007
Louis Gossett, Jr. 2007
Mahlon Duckett 2007
Marc Morial 2007
Reverend Al Sharpton 2007
Richard D. Parsons 2007
Russell Simmons 2007
Sean Combs 2008
Serena Williams 2008
Slash 2007
Steven Stoute 2007
Susan Rice 2007
Suzan-Lori Parks 2007
Thelma Golden 2006
Toni Morrison 2007
Vernon Jordan 2007
William Rice 2007
Zane 2007

A wide range of related public programs is planned in conjunction with the exhibition, with details to be announced.