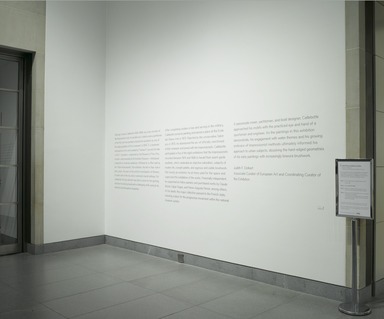 Gustave Caillebotte: Impressionist Paintings from Paris to the Sea
Dates:

March 27, 2009 through July 5, 2009

Collections: European Art
Location: This exhibition is no longer on view in Morris A. and Meyer Schapiro Wing, 5th Floor
Description:

Gustave Caillebotte: Impressionist Paintings from Paris to the Sea. [03/27/2009-07/05/2009]. Installation view.

Citation:

Brooklyn Museum. Digital Collections and Services

(DIG_E_2009_Caillebotte)

Source:

born digital

Related Links:
Print
Exhibition Didactics
Gustave Caillebotte: Impressionist Paintings from Paris to the Sea
Although Gustave Caillebotte (1848–1894) was a key member of the Impressionist circle, his acclaim as a collector and a yachtsman of the first rank has perhaps eclipsed his reputation as one of the leading painters of this movement. In 1976–77, a landmark retrospective of his work curated by Thomas P. Lee and the late J. Kirk T. Varnedoe—organized by the Museum of Fine Arts, Houston, and presented at the Brooklyn Museum—introduced Caillebotte to American audiences. Whereas he is often cast as the "Urban Impressionist," this exhibition, the first in New York in thirty years, focuses on the artist's investigation of themes of water both in the city and in rural and coastal settings. For Caillebotte, this key element was both a scene for the sporting activities he avidly pursued and a challenging motif, owing to its reflective and atmospheric properties.

After completing studies in law and serving in the military, Caillebotte turned to painting and earned a place at the École des Beaux-Arts in 1873. Rejected by the conservative Salon jury in 1875, he abandoned the arc of officially sanctioned artistic endeavor and joined with the Impressionists. Caillebotte participated in five of the eight exhibitions that the Impressionists mounted between 1874 and 1886 to herald their avant-garde aesthetic, which celebrated an objective naturalism, subjects of modern life, a bright palette, and vigorous and visible brushwork. Not merely an exhibitor, he at times paid for the space and supervised the installation of the works. Financially independent, he supported his fellow painters and purchased works by Claude Monet, Edgar Degas, and Pierre-Auguste Renoir, among others. At his death, this major collection passed to the French state, ensuring a place for the progressive movement within the national museum system.

A passionate rower, yachtsman, and boat designer, Caillebotte approached his motifs with the practiced eye and hand of a sportsman and engineer. As the paintings in this exhibition demonstrate, his engagement with water themes and his growing embrace of Impressionist methods ultimately informed his approach to urban subjects, dissolving the hard-edged geometries of his early paintings with increasingly bravura brushwork.

Judith F. Dolkart
Associate Curator of European Art and Coordinating Curator of the Exhibition

Paris Streets and Interiors
Caillebotte painted Paris throughout his career, focusing on the capital's broad avenues as well as its luxuriously appointed interiors. In early works such as The Floor Scrapers, a highly finished scene executed in a sober palette, the young artist adhered to a conventional, academic working process, making sketches and studies for the figures and backdrop. With this scene of urban labor—subject matter deemed "vulgar" or inappropriate for painting at the time—Caillebotte announced his daring and aligned himself with an avant-garde tradition led by such nineteenth-century forebears as Gustave Courbet and Édouard Manet.

Additionally, the painter rejected traditional compositional structures, preferring to explore unusual skewed views with zooming recessions down the city's long avenues. From the very beginning, the critics noted this "bizarre perspective," which was to become Caillebotte's trademark.

On the Seine Petit Gennevilliers and Argenteuil
For Caillebotte, the suburbs of Argenteuil and Petit Gennevilliers—located across the river Seine from each other—offered an easily accessible retreat from urban life. Train service rapidly covered the roughly seven miles between Paris and the countryside in twenty-two minutes. The Seine's basin at Argenteuil provided ideal conditions for sailing, a sport in which Caillebotte quickly distinguished himself.

Claude Monet had established a home in Argenteuil from 1871 to 1878, painting motifs along the river and attracting fellow artists to the area. Caillebotte and his younger brother Martial bought a house in Petit Gennevilliers in 1881. After Martial's marriage in 1887, Caillebotte established a permanent home there, enlarging the property to include a studio, a greenhouse, and homes for his gardeners and the sailors who crewed and cared for his yachts. In this region, Caillebotte painted both leisure activities and heavy industry, evocations of the past and stark hints of the future. Painting outdoors with visible brushwork, and bright colors, he increasingly embraced Impressionist techniques and practices.

Half Models for Boatbuilding
Although pleasing to the eye, half models primarily served as important tools for boatbuilding rather than as decorative objects; only later were they mounted on panels for display. The varying profiles of the half models for Caillebotte's boats displayed here demonstrate that he continually refined the proportions of his hull designs for maximum performance.

Caillebotte and other marine architects used half models to formulate their first ideas. After a model was sculpted—typically at one-tenth scale—the layers of wood were taken apart and measured. Boat designers then transferred the dimensions of the half models to plans.

The Paris of Impressionism
Although Caillebotte's earliest scenes of Paris relied on a more traditional studio practice, his later images of the city reveal his embrace of on-the-spot observation developed through the practice of open-air painting. The artist's engagement with the subject matter of the countryside—especially the challenge of capturing the ephemeral effects of light, water, and reflection—eventually prompted a broader handling and a brighter palette in his urban scenes. Moreover, in these later paintings, Caillebotte adopts a wide variety of viewpoints—often looking down or obliquely from the balcony—in a break from the long rectilinear perspectives of The Luncheon and The House Painters. In his later interiors, the artist exploits spatial ambiguities that heighten the psychological tension of his works—a compositional hallmark of Post-Impressionist painters.

Yerres and Its Pastimes
At the family's countryside estate at Yerres, located about twelve miles southeast of Paris, Caillebotte—an enthusiastic sportsman—engaged in swimming, fishing, and boating, activities he soon added to his repertoire of subjects. He was particularly inclined to painting images of boating, closely observing the different kinds of crafts and the people who navigated them. While the narrow skiffs required a high degree of skill and sustained strength, the hardy rowboat permitted more leisurely excursions by dabblers.

The exertion involved in these various leisure activities permitted Caillebotte to depict the human figure in action as he had done in images of urban labor such as The Floor Scrapers. He also continued to adopt unusual perspectives marked by deep recessions, oblique angles, and daring croppings. Most important, the depiction of these water-based activities provided him with an opportunity to explore light, water, and reflection—some of the most challenging but key elements of Impressionism.

Yachtsman and Boatbuilder
First introduced to sailing by Claude Monet and Pierre-Auguste Renoir, Caillebotte purportedly learned the sport from his fellow Impressionist Alfred Sisley in the late 1870s. He and his brother Martial joined the Cercle de la Voile de Paris, a prestigious sailing club that maintained a meeting room in a floating boathouse on the Seine at Petit Gennevilliers—and the painter served as vice president of the organization for a time.

Although Caillebotte purchased and raced boats with success, he began to study boat construction with the aim of innovation and improved results. In 1885 he founded Chantiers Luce, a modern shipyard adjacent to his estate where twenty-one racing yachts were built according to his designs. Caillebotte's close engagement with boat design and construction introduced the third dimension into his creative process. In his paintings of the Seine, he frequently depicted his elegant and pioneering designs, often melding the historical tradition of the ship portrait with the avant-garde, painterly techniques of Impressionism.

At the time of his unexpected death in 1894, Caillebotte was the most influential sailor in France, and his boats were considered among the swiftest and most beautiful.

The Normandy Coast
Beginning in 1880, Caillebotte traveled most summers to Normandy, on the northern coast of France, to compete in large yachting regattas at Le Havre, Trouville, and Fécamp. He was one of the premier sailors of his generation, and his results in these races were avidly reported in specialized journals such as Le Yacht in France and Forest and Stream in the United States, both of which also published his innovative boat designs.

These sojourns to Normandy, the province of his family's ancestors, permitted the artist an opportunity to explore and paint the coast's steep cliffs and verdant river valleys—subject matter that also lured Claude Monet to this region in the early 1880s. Caillebotte's Norman scenes—while often devoid of the human figure—echo his contemporaneous Parisian cityscapes (included in the last section of the exhibition) with their oblique and sometimes vertiginous perspectives.