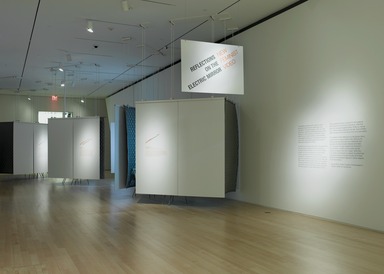 Reflections on the Electric Mirror: New Feminist Video
Dates:

May 1, 2009 through January 10, 2010

Location: This exhibition is no longer on view in Elizabeth A. Sackler Center for Feminist Art, 4th Floor
Description:

Reflections on the Electric Mirror: New Feminist Video.[05/01/2009-01/10/2010]. Installation view.

Citation:

Brooklyn Museum. Digital Collections and Services

(DIG_E_2009_Reflections)

Source:

born digital

Related Links:
Print
Exhibition Didactics
Reflections on the Electric Mirror
This exhibition presents recent videos by seven emerging female artists and collaborative duos. The majority of the artists appear in their own work, performing in relatively uncomplicated pieces with an emphasis on direct capture by a stationary camera rather than on complex narratives or special effects. This straightforward and low-tech approach ties their work to that of an influential generation of feminist video artists working in the 1970s.

As with the work of their predecessors, the approaches here are eclectic, ranging from humor and parody to intense personal revelation. Yet, common themes emerge, such as the appropriation of mass-media formats, especially the mimicking of television broadcasts—a strategy that is perhaps not surprising given the longstanding association between video and mass media. Another prevalent theme is the repetition of self-imposed tasks, recalling similar self-regulated and rhythmic actions embraced by feminist and other idea-based artists in the late 1960s and the 1970s. These repetitive motions, enacted for the audience, test the performer's physical endurance, while their lack of an end goal suggests futility. Finally, by "acting out," often in ways punishing to the self, many of these artists produce works that are at once funny and painful.

The exhibition's title, Reflections on the Electric Mirror, is taken from an essay written in the 1970s by the feminist artist and filmmaker Lynn Hershman that examines the links between television and video art. The mirror is an apt metaphor for the work in this exhibition, in which women artists use the camera to capture their own images. While they may distance themselves as subjects by performing unexpected tasks or through role play, all of these artists are nevertheless engaging in various degrees of self-examination.

—Lauren Ross, Interim Curator of the Elizabeth A. Sackler Center for Feminist Art

Feminist Video Art of the 1970s
Video-recording equipment was commonly used for television production during the 1960s, but its availability to the public was extremely limited. Later in the decade, the "PortaPak" was introduced—a relatively lightweight and portable video camera with a playback device—and the age of do-it-yourself video was born. Artists quickly adopted video as a means for personal expression and political activism. Female artists took up the new technology at the same rate as their male counterparts, arguably making video the first artistic medium to be pioneered equally by both genders.

Feminists embraced video as a tool to explicitly explore issues relating to their own bodies, experiences, and identities. By performing (often alone) in front of a stationary camera, these artists isolated and emphasized their own images in order to express their desires, frustrations, and political views. Many felt a sense of urgency about retaining authority over their own representation in an art world that often viewed women as models and muses rather than creators.

There were many women artists who pioneered video art in the 1970s. The images on this panel represent a sample of the work produced during that era.