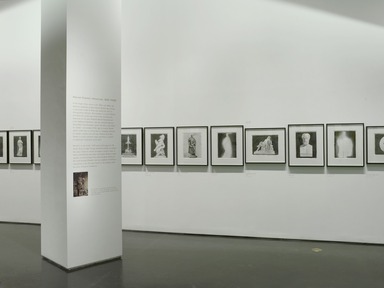 Patricia Cronin: 'Harriet Hosmer, Lost and Found'
Print
Exhibition Didactics
Patricia Cronin "Harriet Hosmer, Lost and Found"
This exhibition presents watercolors by the Brooklyn-based artist Patricia Cronin (American, b. 1963) that depict artworks by the nineteenth-century sculptor Harriet Hosmer (American, 1830–1908). Cronin discovered the work of Hosmer in 2002, through her research into Neoclassical sculpture. Although largely forgotten today, Hosmer was a sculptor who had achieved a remarkable level of success for a female artist in the nineteenth century.

Intrigued by this under-appreciated artist, Cronin embarked on the substantial undertaking of creating a catalogue raisonné (a publication that presents an artist's complete artistic output) for Hosmer. Over five years, Cronin located most of Hosmer's known work s, documented their current locations, and painted a watercolor of each. When Cronin found written references to sculptures that could not be located and had apparently never been photographed, she created what she calls a "ghost" watercolor, seven of which are on view here. The amorphous ghosts are placeholders for the lost works—an acknowledgment of their existence and a reflection of their mysterious status.

A selection of Cronin's original watercolors is shown in this exhibition, and all are reproduced in the final publication, copies of which are displayed nearby in the Forum. Cronin's Harriet Hosmer Catalogue Raisonné is both a scholarly tool with valuable reference material and an artist's book that has hand-painted watercolors and interpretive "ghosts" in place of photographic reproductions. Its dual nature, both factual and imaginative, makes this publication unique.

In addition to being an act of reclamation, Cronin's examination of Hosmer and her work is a conceptual exercise in which Cronin assumes the role of art historian, in keeping with a recent trend in which artists take on scholarly work that has traditionally been the domain of art critics and curators. At the same time, Cronin's project is a haunting meditation on mortality, legacy, and remembrance.

Lauren Ross,
Interim Curator of the Elizabeth A. Sackler Center for Feminist Art

Harriet Hosmer (American, 1830–1908)
At the height of her career in the 1850s and 1860s, the American expatriate sculptor Harriet Hosmer was running a successful studio in Rome and selling her work to distinguished collectors. She traveled in a circle of British and American artists and writers that included such luminaries as the poet Elizabeth Barrett Browning and writer Nathaniel Hawthorne, and she received numerous decorations from European royalty. She was a role model for women—an example of the type of success female artists could hope to achieve and an outspoken advocate for gender equality and suffrage. Despite all of this, Hosmer is mostly unknown today, and there is a dearth of significant scholarship on her work.

Hosmer's is one of the 1,038 names that appear in The Dinner Party by Judy Chicago (installed nearby), an artwork that pays tribute to women throughout history, many of whose contributions have been overlooked. Hosmer's name appears on the Heritage Floor near the place setting for the artist Georgia O'Keeffe, and her sculpture of Zenobia is reproduced on the Heritage Panels (in this gallery) under the place setting for Boadaceia.