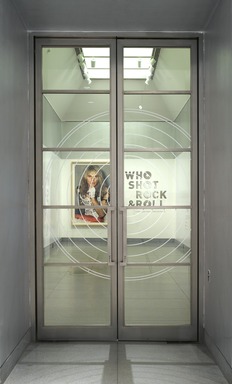 Who Shot Rock and Roll: A Photographic History, 1955 to the Present
Print
Exhibition Didactics
Who Shot Rock & Roll: A Photographic History, 1955 to the Present
Rock and roll has a handmaiden, and her name is photography. Since the day in 1955 when William "Red" Robertson took the photograph of Elvis Presley that appeared on Elvis's first album (Elvis's eyes closed, his sensuous mouth wide open, his guitar pressed to his chest, his legs apart, and his body convulsing), the rock-and-roll revolution has been both musical and visual. The music alone could not convey the full extent of the rebellion, liberation, ecstasy, fun, and group dynamic that is rock. The music needed images to communicate its message of freedom and personal reinvention. The still image remains after the music stops, a conduit for the electricity that is rock and roll.

This exhibition is not a history of rock and roll but an appreciation of the men and women who have photographed the music and given it its visual identity. Although some of these photographs are among the most recognizable images in the world, many of them were taken by photographers whose names are all but unknown. It is time these photographers' contribution was acknowledged, for like the musicians they have photographed, they, too, have changed the world and how we see and experience it.

Rock-and-roll photography is varied and elastic. It must be, because sometimes rock-and-roll music is just someone playing a sequence of G, C, and D chords, and sometimes it is a multimillion dollar spectacular. The photographs in this exhibition mirror the depth, breadth, artistry, and passion of the music and the musicians and the exuberance of the fans.

Just as there is no one soundtrack that is rock, there is no one photographic vision. The unity in the music comes, as Mick Jagger noted in a 2008 Rolling Stone interview, in trying to keep rock and roll "real, sincere, and heartfelt." The same is true for the photography of rock.

Guest Curator, Gail Buckland Exhibition Editor and Designer, Matthew Yokobosky, Chief Designer, Brooklyn Museum

Starting Out
All the musicians depicted in this section are in a state of creative evolution, near the beginning of their careers. They have talent and dreams but no way of knowing if their star will shine or fade. The tentativeness and tenderness in these pictures make them rare in rock-and-roll iconography. None of the subjects is a real celebrity yet. No one has fully learned the pose; each is unsure of what his or her image should be. There is little artifice in any of the photographs. The Rolling Stones don't yet have a recording contract when Philip Townsend photographs them at the pub; Madonna has just released her first single when Amy Arbus catches her walking down the street; and the Velvet Underground are only a year removed from their first paying gig, a concert at Summit High School in New Jersey for which they received $75, when Nat Finkelstein snaps their picture in 1966.

Behind the Scenes
The photographs in this section are the result of relationships born of trust. They are the antithesis of paparazzi images. These pictures are taken with permission, not stolen. They are about the creative process, not celebrity, and about the stresses and emotional releases in the rock and rollers' lives. Here, private moments are often captured with fidelity, tenderness, and understanding. These pictures show us musicians in unexpected ways: crying after an intense performance, concentrating on a recording session, eating at a favorite restaurant, or just riding the bus to the next gig. They transcend mainstream images by showing honest emotion and by keeping the artists grounded in the real world.

Performance
These photographs of live performance convey the charisma, magic, passion, and eroticism of the musicians on stage. The photographers capture quintessential rock-and-roll moments that suggest both the music's popularity and its transcendent meaning. From Chuck Berry's duck walk to Mick Jagger's strut and toss of the head, the moves are often as memorable as the music itself. These images show the Dionysian intoxication and the fervor that are rock and roll—a music that has the potential to liberate the soul, stimulate the hormones, and inspire social and cultural revolutions.

Fans and Crowds
Rock stars are only rock stars because they have followers who adore them. Music is one of the predominant ways in which people define themselves and classify themselves into subcultures. Millions study the photographs of their musical gods and model their "look" on them. Bob Gruen, who has photographed rock bands for forty years, says the bands are "so big because they express common ideas . . . rock and roll is a hairstyle and an attitude."

To get close to one's hero is intoxicating; you can see it in the faces of the fans. Some of the images most reflective of the importance of rock and roll in people's lives are pictures of screaming and jostling fans or audiences listening intently, moving together as a single organism.

Charles Peterson, a music photographer from Seattle, describes shooting a rock concert as going to the "front lines," from which he tries to return with the most honest visual report possible of the extraordinary things he sees. In another context, William M. Ivins, a historian of printmaking, once noted, "At any given moment the accepted report of an event is of greater importance than the event, for what we think about and act upon is the symbolic report and not the concrete event itself." In other words, revolutions—whether military or musical—need to be photographed to be believed.

Portraits
A portrait holds the promise of a distinct understanding of another individual and a connection to them. It can never be the summation of the entire person; at best, it is the result of an honest, incisive encounter that poses more questions than it answers. Many of the portraits in this section are made by photographers who have had a continuous relationship with a musician or group. These pictures depart from the generic celebrity image to explore the individuality of each performer.

Rock and rollers, for all their strutting on stage, do not necessarily like being scrutinized by the camera lens. Many musicians who in their early days are eager to please later take control of their photo sessions, choosing who they want to photograph them and when they are ready to give of themselves. Sometimes, masters are matched—Richard Avedon and the Everly Brothers; Mark Seliger and Mick Jagger; Maripol and Madonna; Anton Corbijn and U2—and brilliant portraits result.

Constructing an Image
Historians of photography tend to divide pictures into those "taken" and those "arranged" or "conceived"—those framed by the viewfinder or ground glass of the camera and those "framed" within the mind. Rock icons need extraordinary images to complement their extraordinary music. To achieve this, they often collaborate with photographers whose skill and imagination turn photo sessions into carefully staged and controlled flights of fancy and wonderment. David LaChapelle parodies rock stars' excessive lifestyle and dynamic personalities through fantasy and bravado. Chris Stein uses his camera to tell comic-book tales with his fellow musicians as characters. And Albert Watson plays with the similarities between Mick Jagger's face and a leopard's to produce one of the most original and striking images in the history of rock-and-roll photography.