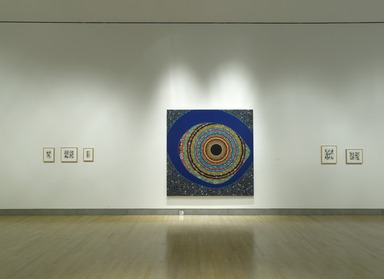 Fred Tomaselli
Print
Exhibition Didactics
Fred Tomaselli
This exhibition presents a focused survey of the career of Brooklyn-based artist Fred Tomaselli (American, born 1956), tracing thematic threads and pictorial strategies that have run throughout his work for the past twenty years. An object from 1990 marks the beginning of his mature work, while a selection of new pieces made for this venue bring it into the present. The natural world—gardens, landscapes, birds, insects, butterflies, and plants—often provides a point of departure for his paintings. Characterized by lush color and a profusion of images and objects obsessively arranged in eye-popping compositions, Tomaselli's paintings create inviting, visionary worlds.

Although they are called paintings, Tomaselli's hybrid works might as easily be characterized as collages. He assembles them from areas of paint; plants; pills; and photographic images culled from field guides, fashion magazines, medical journals, and, more recently, the Internet. The artist scans the images so he can manipulate their size, prints them, and cuts them out. He then selects a number of elements to put into play on a primarily black panel, painstakingly building up a series of superimposed layers, each containing hundreds of different elements glued down and imbedded in epoxy resin.

Shaped by a range of sources from art history and popular culture, Tomaselli's aesthetic is highly eclectic. The continuum of influences includes punk rock; the artificial reality of Disneyland; Indian miniatures; the work of artists such as James Turrell, Sol LeWitt, Ed Ruscha, and Henry Darger; psychedelic album covers; quilts; and California surfing culture.

By opening doors onto new realities, Tomaselli's visually seductive paintings provide a temporary refuge from the familiar, offering fresh possibilities of looking at and experiencing the world.