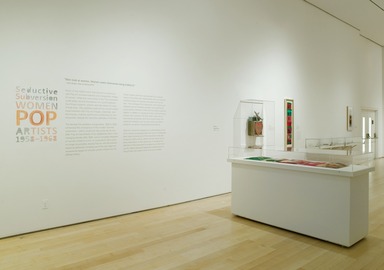 Seductive Subversion: Women Pop Artists, 1958–1968
Print
Exhibition Didactics
Seductive Subversion: Women Pop Artists, 1958-1968
"Men look at women. Women watch themselves being looked at." —John Berger, Ways of Seeing (1972)

Much of the ribald humor that became synonymous with Pop art involved exploitive and misogynistic images of women. While the male artists of the Pop movement could easily remove themselves to a cynical distance from those subjects, women were the subject of most of that work. This exhibition looks at how women artists experimented with Pop art images, materials, and techniques, making significant contributions to the movement, despite the restrictive attitudes of the time.

The decade this exhibition encapsulates, 1958 to 1968, witnessed the emergence of the modern feminist movement—which would only fully come into its own after Pop art had already firmly established itself. In the changing climate after 1968, such a complete relegation of women artists to minor or nonexistent roles would no longer be possible, leaving Pop art with the dubious historical distinction of being one of the last major art movements largely to exclude women artists from its official history.

Using images and texts appropriated from popular culture, Pop artists also experimented with new materials and techniques not typically associated with the fine arts. Their strategies for bringing the commonplace and utilitarian into art included, perhaps most significantly, using sewing methods to build soft and pliable sculptural objects. In addition to sewing and other craft techniques, women who worked in the Pop idiom made use of commercial processes such as screenprinting, and industrial materials such as neon lights and plastic products, as well as incorporating found objects.

Seductive Subversion expands our understanding of Pop art to include recognized artists who have not traditionally been seen as being part of the movement while also bringing to light work by others who are lesser known and undervalued. At the same time, it broadens the definition of the movement to embrace work that more overtly reflects personal experience, adding layers to Pop art that only make it richer and more complex.