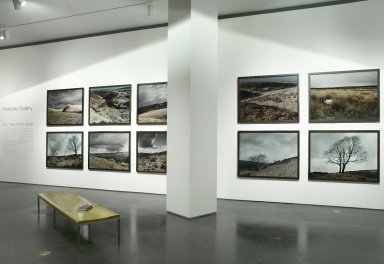 Sam Taylor-Wood: 'Ghosts'
Dates:

October 30, 2010 through August 14, 2011

Collections: Photography
Print
Exhibition Didactics
Sam Taylor-Wood: Ghosts
Ghosts, by Sam Taylor-Wood (British, born 1967), is a photographic exploration of Great Britain's uniquely atmospheric Yorkshire Moors. The series is inspired by Wuthering Heights, Emily Brontë's gothic Victorian romance, in which the author's descriptions of the rugged landscape transform the setting into one of the novel's major characters.

For many years Taylor-Wood kept a country house in the same West Yorkshire region where Emily Brontë (1818–1848) and her celebrated family, including sister-writers Charlotte (1816–1855) and Anne (1820–1849), lived and drew inspiration for their novels and poems. In the ten images from Ghosts displayed here, Taylor-Wood captures the stark, mutable, and remote character of the windswept moors and gray skies near Top Withens, a ruined farmhouse thought by some to be the inspiration for the house called Wuthering Heights in the novel.

On a freezing day in March 2008, the artist braved sleet and wind to trace a route along the footpath from Haworth Parsonage, the Brontë family home, across the moors to Top Withens. In Ghosts,Taylor-Wood delineates the variously subtle and dramatic shifts in sky, light, and wind near the ruins. The photographer's gaze frames this bleak landscape without direct human reference, furthering the sense of spectral isolation that remains a constant across the more than one hundred and fifty years since the novel was written.

Catherine J. Morris
Curator
Elizabeth A. Sackler Center for Feminist Art


Exhibitions in the Herstory Gallery of the Elizabeth A. Sackler Center for Feminist Art explore the continuing significance of the women named in The Dinner Party by Judy Chicago, among them Emily Brontë. Sam Taylor-Wood's Ghosts illuminates the fascination that Brontë's masterpiece continues to inspire in contemporary artists.

All quotations printed here are from Wuthering Heights, published in December 1847 by Emily Brontë under the pen name "Ellis Bell." Like many women writers of the time, Emily and her sisters, Charlotte and Anne, adopted masculine pseudonyms to avoid prejudice against female authors. In 1850, two years after Emily's death, the novel was reprinted, this time under Emily's real name, and with a new preface by Charlotte. You are welcome to peruse copies of the full novel, available in the Forum nearby.