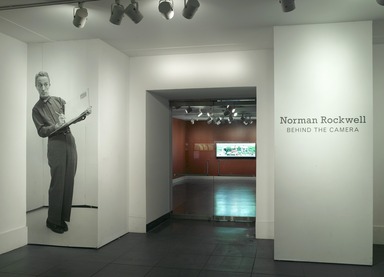 Norman Rockwell: Behind the Camera
Dates:

November 19, 2010 through April 10, 2011

Collections: American Art
Print
Exhibition Didactics
Norman Rockwell: Behind the Camera
Norman Rockwell (1894–1978) was one of the most influential American visual commentators of the twentieth century. His intricately conceived narrative paintings, reproduced as illustrations in The Saturday Evening Post and other mass-circulation magazines, were immediately understood by a vast audience of readers who saw themselves reflected in the stories he chose to tell. Known for his frequent portrayal of everyday life, he had an exceptional talent for imbuing the ordinary with a sense of historical importance.

This exhibition focuses on a largely unknown facet of Rockwell's art: his use of photographs as the building blocks of his paintings. Unlike most illustrators, for whom camera studies are merely visual notes—convenient shortcuts to accuracy and efficient aids for meeting deadlines—Rockwell went to elaborate lengths to stage images that portrayed his concepts exactly, sometimes producing as many as a hundred photographs for a single work. This method was key to the hyperrealism that lay at the heart of his appeal.

Once Rockwell developed a concept for an illustration, he began by searching out elements to be photographed. He cast his models, chose his setting, and selected props to capture the particular nuances of his story. Working with photographers much as a director does with a cinematographer, he composed the scene, positioned the camera, and decided when to shoot, although he rarely looked through the viewfinder or tripped the shutter himself.

More than a hundred of the resultant photographic studies are on view here, many for the first time. Most of the photographs are modern prints made from the artist's archive of more than eighteen thousand original negatives. Also included are select examples of his extant original work prints.

Although Rockwell never intended his reference photographs to be viewed on their own merits, they are nonetheless authentic expressions of his vision and convey his gifts for narrative and character. Presented here alongside the illustrations for which they were done, they provide a new understanding of his artistic process.

Norman Rockwell in Front of the Camera
These photographs show Rockwell coaching his models and posing for images that would find their way into magazine illustrations, advertisements, or unpublished works. The most frequently captured figure in his photographic archive is the artist himself, often exuberantly performing alongside his subjects and doing his utmost to inspire them. Just as Rockwell had admonished his fellow illustrators to "discard all your own dignity and vanity" when directing their models, he gave his all to achieve the perfect effect.

Framing History
Norman Rockwell's use of photography and attention to details such as models, settings, and props enabled him to frame important historical moments with convincing accuracy. In particular, he devoted considerable attention to the impact that World War II and the civil rights movement had on life in America.

Between 1941 and 1945, Rockwell produced twenty-two Saturday Evening Post covers that dealt with war subjects, and after the war he went on to paint six covers that focused on homecoming soldiers. Thematically, his interpretations of core American values and ideals were intended as morale boosters for a nation at war.

In 1964, when he became a regular contributor to Look magazine, Rockwell embraced its commitment to covering contemporary issues such as racial intolerance, space exploration, and the volunteerism of the Peace Corps, challenging subjects that had been off-limits at the Post. The fresh showcase also provided an opportunity to shift his focus from the narrative fictions for which he was so well known to a range of serious journalistic topics. Photography continued to be central to his process during these years, as the need to represent an issue with clarity became even more important.

Details and Props
Photography was fundamental to Norman Rockwell's ability to fill his art with realistic details and props. Fastidiously researched to ensure historical accuracy, each prop had to advance the story line and pass the test of authenticity. What Rockwell did not have on hand he bought, borrowed, or rented—from a simple dime-store hairbrush or coffee cup to the chairs and tables from a New York City Automat.

When photographing on location or in studio sessions, Rockwell framed important details individually. The arch of a wrist or a curved ankle would be shot from multiple angles as he explored how to incorporate them into his illustration; such commonplace elements as patterned wallpaper, a coatrack, a folded newspaper, and a cigarette butt were all captured on film before taking their places in his paintings.

Setting the Stage
Norman Rockwell was willing to travel any distance to photograph far-flung locations for his backgrounds. He went to New Mexico for Breaking Home Ties, Missouri for Norman Rockwell Visits a Country Editor, and New York City for Saying Grace. Even if he did not pose his models in situ, he felt it was important to experience the actual location, where, he believed, he could get the authentic "feel and smell" of the place and gain ideas he could not have imagined in the studio. He believed this, in turn, would communicate to viewers a sense of authenticity of the setting, even if they had never seen the place.

"Human-Looking Humans"
More than any other element of his work, Norman Rockwell's amateur models—his friends, family, and neighbors—imbued his art with tangible naturalism. Today it is a revelation to discover that so many of his most memorable subjects were, in fact, real people. "I paint human-looking humans," he said, "and the professional models just don't qualify."

Photography's speed and efficiency allowed Rockwell to draw on ordinary citizens who might spare the artist an hour or two of their time and were always paid for their efforts. Constantly on the lookout for promising amateurs who matched his imagined characters, Rockwell was freed from the need to cast models in roles they did not suit—he could get the real thing. With his photographic memory of every face in his hometown, he chose his subjects as much for their appearance as for their ability to perform, smile on cue, and cut loose for the camera.

The Artist as Director
Norman Rockwell adeptly coaxed expressions from his cast of amateur performers with the skill of a seasoned filmmaker. He began each modeling session by showing his rough sketches to his assembled models and describing his concept. Then he struck the poses himself and enthusiastically acted out each part to demonstrate what he wanted.

Rockwell next positioned his models and guided them into the poses and expressions he required. He gave steady direction as his cameraman exposed frame after frame. From behind the camera he might gently cajole or resort to wisecracking, shouting, jumping, or pounding on the floor. "Do anything and everything," he said, "but get your story on film even if it kills the model and you too."

Photography sessions could last just minutes or run for hours as he developed his ideas. He might make a hundred or more photographs for a project, creating a spectrum of poses and expressions from which to choose.

From Camera to Canvas
After choosing the best photographs to tell his story, Rockwell began the process of translating these images into his finished painting. First, he enlarged his initial rough sketch with a projector to begin a detailed charcoal drawing in which he refined his narrative and composition.

Then, still using the projector, Rockwell introduced his photographs into his drawing. He rarely captured a complete scene in a single image but instead directed his cameramen to document each individual figure, prop, or architectural detail separately. By so doing, he could combine images as he transferred them and edit each component, in much the same way as a photo illustrator or an art director today might work with Photoshop. He traced the projected photographs, erasing the underlying sketch as he worked.

With the composition roughed in, he started again at the beginning, retracing each photographic detail and making notations on lighting and tonality. He then transferred the outlines of his charcoal drawing to canvas using transfer paper, or had his charcoal drawing photographed and projected onto canvas. Finally he began painting, surrounded by all of the reference materials and photographs he had collected for the work at hand.

"A Logical Aid"
Norman Rockwell was a natural storyteller and envisioned his scenarios down to the smallest detail, yet he found it difficult to paint purely from his imagination. He knew all too well the solution but resisted the temptation. Though he had turned to photography in the early 1920s when posing young children or animals, it was not until the mid-1930s that it became central to his process. To Rockwell, photography "seemed a low form of cheating, a dishonorable crutch for lazy draftsmen, a betrayal of artistic principles."

Still, even though he insisted that photography could never compensate for the lack of essential drawing and painting skills, Rockwell saw its advantages immediately. He considered the camera "a logical aid" in capturing poses too difficult for a model to hold. Photography freed him to use amateur models and enabled him to document countless background elements. It made possible adventurous new vantages and perspectives that allowed him to compete with a new generation of illustrators. And black-and-white photographs—he rarely used color film—permitted him to introduce his own palette into the final work. Eventually, photography became so integral to his process that he wrote, "I challenge anybody to show me when I started to use photographs. I've always been known as The Kid with the Camera Eye."

Norman Rockwell's Life and Career
1894 Born in New York City.

1907 Family moves to Mamaroneck, New York.

1910 Leaves Mamaroneck High School after sophomore year to study art full time.

1911 Enrolls in classes at the Art Students League in New York.

1913 Family moves to New Rochelle, New York.

1916 Produces his first Saturday Evening Post cover.

1935 Photography becomes a regular part of his process.

1939 Relocates from New Rochelle, New York, to Arlington, Vermont.

1943 A fire destroys much of the contents of his studio, including his photographic archive.

1953 Moves to Stockbridge, Massachusetts.

1963 Ends his relationship with The Saturday Evening Post, having created 321 covers for the magazine.

1964 Becomes a regular contributor to Look magazine.

1972 Brooklyn Museum hosts a major retrospective of his work.

1978 Dies at the age of 84 in Stockbridge, Massachusetts.