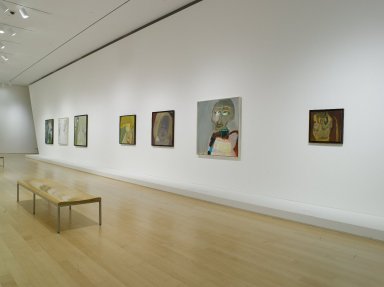 Eva Hesse Spectres 1960
Print
Exhibition Didactics
Eva Hesse Spectres 1960
The German-born American artist Eva Hesse (1936–1970) is renowned for the sculptural assemblages that she produced from the mid-1960s until her untimely death from a brain tumor at the age of thirty-four. Eva Hesse Spectres 1960 presents a rarely seen selection of paintings that Hesse made in New York when she was just twenty-four, which constitute a vital link in the progression of her work.

In 1960 Hesse created approximately four dozen paintings, nineteen of which are on view for the first time as a group in this exhibition. These works illustrate her precocious originality and acute self-awareness as a young artist. Just weeks before completing her degree in painting at Yale University in 1959, she wrote in her journal: "Paint yourself out, through and through, it will come by you alone. You must come to terms with your own work not with any other being." This telling statement defined Hesse's struggle and true goals: to establish her position as a significant artist while employing her chosen medium as a tool for coming to terms with her own ideas of self.

Represented here are two campaigns: semirepresentational depictions featuring semblances of Hesse herself in fictive guises, and animated but mostly faceless individuals grouped as couples or, in one case, a trio. Her subjects—the human figure and the self-portrait—might seem regressive, especially in the context of the focus on abstraction within the predominantly male New York art world of the early sixties. Nevertheless, this body of work represents an intense psychological reckoning for Hesse at the outset of her career, a veritable starting point of a path that ultimately led to the sculptural masterworks for which she is internationally celebrated.

The term spectre describes the conceptual, emotional, and physical nature of these works. Derived from the Latin spectrum, meaning an image or apparition, spectre suggests threatening or terrifying phantasms of the mind, as well as faint, imagined figures repeated in one form or another. For Hesse, the act of looking was directed both at herself and at others, at her past and no doubt at her burgeoning future. Looking inwardly and outwardly, Eva Hesse began to paint herself out and away and ahead.

Eva Hesse Chronology
My life and art have not been separated. They have been together. —Eva Hesse, 1970

1936
Eva Hesse, the second and youngest child of defense attorney Wilhelm Hesse and his first wife, Ruth Marcus Hesse, is born in Hamburg, Germany, on January 11.

1938
In November, Eva and her elder sister, Helen, flee Germany and Nazi persecution on a Jewish Kindertransport to Amsterdam, where they are taken in at a Catholic children's home. Their parents follow three months later.

1939
In June, the entire family immigrates to the Washington Heights neighborhood of New York City. Wilhelm Hesse finds work as an insurance agent. Ruth Hesse suffers from depression and is eventually hospitalized.

1945
Eva's parents are divorced. Her father remarries. He and his new wife, Eva Nathanson Hesse, assume custody of the two girls.

1946
Ruth Hesse commits suicide.

1949
Eva Hesse graduates from junior high school with honors. She decides to become an artist.

1952
After graduating from New York High School of Industrial Arts, Hesse enrolls at the Pratt Institute, in Brooklyn.

1954
Hesse quits Pratt early in her second year and begins drawing lessons at the Art Students League of New York. She gets a part-time job as an intern at Seventeen magazine. In September she enrolls at Cooper Union, in New York, where her teachers include influential representational painters Neil Welliver, Will Barnet, and Robert Gwathmey. She begins psychotherapy.

1957
After completing studies at Cooper Union in June, Hesse receives a scholarship to attend the Yale Summer School of Music and Art, in New Haven, Connecticut. In September, she enrolls at the Yale School of Art and Architecture. Her teachers include the highly influential German-born painter and educator Josef Albers.

1958
Hesse's work is included in the First New Haven Festival of the Arts.

1959
Hesse graduates from Yale with a B.A. and returns to New York. She begins psychotherapy with a new doctor, and she remains in treatment for the rest of her life.

1960
In January, Hesse takes a part-time job as a textile designer at a major fabric house. She moves into her first apartment in New York on her own and settles into a shared studio. During the year, she completes a number of figurative paintings and, later, increasingly abstract works.

1961
Hesse is included in Drawings: Three Young Americans at John Heller Gallery; in his review of the show, the artist-critic Donald Judd claims Hesse's work is the "most contemporary and proficient." Hesse also participates in the 21st International Watercolor Biennial at the Brooklyn Museum. She meets her future husband, sculptor Tom Doyle, whom she marries on November 21.

1962
Hesse and Doyle participate in an Allan Kaprow "Happening" (an early and influential form of performance art) at the Art Students League's summer school in Woodstock, New York.

1963
Hesse has her first one-person exhibition at Allan Stone Gallery, in New York.

1964
The German collector Arnhard Scheidt sponsors Doyle and Hesse for a year in Kettwig-an-der-Ruhr, near Essen, in exchange for a selection of their work. Hesse works intensively in a huge studio in an abandoned textile factory and draws pieces of cord and machine parts, materials that she later uses to make her first brightly painted constructions. She travels throughout Europe and makes contact with many artists.

1965
Hesse creates her last paintings. She has a one-person exhibition at the Kunsthalle in Düsseldorf. Returning to New York, she concentrates on sculpture.

1966
Hesse and Doyle divorce. Hesse's reputation as a sculptor grows; she wins praise for works in major New York gallery shows and her art appears alongside pieces by influential artists such as Bruce Nauman and Louise Bourgeois, among others. Her father, Wilhelm Hesse, dies in Switzerland.

1967
Hesse makes works in series or using mathematical progressions and begins using latex and commissioning fabricated components for sculpture.

1968
Hesse is visiting artist at Oberlin College in Ohio. She has her only one-person sculpture show, Chain Polymers, at Fischbach Gallery, in New York, and her sculptures are included in significant group exhibitions. The first symptoms of Hesse's illness appear.

1969
Hesse's work is included in the influential exhibition When Attitudes Become Form, at the Kunsthalle Bern, in Switzerland, which travels internationally. Hesse collapses in April and is diagnosed with a brain tumor; she is operated on twice and undergoes radiation and chemotherapy at New York Hospital. Two of her sculptures are sold to the Museum of Modern Art, and another is included in an important exhibition at the Whitney Museum of American Art; she attends the opening in a wheelchair. Hesse spends Christmas and New Year's back in the hospital.

1970
Although increasingly weak, Hesse continues to work. In March she reenters the hospital for a third surgery. An important interview is published in May's Artforum magazine with her masterwork, Contingent, on the cover. Eva Hesse dies on May 29 at the age of thirty-four.