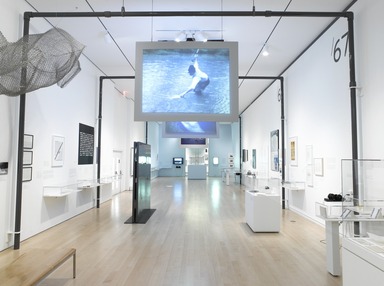 Materializing 'Six Years': Lucy R. Lippard and the Emergence of Conceptual Art
Print
Exhibition Didactics
MATERIALIZING SIX YEARS LUCY R. LIPPARD AND THE EMERGENCE OF CONCEPTUAL ART
Chronicling the years 1966 to 1972, Lucy R. Lippard's groundbreaking book Six Years, published in 1973, catalogued an explosion of radical creative experimentation that became known as Conceptual art. Lippard's expansive notion of Conceptual art—which she described as "work in which the idea is paramount and the material form is secondary, lightweight, ephemeral, cheap, unpretentious and/or 'dematerialized'"—engaged a generation of artists from around the world, connecting their investigations to the ideological struggles of the times and prefiguring her own work in cultural criticism, feminist politics, and advocacy for feminist art.

As Conceptual art began to intersect with Pop, Minimal, Post-Minimal, and process art in the mid-1960s, it became clear that this next phase of creative exploration would test the limits of what a work of art might look like and what it could be made of, as well as how it could be critically evaluated and effectively displayed. Lippard's book identified diverse practices that shared a spirit of inquiry into the nature of art itself, and made no effort to impose analytical judgments, incorporating textual pieces, various forms of documentation, and excerpted quotes into a listing of straightforward facts, with very little commentary, allowing the artworks and artists to speak for themselves.

This exhibition gathers examples of these creative experiments to evoke a time when the challenges to Cold War American society represented by the Civil Rights, Women's Rights, and anti–Vietnam War movements were paralleled by artistic rebellion against the entrenched formalism that had reigned in New York cultural circles since the 1940s. Materializing "Six Years" follows the book's chronology, presenting artworks and events specifically noted in its pages and interweaving the development of Lippard's own approach to curatorial projects, criticism, creative collaboration, and political activism. Reflecting Lippard's growing commitment to political activism, specifically her increasing dedication to feminism in the 1970s, Materializing "Six Years" ends with an epilogue: her groundbreaking 1973 exhibition of women Conceptual artists. Presented just after the period covered by Six Years, that exhibition demonstrated feminism's place within the Conceptual art movement as well as its impact on Lippard and many of the artists of her generation.

EPILOGUE
After repeatedly hearing the claim that there were no women making Conceptual art, Lippard decided to set the record straight. In 1973, she organized a final "numbers" exhibition; this one featured only women artists and illustrated the complex relationship between Conceptual and feminist art. The show, called c. 7,500, took its title from the population of Valencia, the location of the California Institute of the Arts, its first venue, and toured to a number of institutions across the United States before ending its run in London.

Ideologically as well as chronologically, c. 7,500 marks a departure and developmental leap from projects undertaken during the period of Six Years. Unlike the detached approach of much earlier Conceptual art, many of these instruction-based projects introduced personal content and brought the artists' individual differences and experiences to the foreground. As a group, these artists powerfully highlighted the conceptual and socially constructed nature of identity and gender, and affirmed that it was appropriate for advanced art to investigate how these identities are formed. Through c. 7,500, Lippard positioned feminist art, often criticized as less intellectual than "pure" Conceptualism, as instead extending its theoretical claims into new territory.