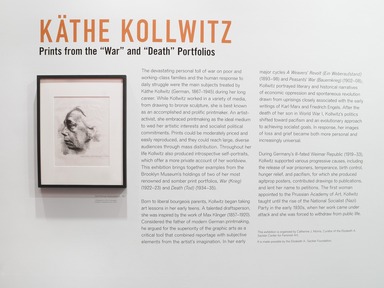 Käthe Kollwitz: Prints from the 'War' and 'Death' Portfolios
Dates:

March 15, 2013 through November 10, 2013

Collections: European Art
Print
Exhibition Didactics
Käthe Kollwitz: Prints from the 'War' and 'Death' Portfolios
The devastating personal toll of war on poor and working-class families and the human response to daily struggle were the main subjects treated by Käthe Kollwitz (German, 1867–1945) during her long career. While Kollwitz worked in a variety of media, from drawing to bronze sculpture, she is best known as an accomplished and prolific printmaker. An artist-activist, she embraced printmaking as the ideal medium to wed her artistic interests and socialist political commitments. Prints could be moderately priced and easily reproduced, and they could reach large, diverse audiences through mass distribution. Throughout her life Kollwitz also produced introspective self-portraits, which offer a more private account of her worldview. This exhibition brings together examples from the Brooklyn Museum's holdings of two of her most renowned and somber print portfolios, War (Krieg) (1922–23) and Death (Tod) (1934–35).

Born to liberal bourgeois parents, Kollwitz began taking art lessons in her early teens. A talented draftsperson, she was inspired by the work of Max Klinger (1857–1920). Considered the father of modern German printmaking, he argued for the superiority of the graphic arts as a critical tool that combined reportage with subjective elements from the artist's imagination. In her early major cycles A Weavers' Revolt (Ein Weberaufstand) (1893–98) and Peasants' War (Bauernkrieg) (1902–08), Kollwitz portrayed literary and historical narratives of economic oppression and spontaneous revolution drawn from uprisings closely associated with the early writings of Karl Marx and Friedrich Engels. After the death of her son in World War I, Kollwitz's politics shifted toward pacifism and an evolutionary approach to achieving socialist goals. In response, her images of loss and grief became both more personal and increasingly universal.

During Germany's ill-fated Weimar Republic (1919–33), Kollwitz supported various progressive causes, including the release of war prisoners, temperance, birth control, hunger relief, and pacifism, for which she produced agitprop posters, contributed drawings to publications, and lent her name to petitions. The first woman appointed to the Prussian Academy of Art, Kollwitz taught until the rise of the National Socialist (Nazi) Party in the early 1930s, when her work came under attack and she was forced to withdraw from public life.

War (Krieg) (1922-1923)
In her War (Krieg) portfolio, Kollwitz turned from the fine-line etching technique used in her earlier print cycles, such as Peasants' War (Bauernkrieg), to rough-hewn, stylized woodcuts, amplifying the raw impact of her imagery. During this period the artist's work aligned more closely with the avant-garde tendencies of German Expressionism, especially those associated with the artists of Die Brücke (The Bridge), who celebrated woodblock printing for its reductive primitivism and nationalistic links to Gothic Germany. Both Kollwitz's subject matter and her form placed her in distinguished company, as many of her contemporaries also used print portfolios to explore the ways in which World War I damaged society.

Created several years after the death of Kollwitz's son Peter on the battlefield in Flanders, War chronicles the personal costs of combat, removing contextual and narrative details in favor of a more universal cycle of loss and mourning. This poignant combination of raw expression and barbed ideology carries with it an enduring urgency.

Death (Tod) (1934-35)
In the mid-1930s, following years of personal hardship, Kollwitz focused her final portfolio on the figure of Death. Having first appeared in her early A Weavers' Revolt (Ein Weberaufstand) (1893–98), Death now became the primary subject for an eight-piece print cycle, five sheets of which are included in the Museum's collection. Each image approaches the subject from a different perspective, with Death treated by turns as a friend and as a vengeful angel, rendered in lithography's broad range of styles, from naturalistic lines to dramatic dark passages to muted shadings.

While some consider this portfolio her response to the rise of Nazism, Kollwitz's writings suggest that she chose the theme of mortality because of its primal and inescapable nature, an interpretation supported by the simple rendering of each vignette. Completing her progression toward universal subjects and increasingly metaphysical depictions, Kollwitz's final portfolio is a haunting meditation on life's inevitable end.