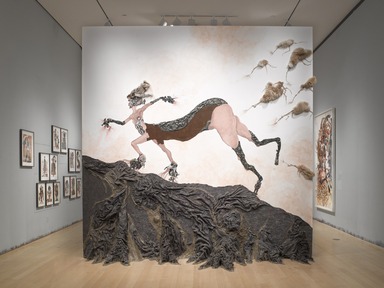 Wangechi Mutu: A Fantastic Journey
Print
Exhibition Didactics
Wangechi Mutu: A Fantastic Journey
Over the past fifteen years, Wangechi Mutu has emerged as one of the most inventive and sophisticated artists of her generation, using her distinctive voice to tackle vital issues such as globalization, colonialism, and cultural constructions of the female body. The first survey in the United States for this multidisciplinary artist, Wangechi Mutu: A Fantastic Journey features more than 50 works from the mid-1990s to the present, including her signature large-scale collages alongside new video work, sculptures, site-specific installations, and never-before-seen sketchbook drawings. Highlighting the interaction between her fantastical figures and their otherworldly environments, this exhibition presents the breadth of Mutu's practice and offers insight into her creative process, artistic development, and critical strategies.

Born in 1972 in Nairobi, Kenya, Mutu moved to New York in 1992 and has been based in Brooklyn since 1994. Best known for her spectacular and provocative collages, she embraces a hybridized aesthetic that brings together a multifaceted, twenty-first-century global sensibility with haunting reminders of the historical conflicts that have shaped our world.

Combining readymade materials and magazine cutouts, she samples liberally from sources as diverse as African traditions, international politics, the fashion industry, pornography, and science fiction to produce her mashed-up, Afrofuturist vision of the universe.

Believing that cultures project their deepest desires and worst fears onto women's bodies, Mutu uses feminine forms to investigate colonialism and displacement, religion and ritual, consumerism and environmental degradation, international perceptions of Africa, and the eroticization of the black female body. Part human, animal, plant, and machine, simultaneously unnerving and alluring, her figures defy easy categorization and identification. Bringing her interconnected ecosystems to life through sculptural installations and videos, Mutu encourages audiences to consider these mythical worlds as places for cultural, psychological, and sociopolitical exploration. Through juxtaposed materials, cultural references, and images at once critical and seductive, she challenges us to confront real-world contradictions and complexities as she takes us on an enchanting, transformative journey.