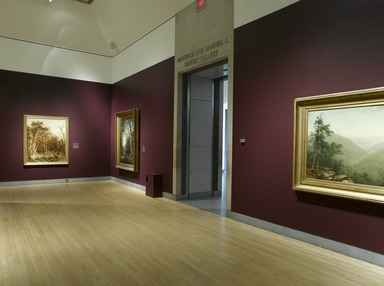 Kindred Spirits: Asher B. Durand and the American Landscape
Dates:

March 30, 2007 through July 29, 2007

Collections: American Art
Location: This exhibition is no longer on view in Morris A. and Meyer Schapiro Wing, 5th Floor
Description:

Kindred Spirits: Asher B. Durand and the American Landscape. [03/30/2007 - 07/29/2007]. Installation view.

Citation:

Brooklyn Museum Digital Collections and Services. Records of the Department of Digital Collections and Services.

(DIG_E_2007_Durand)

Source:

born digital

Related Links:
Print
Exhibition Didactics
Kindred Spirits: Asher B. Durand and the American Landscape
Asher B. Durand (1796 –1886), one of the most important American artists of the nineteenth century, was a central figure in the New York art world and the acknowledged leader of the American landscape school from the mid-1840s until his death at the age of ninety forty years later. Durand's career spanned six decades, from the earliest efforts of American artists and writers to construct a national cultural identity by means of American scenery, on through the mid-century triumph and subsequent eclipse of what is now known as the Hudson River School of landscape painting. Although the native landscape school was overshadowed by new French-inspired styles after the Civil War, Durand was revered by later generations as an elder statesman of American art. Today his contributions are recognized as central to the development of nineteenth-century American landscape painting. He created some of the finest expressions of the American pastoral mode, he introduced the vertical forest interior as an expressive pictorial format, and he remains closely identified with the progressive practice of plein air (outdoor) painting.

Born on a farm in what is now Maplewood, New Jersey, Durand settled in Greenwich Village in New York as a young man in 1817. He distinguished himself first as a master engraver of banknotes and reproductions of works of ar t and then as a por trait painter. He also worked as a painter of rural genre (idealized images of everyday life) and literary narrative, finally yielding during the mid-1830s to his longtime desire to focus on landscape subjects. A year's sojourn in Europe, from 1840 to 1841, completed his artistic education; after his return home, he fully embraced the landscape practice for which he is best known today.

Having served in 1826 as one of the founders of the National Academy of Design, the leading artists' organization of nineteenth-century America, Durand was elected president of that institution in 1845 and held the office until 1861. With the death of his rival and mentor Thomas Cole in 1848, Durand's stature rose even further as he inherited the role of America's most prominent landscape painter. In 1855 he articulated his views on plein air painting in the famous "Letters on Landscape Painting," which have proved a rich resource for artists of the time and generations of critics and art historians. Durand retired to the family property in Maplewood in 1869 and continued to paint until the late 1870s. He is buried at Green-Wood Cemetery in Brooklyn.

Linda S. Ferber
Guest Curator and Curator Emerita, Brooklyn Museum

There is yet another motive for referring you to the study of Nature early—its influence on the mind and heart. The external appearance of this our dwelling-place . . . is fraught with lessons of high and holy meaning, only surpassed by the light of Revelation.

—Durand, "Letters on Landscape Painting"

Durand's decision to become a landscape painter not only offered professional promise but also answered a personal need to leave the studio for the great outdoors. From the 1840s to the 1870s, Durand spent several months annually on sketching and painting expeditions that ranged from New York to New England. He was usually accompanied by fellow artists and family members. His lively letters from the field to family and friends testify that these communal expeditions were as important to his physical and spiritual health as they were to his creative process.

Although Durand was not unique in his plein air practice, the Studies from Nature have long been perceived as a special contribution within the scope of his oeuvre. Many of these paintings, generally small and unsigned, remained in the artist's studio until his death. A number of them can be linked to the exhibition pictures in this installation.

You need not a period of pupilage in an artist's studio to learn to paint. . . . [L]et me earnestly recommend to you one STUDIO which you may freely enter, and receive in liberal measure the most sure and safe instruction ever meted to any pupil . . . —the STUDIO of Nature.

—Durand, "Letters on Landscape Painting"

Durand's Studies from Nature, as they were collectively known, are the visual records of the artist's keen observations about nature, light, and atmosphere gleaned from many seasons of painting outdoors. Although these field studies were primarily intended for studio use, Durand's plein air oil paintings were also recognized by artists and critics in his day as having aesthetic as well as utilitarian value.

Durand published his reflections on plein air practice as his "Letters on Landscape Painting," a series of nine essays that appeared in 1855 in the Crayon, a journal founded and coedited by his son, John, a critic, and the landscape painter and critic William James Stillman. Offering practical advice for the aspiring landscape painter, the "Letters" expound on Durand's own practice and beliefs, which were shared by many of his contemporaries.

Durand's Portrait, Genre, and Figure Paintings
Early in his career, Durand harbored the ambition to switch from the engraver's trade to the more creative and prestigious realm of the painter. His intense study of other artists' portrait, genre, and landscape paintings during the process of reproducing their works as engravings provided models that served him well. He made a careful copy in oil of Ariadne, John Vanderlyn's Neoclassical nude of 1812, as he prepared to engrave that famous painting. By the early 1830s his abilities as both engraver and painter were widely recognized. Durand received commissions to paint portraits of prominent figures specifically so that he might also make engravings after his canvases. In 1835 he embarked on his most important portrait commission, a record of the nation's seven presidents. During the 1830s Durand also worked on a series of genre paintings, narrative works that sought to define a national culture by drawing inspiration from American writers and by portraying "American" social and ethnic types.

Durand as a Landscape Painter
The outdoor settings for some of Durand's portraits and genre subjects of the 1830s demonstrate his interest in landscape, which became his major focus after returning from Europe in 1841. Durand's range and pictorial inventiveness as a landscape painter are striking. He moved easily among established landscape vocabularies, producing splendid wilderness images, historical landscapes, and grand allegories. The pastoral landscape was, perhaps, Durand's signature subject. These images of a cultivated landscape, populated with yeomen, domestic animals, neat houses, and white steeples, represented an ideal of national, political, and cultural unity in times of increasing sectional tension. The pastoral also served a private therapeutic purpose, since Durand believed that contemplating harmonious nature, actual or painted, could restore spiritual as well as physical health.

The artist was an early practitioner and a major advocate of outdoor painting in America, and he is still celebrated for his modestly scaled but powerful plein air paintings that record years of experience in the sketching grounds of the American landscape school. These works served as studies for the foreground vegetation and trees in his pastoral landscapes, as well as for a long series of vertical American forest interiors, a format that was virtually invented in the United States by Durand. Following traditional academic process, Durand used his drawn and painted plein air studies to create the final exhibition work, which was an elaborate invention, or "composition," painted in the studio. The artist's close study of natural objects and atmospheric effects informed the growing realism of his exhibition pictures in the 1850s.

Master Engraver Master Engraver and Draftsman
Durand taught himself the rudiments of engraving as a child while watching his father work as a watchmaker and silversmith. Apprenticed in 1812 to the Newark engraver Peter Maverick (1780 –1831), Durand quickly mastered the craft, joining the firm in 1817 and managing its New York office. The two parted ways in 1820 after Durand accepted a commission from the prominent artist John Trumbull to engrave the image of his history painting The Declaration of Independence—a three-year project whose critical success launched the young engraver's career.

For more than a decade, Durand was the leading American practitioner of reproductive engraving. He was renowned for his ability to reduce and transform portrait, figure, and landscape paintings by other artists into compelling black-and-white images that were published as illustrations or circulated as prints. He and his brother Cyrus were also the foremost banknote engravers in the United States, setting new standards for the design and production of currency. Durand's skills as a draftsman, honed by years of working as an engraver, provided the foundation for his fluent ability to record the landscape in hundreds of drawings and dozens of sketchbooks. From the 1840s through the 1870s, he spent several months each year on sketching and painting expeditions to locales that ranged from New York to Vermont.