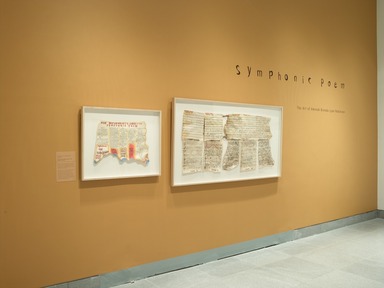 Symphonic Poem: The Art of Aminah Brenda Lynn Robinson
Dates:

March 10, 2006 through August 13, 2006

Collections: Contemporary Art
Location: This exhibition is no longer on view in Entrance to Luce Center for American Art, 5th Floor
Description:

Symphonic Poem: The Art of Aminah Brenda Lynn Robinson. [02/24/2006 - 08/14/2006]. Installation view.

Citation:

Brooklyn Museum. Digital Collections and Services.

(DIG_E_2006_Robinson)

Source:

born digital

Related Links:
Print
Exhibition Didactics
introduction
Aminah Brenda Lynn Robinson has been composing Symphonic Poem for more than fifty years. It is a highly varied body of work, ranging from simple drawings and woodcuts to complex sculptures animated with music boxes and inventive three-dimensional, mixed-media cloth paintings she calls "RagGonNons." Repeatedly, she details a journey through history that begins in Africa hundreds of years ago and continues today, confronting struggle, oppression, and despair and celebrating joy, freedom, and hope. Robinson is particularly concerned with the idea of community, seeking not only to preserve the history and culture of existing communities but also to resurrect long-vanished ones.

Born Brenda Lynn Robinson in Columbus, Ohio, in 1940, the artist was raised in a bustling, close-knit neighborhood that became a continuing source of inspiration for her work. The year she was born her family moved to Columbus's newly completed Poindexter Village apartment complex, one of the country's first federally funded metropolitan housing developments. After graduating from high school, Robinson received her formal art training at the Columbus Art School (now the Columbus College of Art and Design). Although she is an enthusiastic world traveler and has enjoyed and been inspired by extended residencies and study trips in both this country and abroad, she continues to live and work in Columbus.

During a 1979 trip to Africa, Robinson met a holy man who gave her the name Aminah, Arabic for "trustworthy." Upon her return to Columbus, she legally added it to her given names to become Aminah Brenda Lynn Robinson.

Robinson has exhibited her art throughout the United States, and one of her commissioned works is a centerpiece of the recently opened National Underground Railroad Freedom Center in Cincinnati. In 2004 she received a MacArthur Foundation Fellows Grant, one of the so-called "genius awards" given to "talented individuals who have shown extraordinary originality and dedication in their creative pursuits."

the grounding
Throughout her life, Robinson has practiced skills she learned from her father and mother as a child. Her father taught her how to make books from a material he called "hogmawg," a homemade mixture of clay, mud, sticks, and animal fat. From her mother came the "hand-me-down" traditions of button- and needlework. From both parents came an enduring respect for the family's elders, their traditions, and their stories. Demonstrating her strong familial grounding are two complex memorial works she calls "RagGonNons." Dad's Journey chronicles her father and his ancestors, and Precious Memories is a tribute to her mother. Each encapsulates in visual terms Robinson's fundamental belief in the African concept of Sankofa, which holds that one has to learn from the past in order to go forward.

the neighborhoods and pages in history
Robinson's love of Columbus, Ohio, is evident in her ongoing effort to document its neighborhoods, especially those that no longer exist, such as Water Street, an area known as the Blackberry Patch, and the circus community of Sellsville. Her work also recalls earlier incarnations of the present-day neighborhoods of Poindexter Village and Mt. Vernon Avenue. While Robinson bases these works on details related to particular places, the theme that emerges is universal: the importance of family and community wherever and whenever they occur in the world. In the ongoing series Pages in History, an extensive collection of sculptures, works on paper, cloth paintings, and quilts, Robinson records figures and events, both celebrated and obscure, from African American history.

the journeys
Each time she travels, Robinson prepares herself through extensive research in order to "absorb the spirit" of her destination. Immersing herself in the life of the people in the places she visits, she records her observations in hundreds of sketches that lead to works in a variety of media. Her experiences become part of an artistic vocabulary that she continues to employ long after her trip has ended. For Robinson, these journeys are pilgrimages in search of universal histories and ancestors.

the book
Among Robinson's earliest memories are the many occasions on which she and her father made books with whatever materials were available. As a young child she was seldom without her sketchbook, and by the time she began art school, she was already combining text with images. Through the close relationships she developed with older relatives on both sides of her family, she recognized the importance of preserving and passing on the countless stories they shared with her. Books became her chosen vehicle for these ancestral narratives.