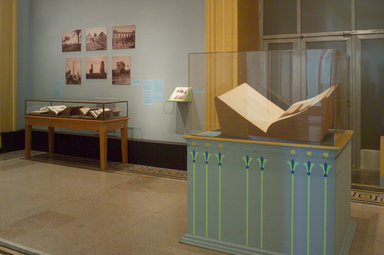 Egypt Through Other Eyes: The Popularization of Ancient Egypt
Dates:

August 12, 2005 through November 12, 2006

Location: This exhibition is no longer on view in Special Exhibitions Hall, Egyptian Galleries, 3rd Floor
Description:

Egypt Through Other Eyes: The Popularization of Ancient Egypt. [08/12/2005 - 11/12/2006]. Installation view.

Citation:

Brooklyn Museum Digital Collections and Services. Records of the Department of Digital Collections and Services.

(DIG_E_2005_Egypt)

Source:

born digital

Related Links:
Print
Exhibition Didactics
Egypt Through Other Eyes Images from the Wilbour Library of Egyptology
Egypt Through Other Eyes is a special exhibition that presents images from the Brooklyn Museum's Wilbour Library of Egyptology—one of the world's most comprehensive Egyptological research collections—to chronicle Western interest in ancient Egypt. These images, found in publications ranging from expensive limited-edition folios to mass-produced books, demonstrate the allure that Egypt has long held for a Western audience. The first segment of the exhibition, "Early Travel and Exploration," was on view earlier this year and presented objects from the sixteenth century through the early nineteenth century. "The Popularization of Egypt," currently on view, includes works from the 1820s through the discovery of King Tutankhamun's tomb in 1922.

Several of the objects on view here originally belonged to Charles Edwin Wilbour (1833–1896), the American Egyptologist for whom the Wilbour Library of Egyptology is named. Wilbour also collected many of the objects in the adjacent galleries of Egyptian art and made a significant contribution to the study of ancient Egypt in America.

The purpose of this exhibition is to present how nineteenth-century Western writers and artists viewed Egypt, either through first-hand observation or through the written or verbal descriptions of others. During the nineteenth century, the growth of free public education and advances in printing technology made travel literature, history books, newspapers, and magazines available to a wider audience. Mass-produced publications and scholarly articles on ancient Egypt fed a growing public fascination and had a direct influence on European and American art and literature. Public interest in "exotic" cultures was also sparked by several international expositions, such as the Paris International Exhibition in 1867, that featured little-known objects from far away lands such as Egypt. These expositions were frequently reviewed in periodical literature and generated several commemorative publications, such as Hubert Howe Bancroft's Book of the Fair, which is included in this exhibition.

The exhibition was organized by Deirdre E. Lawrence, Principal Librarian/Coordinator of Research Services, and Mary Gow, Assistant Librarian, in collaboration with the curators of the Department of Egyptian, Classical, and Middle Eastern Art.

The Popularization of Ancient Egypt
When Napoleon took his army into Egypt, he took a battalion of savans [savants] also. Paleography [deciphering ancient inscriptions or signs] became the rage. . . . They sent home specimens—they made literal copies of long strings of hieroglyphics, and had them engraved, and printed, and circulated, and offered prizes for translations and keys.

—Walt Whitman, from Life Illustrated, December 8, 1855

Walt Whitman was one of many Americans who became fascinated with ancient Egypt in the nineteenth century. He visited an exhibition of Egyptian antiquities at the Stuyvesant Institute in the early 1850s, and later viewed the Description de l'Egypte (referred to in the above quote), a comprehensive publication documenting nineteenth-century Egypt. After its publication in the 1820s, the Description inspired countless Western collectors, tourists, artists, scholars, and writers to visit Egypt and to record their experiences in publications or in their art. Due to public demand, publishers began to produce more affordable editions on the history and culture of ancient Egypt for a wider audience. Books such as Samuel Manning's The Land of the Pharoahs (1875) and Lady Duff Gordon's Letters from Egypt (1902) inspired many others to travel, including Florence Nightingale, Gustave Flaubert, and Ralph Waldo Emerson, who in turn wrote about their own experiences in Egypt. As a result, ancient Egypt became more fully integrated into the West's perception of the ancient world, gaining a place alongside the long-recognized classical civilizations of Greece and Rome.

Many Westerners were particularly interested in visiting biblical landmarks in Egypt. An important location in both the Old and New Testaments, Egypt was considered part of the Holy Land. Images of pharaonic monuments and views of the Nile had significance due to their association with the biblical account of the Exodus. For the Western public, then, reading about Egypt became a way of witnessing religious traditions and understanding a previously unknown world.

This exhibition focuses exclusively on the Western fascination with Egypt in the nineteenth century, as reflected in publications that many Europeans and Americans were reading at the time. Although political debates developed within and between the African-American and European-American communities about Egypt's historical relationship to Africa, they rarely were recorded in art historical literature. Nineteenth-century periodicals such as The Christian Recorder and Freedom's Journal and writings by prominent African Americans such as Frederick Douglass and W. E. B. Du Bois discussed Egypt's cultural legacy. While beyond the scope of this exhibition, discussions surrounding the recorders of ancient Egyptian culture—Europeans, Americans, or Egyptians—remain relevant today.