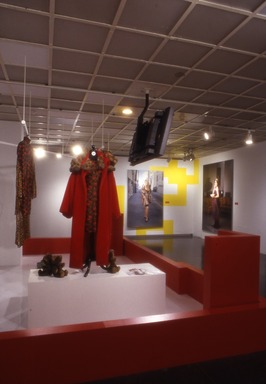 Patrick Kelly: A Retrospective
Print
Exhibition Didactics
Patrick Kelly: A Retrospective
In March 1985 an exuberant young American designer named Patrick Kelly burst onto the Paris fashion scene with a heady collection of women's ready-to-wear that immediately set the fashion world abuzz. The highlight of his debut—sexy, body-hugging minidresses adorned with a riot of colorful buttons—would become one of his famed trademarks and spark his rapid ascent to world-class designer status.

Beyond his whimsically innovative designs was the irony of Kelly himself: a Black man from the rural South taking the rarefied world of fashion by storm. This alone made him the type of curiosity that garnered attention. His larger-than-life personality and artful eccentricities only added to his appeal and endeared him to nearly everyone he met.

Born in Vicksburg, Mississippi, on September 24, 1954, Kelly as a young adult moved to Atlanta, where he sold his own creations and held various odd jobs to supplement his budding fashion career. He later lived in New York and briefly attended Parsons School of Design. In 1980 his friend the model Pat Cleveland urged Kelly to relocate to Paris and anonymously provided a plane ticket. Kelly enjoyed immense success in Paris from the mid- to late eighties, becoming the first American member of the Chambre Syndicale du Prêt-à-Porter, the prestigious governing body of the French ready-to-wear industry. Kelly's meteoric career came to a tragic halt on January 1, 1990, when he died of AIDS-related complications.

This retrospective celebrates Kelly's charismatic style and his contribution to fashion. On display is a wide array of the witty and provocative clothing and accessories that were his signature, along with photographs, works on paper, and video segments that evoke the context for his work. Numerous objects are also included from his extensive personal collection of Black memorabilia, which held meaning for him as a reminder of where he "came from" as an African American, and which bears a clear relation to the ironic play on racial stereotypes that he injected in his designs and marketing. Although Kelly's career as a mainstream designer lasted a mere eight seasons within four years, many consider him one of fashion's brightest stars.

Thelma Golden
Guest Curator

Kelly Gets Discovered in Paris
In Patrick Kelly's hands, rolls of bright-colored jersey fabric, discovered in the Parisian fabric district, became the creations that would put him on the fashion map. As the women in his family had adorned their store-bought clothes to make them unique, he customized these tube dresses with buttons and bows.

In late 1984 Kelly and Bjorn Amelan, his partner in both business and personal life, made a presentation of these dresses at the offices of Paris's trendsetting Victoire boutiques. "Patrick was charismatic, and his dresses were elegant, colorful, and unpretentious," remembers Françoise Chassagnac, Victoire's buyer and fashion director. Kelly's line was the first she ever sold from an American designer.

Crassagnac sent them to Nicole Crassat, fashion editor at French Elle, who featured Kelly in the February 1985 issue in a six-page spread, an unprecedented accolade for an unknown designer. Victoire thereupon offered limited showroom space and agreed to produce the collection, and elegant department stores like Bergdorf Goodman and I. Magnin soon were placing orders and featuring Kelly's dresses in their windows. After completing the Spring/Summer 1987 collection, Kelly moved to his own showroom at 6, rue du Parc-Royal, with Ghinea in Bologna producing his designs.

Kelly's Early Days in Paris
Patrick Kelly was a consummate self-promoter with an energy and resourcefulness that served him well when he arrived in Paris in 1980. Speaking little French and lacking papers to work there legally, he managed to earn money by selling his clothes on the sidewalks of the boulevard Saint-Germain and to friends by special order, while also catering fried chicken and freelancing for the designer Paco Rabanne.

Eventually he landed a job sewing costumes for a discotheque called Le Palace. He and his friend Liz Goodrum would stitch hundreds of costumes a week, working late at night in a tiny hotel room across from the club. Occasionally Kelly would stage guerilla-style fashion shows in which several of his Black model friends donned his garments and made the street their catwalk.

Induction into the Chambre Syndicale
During an appearance on the David Letterman show in 1987, the movie legend Bette Davis flaunted one of Kelly's famed dresses with a heart-shaped bodice of buttons and announced that her friend Patrick Kelly was looking for financial backing. The next day the apparel conglomerate Warnaco confirmed its decision to sign a licensing agreement with Kelly. With backing from Warnaco, he produced the dresses across from the photographs in this gallery (no. 40), and his career exploded. Celebrity clients included Paloma Picasso, Grace Jones, Madonna, Cicely Tyson, Princess Diana of Wales, Goldie Hawn, Farrah Fawcett, Gloria Steinem, Zsa Zsa Gabor, and Jessye Norman, among others.

In 1988 Kelly became the first American designer to be admitted into the Chambre Syndicale du Prêt-à-Porter des Couturiers et des Créateurs de Mode, France's prestigious association of designers whose members included Yves Saint Laurent and Sonia Rykiel, who sponsored him, and Christian Lacroix. Membership in this powerful lobby and union enabled Kelly to stage elaborate fashion shows at the landmark Louvre museum. "It was like getting an Oscar if you're an actor," he said in an interview. "Being a member puts me on another level. I'm no longer a renegade."

The Impact of AIDS
By the mid-1980s, the scourge of AIDS had begun to take a devastating toll on the fashion world. Not only was the passing of top designers like Perry Ellis, Giorgio di Sant'Angelo, and others a terrible creative blow to the industry, but financial backers were increasingly reluctant to invest in young male design talents whose careers might be short-lived. Fashion industry leaders responded through fundraisers and AIDS-awareness campaigns. For the French fashion establishment's first large-scale AIDS benefit in fall 1988, various designers created heart-themed squares for a quilt that was auctioned. Patrick Kelly's square featured a heart filled with buttons, one of which commemorated another African American designer, Willi Smith, who had died of AIDS the previous year.

In August of 1989 Kelly became severely ill. His October show was canceled, and Warnaco ended its business arrangement with his fashion house. On January 1, 1990, Kelly died of complications from AIDS, bringing an end to a short but distinguished career filled with promise. At his memorial in Paris, his friend Gloria Steinem summed up Kelly's legacy: "Instead of dividing us with gold and jewels, he unified us with buttons and bows."

Kelly and Josephine Baker
The show for Kelly's 1986 fall collection culminated in a dramatic grand finale that paid homage to the most legendary of African American expatriates to live in Paris, Josephine Baker (1906–1975). It featured his good friend the model Pat Cleveland—who resembled Baker in her heyday—dancing down the catwalk in a banana-fringed skirt (no. 20) embellished with lively images of La Baker in the banana skirt she made famous in 1926 at the Folies Bergère. (Baker memorabilia from Kelly's personal collection is displayed nearby.)

Baker was a natural point of reference for Kelly because she represented the type of spirited chic that his designs also embodied. And though they lived in Paris during two different eras, both capitalized on being beloved curiosities—distinctively African American—in their adopted city.

Kelley's Collection of Black Memorabilia
Patrick Kelly's affinity for Black memorabilia—particularly the stereotypical dolls, figurines, and advertising caricatures that were common in the United States from the second half of the nineteenth century through the first half of the twentieth—was well known. His personal collection contains more than eight thousand items. Elements of these collectibles, such as bananas and watermelons, informed his designs. His golliwog icon and signature Black baby-doll pins served as his playful take on the genre.

The term Black memorabilia, also known as Black Americana, generally refers to a broad body of historical artifacts reflective of the Black experience in America, ranging from slave documents, books, letters, and folk art to dolls, quilts, postcards, and household curios. "Black memorabilia" commonly calls to mind, however, a category of extremely derogatory images, seen on everyday American household objects and in advertisements from the mid-1800s to the mid-1900s, that promoted ugly stereotypes of Black people. In recent decades, these caricatures of watermelon-loving pickaninnies, blackface minstrels, shiftless Sambos, and rotund mammies have become a popular and controversial area of collectibles. Critics who consider this type of memorabilia deeply demeaning and insulting claim that it romanticizes and perpetuates America's troubled racial history. Those who defend collecting such artifacts argue that they must be taken in historical context, and preserved as a reminder of how everyday objects were also used to oppress African Americans.

Female Sources of Inspiration
Patrick Kelly always credited the women in his family, who had a flair for embellishing simple store-bought garments, for his keen interest in fashion. His mother, Letha, taught him to draw; his aunt Bertha, a seamstress, taught him to sew; and his grandmother Ethel Rainey, he said, "was the backbone of a lot of my tastes. She was always so pretty to me." He lovingly referred to them as his "full-figure girls" and created clothes with real-woman proportions like theirs in mind. "I design for long or short, for big or small women," he once said. The former model Toukie Smith recalled in 1990, "Patrick always insisted I come and do his show—even though I wasn't the perfect size 6."

Growing up, Kelly also marveled at the women he saw in church, dressed to the nines in their Sunday best. "At the Black Baptist church on Sunday, the ladies are just as fierce as the ladies at Yves Saint Laurent couture shows," Kelly once declared, and his designs with their color and panache bear out this comparison.

His spirited use of assorted buttons to decorate garments was something he learned from his grandmother. When he lost a button on his clothing as a child, she would replace it with one that did not quite match and pepper the rest of the garment with buttons to distract the eye. Decoration with buttons—either sprinkled liberally over a garment or grouped in clusters to create bold designs (as on his famed dress with a heart-shaped bodice of buttons)—was a catchy design device that Kelly would use repeatedly. As Kelly's collections evolved, he used other objects—bows, red plastic lips, billiard balls, nails, teddy bears, and his beloved miniature black baby dolls—to infuse his designs with playful charm.

Patrick Kelly's Love List
I Love:

– Families, especially Grandmothers and Mothers
– Nice People, Work Vacations – Fried Chicken and "Foie Gras" and "Fauchon" Croissants
– Buttons and Bows
– Dolls
– Hats
– Gardenias
– Pearls and Popcorn
– Pretty Things– Madame Grès
– Pretty Girls and Valentine Candy Boxes and Fried Catfish
– All Women (Fat, Skinny and Between…)
– Lycra– Dresses and Spare Ribs
– Non-Smokers
– Ethel Rainey, Bette Davis, Martin Luther King
– Josephine Baker and Pat Cleveland
– Connie
– Parties
– "I Love Lucy"
– Music: Gospel, Loud, Classical, Rap, Jazz, Soul, Luther Vandross
– Big Overalls
– Birthdays and Christmas
– Paris in the Springtime, in the Fall, in the Winter, BUT ESPECIALLY IN MISSISSIPPI
– Churches
– Buttons, Buttons, Buttons
– Fun
........................and You!