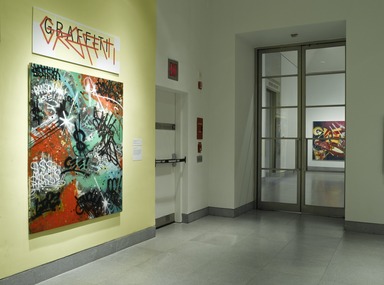 Graffiti
Dates:

June 30, 2006 through September 3, 2006

Collections: Contemporary Art
Location: This exhibition is no longer on view in Morris A. and Meyer Schapiro Wing, 5th Floor
Description:

Graffiti. [06/30/2006 - 09/03/2006]. Installation view.

Citation:

Brooklyn Museum Archives. Records of the Department of Digital Collections and Services.

(DIG_E_2006_Graffiti)

Source:

born digital

Related Links:
Print
Exhibition Didactics
Graffiti
Graffiti is as old as civilization. Archaeologists have discovered it among the ruins of ancient Egyptian, Roman, and Mayan architecture. In antiquity, as now, it was a form of public communication particularly favored by the poor and disaffected. Its frequent questioning of the establishment and its attack on property led to a view of it as an undesirable activity verging on vandalism, a view still shared by many.

Modern graffiti began in Philadelphia in the mid-1960s and spread to New York by the early 1970s. Urban youth used it as a form of activist expression and as a way to mark their territory, reclaiming segments of their neighborhoods by "tagging" them with elaborate, stylized renditions of their names or the names of the groups to which they belonged. At first they used pens and markers, but spray paint, which is easy to use and works well on almost any surface, quickly became the medium of choice.

Soon a full-fledged graffiti style called "pieces" (from "masterpieces") evolved from simple designs into intricate interlocking letters in multiple colors. Graffiti artists, many of whom preferred to be called writers, turned the walls of buildings into giant panoramas and the sides of subway cars into moving murals. Graffiti became a way of making a cultural mark and receiving recognition from peers. It was an act of defiance, a way to be heard despite limited opportunities.

In the late l970s, graffiti artists also began to paint on canvas or large sheets of paper, attracting the attention of the art world. First they showed their work in alternative art spaces such as Fashion Moda in the Bronx or small private galleries such as Fun Gallery in the East Village. But in the early l980s, as the penalties imposed for graffiti increased and graffiti removal in the subway and elsewhere improved, many of the artists started to look for more traditional venues. The sprawling Times Square Show in l980 brought together such future big names as Keith Haring, Kenny Scharf, Jean Michel Basquiat, and Kiki Smith. The graffiti subculture began to move into the mainstream art world, and important dealers and collectors took notice.

One of the first established art dealers to collect graffiti was Sidney Janis, whose gallery on Fifty-seventh Street was known for displaying the works of such giants of modern art as Giacometti, Mondrian, and Pollock. In l982, Janis and his son Carroll organized an exhibition called An Expressionist Image that included works by Basquiat and Haring. The success of this project led them to put together a full-fledged graffiti show called Post Graffiti the following year, and Janis subsequently took graffiti to the important European art fairs, helping to gain recognition for it internationally. In 1999, after Janis's death, his sons Carroll and Conrad donated part of his graffiti collection to the Brooklyn Museum.

This exhibition is drawn primarily from that gift. Rather than survey graffiti art, it highlights some of the trends of the movement, such as the development of imagery inspired by comic books, the urban environment, technology, and portraiture. The place of graffiti in the art world is still debated. This presentation offers a sampling of the work at the center of that debate.

Graffiti and the Subways
In Japanese Subways, Chris Ellis employs a collage technique to create a Tokyo subway map upon which other artists layer their own "tags." This work highlights both the collaborative aspect of graffiti art and the important place of the subway in the movement's history. As the writer John Maizels has noted:

By the 1970s the culture moved from the streets of upper Manhattan to the subway. The New York underground trains and stations became the most favored canvasses of the youthful writers, who would often spend six or eight hours on their pieces, working in the silent darkness and secrecy of railway tunnels and sidings. Once morning broke they could stand back and admire their night's work as it sped around the city; a combination of the secretive and anonymous with the most public and audacious display of their talents.

As graffiti artists moved from the subways to more conventional venues to show their work, they established a visual link between the "underground" and "above ground." The mural scale used on the sides of subway cars inspired large-scale compositions that became part of museum and gallery collections.

Writing
"Graffiti" was the term the New York Times used when it first reported on the phenomenon. But many of the artists never liked that label, preferring from the start to call their art "writing." As gallery owner Patti Astor notes:

It was a sadly sweet comment on society that the artists chose to call themselves "writers." One artist meeting another would ask, "What do you write?" i.e. what is your graffiti name? It was logical, as much of the subject matter consisted of words, i.e. their "tags," or graffiti names, but also a reaction from the kids the New York City educational system had given up on long ago.… Graffiti began to decorate the neighborhood. Jean Michel Basquiat and his partner Al Diaz had begun the trend with their political SAMO© sayings, i.e. "Build a fort, burn it down." All of the downtowners developed tags (even me), and the crumbling walls of the East Village became a gigantic outdoor bulletin board.

Faces in Graffiti
The five examples of graffiti-style portraiture on view show these artists' skill not only at depicting a likeness but also at exploring social or psychological issues. In Poverty, Kwame Monroe, a.k.a. Bear, creates an expressive image that bespeaks the anguish of life under the strain of economic hardship. Japanese anime was an inspiration to Daze (Chris Ellis), who integrates this interest and his general attraction to Japanese culture into the works Geisha and Japanese Subways. The close cropping of faces is characteristic of both these works, as it is also of Daze's Flesh and Intrigue. In that work, the title is not only inscribed on the painting but is also evident in the subject's color and expression, both of which convey a sense of deceit. The fifth example of portraiture, The Black Dude by Lady Pink (Sandra Fabara), features a close-up of a young African American male. The artist explains its origin:

In the 1970s, New York City was in a state of lawlessness and chaos and I always felt I needed a posse of young men with me to feel safe at night. The Black Dude was my response to the stereotypical villain of the night. The vilification of African American males has a long history and has been unjustly perpetuated until today.

Comics and Cartoons
Comic books and cartoons have inspired many graffiti artists. Their works often appear to be single panels taken from comics, and, like comics, they often simplify stories and people into sounds, actions, even caricatures.

The artist Crash (John Matos) is illustrative in this regard. "From colorful faux wallpaper to Marvel Comics," he writes, "this was my youth." The composition of Crash's Aeroplane 1 testifies to his close observation of the comic book structure. Like cartoonists, he often visually expresses sound in a narrative image, and in this case, as in many others, the action-sound he chooses is his alter ego, "Crash."

As with comic book heroes, the alter ego of graffiti artists is often a simplification of the person's identity. In NOC 167's work Untitled, the subject (presumably also the artist's alter ego) is Everyman, of a deliberately vague age and race. In both comic books and graffiti art, simplified characters allow the viewer to identify with the people in the story.

Graffiti Abroad
The first exhibition outside the United States to include graffiti art was documenta 7 in Kassel, Germany, in 1982. That show brought the movement a wave of international acclaim that led to the exhibition Graffiti at Museum Boijmans Van Beuningen in the Netherlands in 1983. In 1984, Sidney Janis, who had organized the exhibition Post Graffiti at his New York gallery the previous year, took a group of New York graffiti artists to the Basel Art Fair in Switzerland. There the artists collaborated on a large outdoor mural that attracted enormous attention.

These events established graffiti as an international phenomenon. Today graffiti is widely collected in Europe and seen in museums as diverse and important as the Louisiana Museum of Modern Art in Denmark, the Musée d'Art moderne de la Ville de Paris in France, the Ludwig Museum in Aachen, Germany, and the Galleria d'Arte Moderna in Bologna, Italy.