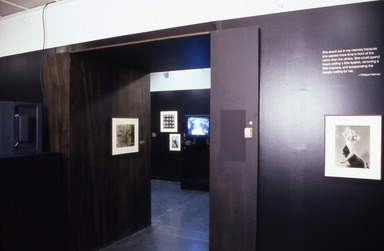 I Wanna Be Loved By You: Photographs of Marilyn Monroe from the Leon and Michaela Constantiner Collection
Dates:

November 12, 2004 through April 3, 2005

Organizing Department: Prints, Drawings and Photographs
Collections: Photography
Location: This exhibition is no longer on view in Robert E. Blum Gallery, 1st Floor
Description:

I Wanna Be Loved By You: Photographs of Marilyn Monroe from the Leon and Michaela Constantiner Collection. [11/12/2004 - 04/03/2005]. Installation view.

Citation:

Brooklyn Museum Archives. Records of the Department of Prints, Drawings, and Photographs.

(PDP_E_2004_Marilyn)

Source:

color slide

1 x 1.5 in. (3 x 4 cm)

Related Links:
Print
Exhibition Didactics
I Wanna Be Loved by You: Photographs of Marilyn Monroe from the Collection of Leon and Michaela Constantiner
Although the image of Marilyn Monroe (1926–1962) as a voluptuous, superficial blond bombshell—perpetuated by countless photographs and films—is famous the world over, her serious, intellectual side is less widely known. An avid reader who devoured the classics and loved poetry and fiction (Dostoyevsky, Whitman, and Salinger were among her favorite writers), she was an accomplished actress, ambitious and media-savvy, who controlled the course of her career with considerable insight and intelligence.

I Wanna Be Loved by You: Photographs of Marilyn Monroe from the Collection of Leon and Michaela Constantiner seeks to broaden the perception of Monroe by examining how her public persona, shaped by a wealth of photographers, obscured for the masses her true nature. The exhibition features more than two hundred photographs of Monroe taken by thirty-nine photographers of varying backgrounds, including studio photographers, fashion photographers, and photojournalists. Many were sent to photograph her on assignment; some were close personal friends whose access to her life beyond the public eye produced some of the more intimate images of her; still others were what are now called paparazzi, snapping shots of her caught unawares. The images chronicle her transformation from a young aspiring model, Norma Jeane Dougherty, to the Hollywood starlet who adopted the name Marilyn Monroe. Examined closely, and together with Monroe's own words, many of them reveal the complexities of the person behind the icon.

Monroe recognized photography as a tool to advance her career, and few celebrities have ever played better to the camera. "The first day a photographer took a picture of her she was a genius," the director Billy Wilder once remarked. "She was not only a natural to the camera, but she had a sure knowledge of how to use that affinity. It was to her what water is to a fish. She exulted in it."

Thanks in large part to photographs like these, Marilyn Monroe succeeded in winning the love of millions.

Marilyn Kushner, Co-Curator
Matthew Yokobosky, Co-Curator

The Serious Actress
The photographs in this section document Marilyn Monroe attempting to remake her image. She is seen studying at the Actors Studio, rehearsing in a sound studio, posing for glamorous fashion magazines.

In December 1954 Monroe moved from Hollywood to New York. Her marriage to Joe DiMaggio had just ended, and her relationship with the studio Twentieth Century-Fox had deteriorated because, in her words, "I wanted to be treated as a human being who had earned a few rights since her orphanage days." New York, where, as she put it, "actors and directors did very different things than stand around all day arguing about a close-up or a camera angle," offered her a new beginning. She began studying with the acting coach Lee Strasberg and pursued a relationship with the playwright Arthur Miller, whom she would marry in 1956.

That same year, Monroe would return to Hollywood, having successfully negotiated with Twentieth Century-Fox to make Bus Stop, a film over which she had far more control than any before. Her company Marilyn Monroe Productions, which she had formed with the photographer Milton Greene, would produce The Prince and the Showgirl, in which she starred opposite Laurence Olivier. It seemed as if she was finally receiving the respect she had long sought.

From Norma Jeane to Marilyn
Marilyn Monroe's career began in 1944, when Ronald Reagan, commanding officer of the U.S. Army's First Motion Picture Unit, ordered the photographer David Conover to take some publicity photographs of beautiful young women working for the war effort. Conover visited the plant of a company that made airplanes used by the army for anti-aircraft practice and there photographed Monroe (then Norma Jeane Dougherty) on the assembly line. He was so taken by her beauty that he recommended she become a model.

Hired by the Blue Book Modeling Agency, Dougherty began appearing in advertisements, pinups, and magazine covers. She worked tirelessly, practicing in front of a mirror for hours, and bleached her auburn hair blond because she'd heard that blonds received more assignments and that blond hair photographed better. By 1946 she had landed a six-month contract with Twentieth Century-Fox and, at the suggestion of casting director Ben Lyon, had changed her name to Marilyn Monroe (Monroe was her mother's maiden name).

In the late 1940s, Monroe began landing minor movie roles, including one in the Marx Brothers film Love Happy. While in New York promoting the film in 1949, she spent time with her intimate friend and photographer André de Dienes. "I can never forget those moments when my sweet, innocent Norma Jeane stepped out of the elevator that morning," de Dienes recalled. "She was transformed into a magnificent, elegant young woman. Her eyes were sparkling with happiness. And I could feel that she wanted me to know that the magical times of her life were about to begin." The exuberant photographs de Dienes took of Monore that day are on view here.

Seduction: Marilyn Monroe and the Camera
Marilyn Monroe posed for photographers and cinematographers in an audacious manner. She flirted with the camera, and those alluring poses translated magically on film.

This free-spirited attitude reached its zenith in 1953, when Tom Kelley's now famous photograph of Monroe nude on red satin appeared as the centerfold of the first issue of Playboy. While it is acceptable for celebrities today to pose nude, in Monroe's era it was considered scandalous. Though Hollywood executives asked her to claim it was a look-alike, she publicly acknowledged that she was the pin-up. When a reporter asked her what she had on during the photo shoot, she replied with the now classic line, "I had the radio on."

Monroe also used nudity, or the suggestion of nudity, to heighten her presence on film. In her first lead role, in Ladies of the Chorus (1949), she played a young burlesque performer. Burlesque, popular from the 1920s through the 1950s, was typically a variety show featuring comedy, music, and striptease. Proper women did not attend such risqué, almost nude, performances. Ignoring this etiquette, Monroe employed in film many of the same techniques used by burlesque "illusionists," as some stripteasers described themselves. Whether slowly peeling away her gloves in the musical number "Diamonds Are a Girl's Best Friend" or being caught by "surprise" when her white halter dress was blown up by air from a New York subway grate in The Seven Year Itch (1955), Monroe knew how to make viewers feel as if they were seeing more than they actually were.

For her last great public appearance, at President Kennedy's forty-second birthday celebration at Madison Square Garden in 1962, she created her most stunning illusion of all. She commissioned the couturier Jean Louis to make a dress of specially woven "souffle illusion" chiffon and six thousand artfully positioned, hand-sewn beads. On the night of her appearance, Louis carefully slid the dress on Monroe, basted up the back seam, spritzed her with water, and blew the dress dry. It was as naked as one could be in public and still be dressed.

Monroe's Relationships
As an adult Marilyn Monroe constantly reached for the security and intimacy she had never felt as a child, when she spent most of her first sixteen years in foster homes and an orphanage. She found safety in relationships with Johnny Hyde, the first agent who seemed to care for her well-being; Lee Strasberg, the acting coach who became a father figure to her; and Milton Greene, a photographer whose images of her convey their friendship. Her failed marriages to the Yankee star Joe DiMaggio and the celebrated playwright Arthur Miller are legendary. Images of all of these men appear in this section.

Monroe and DiMaggio married on January 14, 1954. Though they separated on October 5 of the same year, their relationship endured even after that. The photograph of them exhibited here was taken in early 1955, after their separation, at the premiere of Monroe's film The Seven Year Itch.

In the summer of 1956, Monroe married Arthur Miller. By all reports, they were deeply in love. Images of them together reveal a playfulness and mutual respect and affection. They separated, however, in October 1960, after the filming of their collaborative project The Misfits.

Monroe was perhaps more comfortable with the camera than she was with any man. In front of the camera she could reveal or conceal herself as she pleased. "With the arc lights on and the camera pointed at me," she said, "I suddenly knew myself."

The Last Sitting
I was seeing other aspects of Marilyn emerge …parts she had kept hidden and only now was sharing with herself and the camera. Shy elegance and dignity were now coming to the surface: It was an unknown Marilyn, and it would demand a whole new kind of role for her.

—Bert Stern

Marilyn Monroe died on August 5, 1962. From June 23 to July 12, Bert Stern, on assignment for Vogue magazine, took more than 2,500 photographs of her at the Bel-Air Hotel in Los Angeles. Stern attended to the meticulous details for each session—choosing her dresses and accessories, arranging the lighting and backdrops, and setting the mood with music and 1953 Dom Perignon champagne, Monroe's favorite. The sessions were intense, exhausting, and long, stretching into the early hours of the morning.

Stern's Monroe was beautiful, playful, and voluptuous—the very image that had brought her fame. But he also captured the private Monroe, the serious, introspective actress who strove to be appreciated as much for her mind as for her physical attributes. She reserved the right to destroy any photographs she considered unfavorable, by either placing an "X" over them or scratching the transparency.

Now, more than forty years later we are left with the pictures to tell her story. Some feel that, with the help of these photographs, she was on the threshold of shedding her image as a comedic and shallow blond bombshell when her life abruptly ended.

The Enduring Image of Marilyn Monroe
The coquettish image of Marilyn Monroe, with her gently waved blond hair, porcelain white skin, ruby lips, and black mole, is universally imitated. Her trademark face and figure—modeled after her Hollywood idol Jean Harlow—have become increasingly familiar, not only through her films but also through photographs in magazines and newspapers, paintings by Andy Warhol, postage stamps, her likeness at Madame Tussaud's Wax Museum, and even female impersonators. Movie studios attempted to duplicate her financial success by creating the copycat blondes Jayne Mansfield and Sheree North: both failed to attain Monroe's stature.

Since her death in 1962 at the age of thirty-six, a seemingly endless parade of "Marilyns" have imitated Monroe's image, breathy voice, and blown kisses, each seeking to capture another facet of her personality. Serious film actresses including Theresa Russell, Ashley Judd, and Mira Sorvino have sought to show us the intelligent, thinking Marilyn who self-orchestrated her meteoric career. Singers such as Madonna have tried to resurrect Marilyn, the musical vamp. Others, including Marilyn Manson, have simply used her name to evoke our "mental" image of Marilyn, but then subverted our expectations. Fashion photographers have found Monroe to be of perennial inspiration and have re-created her classic poses over and over again.

This constant reinvention and updating of the "Marilyn" image continues to perpetuate her youthful glamour. Like her contemporaries James Dean and Elvis Presley, who are described as having "died too young," Marilyn Monroe appears eternally young, immortal. Would the self-aware actress want to be remembered this way?

There is a famous story told by Susan Strasberg, the daughter of Marilyn's friend Lee Strasberg. One day, while Monroe was in New York studying at the Actors Studio, Susan arrived in a taxi to pick her up. The taxi stopped, and Monroe, unpainted and unrecognized, jumped in the back seat. After talking for a while, she said to Susan, "Do you want to see me become Marilyn Monroe?" Susan said, "Yes," and Monroe began putting on her make-up, fixing her hair, and acting sexier. By the time they reached their destination, she was reborn. As she walked out of the taxi, men were whistling and women begging for her autograph. Monroe understood and enjoyed the irresistible power of the image she had created, but at times her creation seemed to overshadow even her.