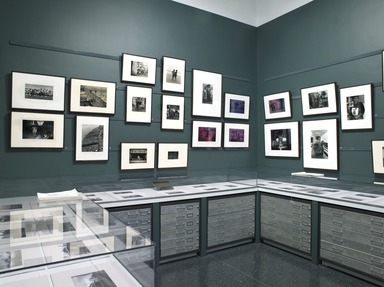 Goodbye Coney Island?
Dates:

November 28, 2007 through April 6, 2008

Collections: American Art , Photography
Location: This exhibition is no longer on view in Visible Storage ▪ Study Center, 5th Floor
Description:

Goodbye Coney Island (Luce paper alcove). [11/28/2007 - 04/06/2008]. Installation view

Citation:

Brooklyn Museum Digital Collections and Services. Records of the Department of Digital Collections and Services.

(DIG_E_2007_Coney)

Source:

born digital

Related Links:
Print
Exhibition Didactics
Goodbye Coney Island?
Coney Island was always a contested playground. Disputes over land use occurred at every stage of its evolution from a remote seventeenth- and eighteenth-century farming area to the world's amusement capital about 1900. Seventeenth-century power grabs by Dutch and English colonialists, late nineteenth-century corruption scandals, strict management by New York City Parks Commissioner Robert Moses in the mid-twentieth century, and present-day real estate speculations over valuable beachfront property are all part of the history of this small stretch of land on the Atlantic Ocean that has become synonymous with guilt-free fun and irreverent entertainment. In the past few years, structured attempts to rejuvenate the area have increased, signaling an interest in preserving Coney Island's character and its accessibility for a socially and ethnically diverse audience. At the same time, developers have presented elaborate commercial and residential schemes that many fear would dramatically alter the nature of Coney.

With changes anticipated in the near future, this exhibition of photographs, most of them from the Brooklyn Museum collection, traces the evolution of Coney Island as an entertainment haven over the past 125 years. What will come out of the renewal efforts remains uncertain at the time of the preparations for this show. It seems likely, however, that Coney Island will yet again change guise as a new incarnation takes shape in the next decade.

Patrick Amsellem
Associate Curator of Photography

Conyne Eylandt
Coney Island is a narrow, four-mile stretch of land in southern Brooklyn, not quite ten miles from Manhattan. Originally separated from the mainland by a small creek that was filled in during the first half of the nineteenth century, it was the westernmost of the barrier islands on the south shore of Long Island. It was here that Henry Hudson anchored his ship, the Half Moon, when he first arrived with the Dutch East India Company in 1609. The name Coney Island probably derives from the Dutch Conyne Eylandt (Rabbit Island), an epithet used by the first Dutch settlers in the seventeenth century who ousted the indigenous Canarsie population and used the rabbit-filled land as grazing ground for their farm animals. Until the early nineteenth century, only a few farmhouses occupied the mostly uninhabited island.