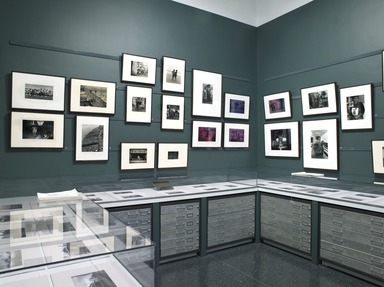 Goodbye Coney Island?
Dates:

November 28, 2007 through April 6, 2008

Collections: American Art , Photography
Location: This exhibition is no longer on view in Visible Storage ▪ Study Center, 5th Floor
Description:

Goodbye Coney Island (Luce paper alcove). [11/28/2007 - 04/06/2008]. Installation view

Citation:

Brooklyn Museum Digital Collections and Services. Records of the Department of Digital Collections and Services.

(DIG_E_2007_Coney)

Source:

born digital

Related Links:
Print
Press Releases
October 2007: An exhibition of more than fifty photographs from the Brooklyn Museum's holdings, Goodbye Coney Island? traces the evolution of this fabled part of New York over the past 125 years. Coney Island has undergone many transformations since it first became a popular resort in the nineteenth century, and a prospective redevelopment plan may yet again change this section of Brooklyn. The small exhibition will be on view from November 28, 2007–April 6, 2008, in the Brooklyn Museum's Visible Storage ? Study Center of the Luce Center for American Art.

Goodbye Coney Island? presents images that depict the area's early life and its landmarks and attractions from the 1870s to the present, including the Oriental Hotel, Steeplechase, Luna Park, the beach and boardwalk, and the classic Thunderbolt rollercoaster. The exhibition will include photographs by Breading Way, George Bradford Brainerd, Stephen Salmieri, and Lynn Butler.

About a third of the photographs on view are contemporary prints of digitally scanned late-nineteenth and early-twentieth-century glass-plate negatives from the Brooklyn Museum collection.

This exhibition is organized by Patrick Amsellem, Associate Curator of Photography, Brooklyn Museum.