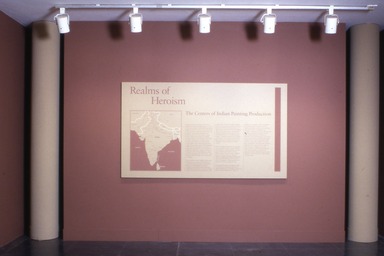 Realms of Heroism: Indian Paintings in the Brooklyn Museum
Dates:

October 14, 1994 through January 8, 1995

Collections: Asian Art
Print
Press Releases
June 1994: An exhibition of approximately 80 jewel-like Indian miniature paintings from the permanent collection of The Brooklyn Museum will open on October 14, 1994, and remain on view through January 8, 1995. Entitled Realms of Heroism: Indian Paintings from The Brooklyn Museum, it celebrates the publication of a fully illustrated catalogue raisonné that documents The Brooklyn Museum's significant holdings of Indian miniature paintings.

The exhibition will be organized around the theme of heroism as it is understood in a South Asian context, exploring the hero as a warrior and adventurer, as a Hindu deity, and as a secular ruler. A wide variety of historical portraits reveals the sometimes subtle means by which Indian rulers asserted their power and achievement. The exhibition will also explore the theme of the romantic hero and heroine in the South Asian tradition, from the pastoral exploits of the god Krishna to the depiction of lovers and emotional states found in Ragamalas and Nayika-nayaka literature. An orientation section will introduce the technique and historical context of these delicate, striking works.

Indian miniature paintings were commissioned by royal patrons as illustrations to religious and secular texts. The Mughal emperors, who conquered much of India in the 16th century, established an imperial atelier where manuscripts were created depicting historical and legendary subjects. Among the Mughal paintings on view in the exhibition are four folios from the famous Hamza-nama series, made for the emperor Akbar in the mid-sixteenth century. The oversized illustrations to the Hamza-nama, a traditional Moslem historical epic, are celebrated for their vivid depiction of heroic deeds interspersed with carefully recorded observations of Indian life.

The Mughal emperors were not the only patrons of Indian painting. Indigenous Hindu rulers called the Rajputs continued to govern small principalities in northern and central India after the establishment of the Mughal empire. The Rajputs were responsible for the creation of large numbers of manuscripts illustrating Hindu mythological subjects in a wide variety of styles. They also emulated the Mughals through commissions of large groups of dynastic portraits. Like paintings made for the Mughals, these works on paper were bound or collected into volumes and were viewed in intimate gatherings, often accompanied by performances of music or poetry for a highly refined aesthetic experience.

Painted with watercolors on cotton or paper and highlighted with gold and silver, the images are extremely colorful and delicate. Their vibrancy is achieved by applying color in layers and then burnishing the sheets from behind until the colors are opaque. Beetle wings are sometimes applied to indicate areas of jewelry. The paintings are fragile and flake easily, presenting many problems for conservators; 42 weeks of treatment were required to prepare the 80 exhibition objects for viewing.

Since its inception in 1914—unusually early for an American museum—The Brooklyn Museum's Indian painting collection has amassed more than 275 paintings and 85 drawings from the early 15th through the 19th centuries. The exhibition and catalogue raisonné have been the outcome of years of documentation and scholarly research. Surveys of the collection began in 1973, aided by a 1982 grant from the National Endowment for the Arts. Research for the catalogue raisonné began as early as 1980 and reflects the expertise of many South Asian art historians. The catalogue represents numerous regional styles of Indian painting, incorporating new readings of inscriptions and other documentary and technical evidence. Approximately 75 color plates in the catalogue reproduce the intricate detail and vision of these paintings.

A wide range of educational and public programs is planned in conjunction with the exhibition, including an Indian film festival, storytelling, and docent and teacher training. Programs will be designed to introduce aspects of South Asian tradition while focusing on the definition and significance of heroic behavior in Indian and other cultures.

Amy G. Poster, Curator of Asian Art and Head of the Asian Art Department, is the author of the catalogue and curator of the exhibition.

Brooklyn Museum Archives. Records of the Department of Public Information. Press releases, 1989 - 1994. 07-12/1994, 145-147. View Original 1 . View Original 2 . View Original 3

October 1994: The Brooklyn Museum will celebrate the arts of India with a wide variety of public programs for the entire family that have been organized in conjunction with the major exhibition Realms of Heroism: Indian Paintings at The Brooklyn Museum. Among them are lectures, special gallery talks, drop-in programs for children[,] and a film series:

Special Gallery Talks
(free with Museum admission)

Saturday, October 15, 1 p.m.
Joachim Bautze, South Asian Institute, University of Heidelberg
"Issues of Connoisseurship in Indian Painting"

Sunday, October 23, 1 p.m.
Joan Cummins, Exhibition Coordinator, Realms of Heroism
"Delicacy and Vigor: Indian Painting and the Model Prince"

Saturday. November 5, 1 p.m.
Amy G. Poster, Curator of Asian Art and curator of Realms of Heroism
"The Concept of the Hero in Indian Painting"

Additional gallery talks for Realms of Heroism led by trained docents will be offered throughout the run of the exhibition. For information about dates and times, call (718) 638-5000, ext. 226.

Lectures
(free with Museum admission)

Saturday, November 19, noon.
Vidya Dehejia, Curator of Indian Art, Freer Gallery of Art and Arthur M. Sackler Gallery, Smithsonian Institution, Washington, D.C.
"Once upon a Time: Storytelling in Indian Painting"

Saturday, December 3, noon
Dr. Milo C. Beach, Director, Freer Gallery of Art and Arthur M. Sackler Gallery, Smithsonian Institution, Washington, D.C.
"The Mughal Prince as Hero: Painting and the Sons of Shah Jahan"

Saturday, December 10, noon
John Seyller, Associate Professor, Department of Art, University of Vermont
"The Adventures of Amir Hamza"

Film Programs
Thursday, September 29, 7 p.m., and thereafter every Saturday and Sunday at 2 p.m. through October 23.

This series of films will highlight the theme of the hero in Indian cinema by exploring the role of the religions in Indian society, representations of morality and social mores, colonial influences, representations of Indian women, and narrative traditions as adapted for the screen. Guest speakers will introduce the series, which has been coordinated by L. Somi Roy of Roy/Emmons Associates.

Realms of Heroism: Indian Paintings at The Brooklyn Museum will also serve as the inspiration for several of the Museum's regularly scheduled drop-in programs for children, Arty Facts (4-7), Saturdays and Sundays, 11 a.m., and What's Up? (8-12), Saturdays and Sundays, 2 p.m. (Free with Museum admission).

Additional special programs for families in conjunction with the exhibition will include storytelling and dance performances. Call (718) 638-5000 for further information.

Realms of Heroism: Indian Paintings at The Brooklyn Museum will include approximately 80 masterpieces, several of them never before on public view, from The Brooklyn Museum's collection of Indian miniature paintings. Among them are four folio pages from the rare Hamza-nama series created for the 16th-century Mughal Emperor Akbar, of which there are only about 120 left in the world. The exhibition celebrates the publication of a fully illustrated catalogue raisonné of the Museum's important collection of 250 Indian minature paintings.

Brooklyn Museum Archives. Records of the Department of Public Information. Press releases, 1989 - 1994. 07-12/1994, 091-93. View Original 1 . View Original 2 . View Original 3
Press Coverage of this Exhibition
THE ANNOTATED CALENDAR; ART

September 11, 1994 By ROBERTA SMITH

"Here is a selective guide to cultural events in New York and beyond in the months ahead. As usual, programs change, and some events are sold out. Unless indicated, all dates listed are for openings, all addresses are in Manhattan, and all telephone numbers have a 212 area code. Addresses for locations in New York City cited more than once appear at..."

For Children

November 4, 1994 By Dulcie Leimbach

"Rollerbasketball Tompkins Square Park 10th Street at Avenue B Lower East Side Recommended for all ages Saturdays and Sundays Tom La Garde is tall, even taller with Rollerblades on. At 6 feet 10 inches, he is a former professional basketball player for the Denver Nuggets, Seattle Supersonics and Dallas Mavericks. And he played in the 1976 Olympics...."